What is Igloo?
An igloo, also known as a snow house or snow hut, is a type of shelter built of snow, typically built when the snow is easy to compact. Although igloos are stereotypically associated with all Inuit/Eskimo peoples, they were traditionally associated with people of Canada's Central Arctic and Greenland's Thule area.Kakslauttanen Arctic Resort is a unique vacation destination located in Finnish Lapland, 250 km / 155 miles north of the Arctic Circle. Our accommodation offering includes our world-famous glass igloos to see northern lights. This is one of the top bucket list destination for travelers and mentioned in the places to see before you die category.
WHAT ARE NORTHERN LIGHTS?
The bright dancing lights of the aurora are actually collisions between electrically charged particlesfrom the sun that enter the earth's atmosphere. The lights are seen above the magnetic poles ofthe northern and southern hemispheres. They are known as 'Aurora borealis' in the north and 'Aurora australis' in the south..
Auroral displays appear in many colours although pale green and pink are the most common. Shades of red, yellow, green, blue, and violet have been reported. The lights appear in many forms from patches or scattered clouds of light to streamers, arcs, rippling curtains or shooting rays that light up the sky with an eerie glow.
Historically when's the best time to go to see Northern Lights?
Although the absolute best time to look for the Northern lights is during solar maximum, when the sun is at its most active, you don't need to wait until 2024 to see auroras in Norway. If you get to the country's far north between September and April, it's likely that you will see the Northern Lights if you can find clear skies. The key with Northern Lights hunting is to take advantage of the long nights of the Arctic winter. Put yourself in the right place at the right time — and stay there for as long as possible — and you might get lucky.
For 2019, what's the forecasted best time to go?
Forecasting the Northern Lights means predicting solar activity, which is basically impossible with our current technology. We do know, however, that the Northern Lights are best seen between 65° north and 75° north latitude; Finnish Lapland's latitude of 68° north puts it in the ideal position to experience the Northern Lights.
The months of the equinoxes (October and March) are known to be particularly good for viewings of the Northern Lights because of Earth's tilt in relation to the sun.
TBT visited Lapland, Norway & Iceland in 2017 & 2018 to find out the best places to Northern lights. We found that Ivalo(Finland),Tromso (Norway) & Iceland are the best arctic counties to see lights from October to March month. We had seen northern lights from all the counties, however this year we are planning to cover Finland,Norway and Iceland to chase the lights. This will be a tour of 12 days inclusive of 7 days road trip in Iceland.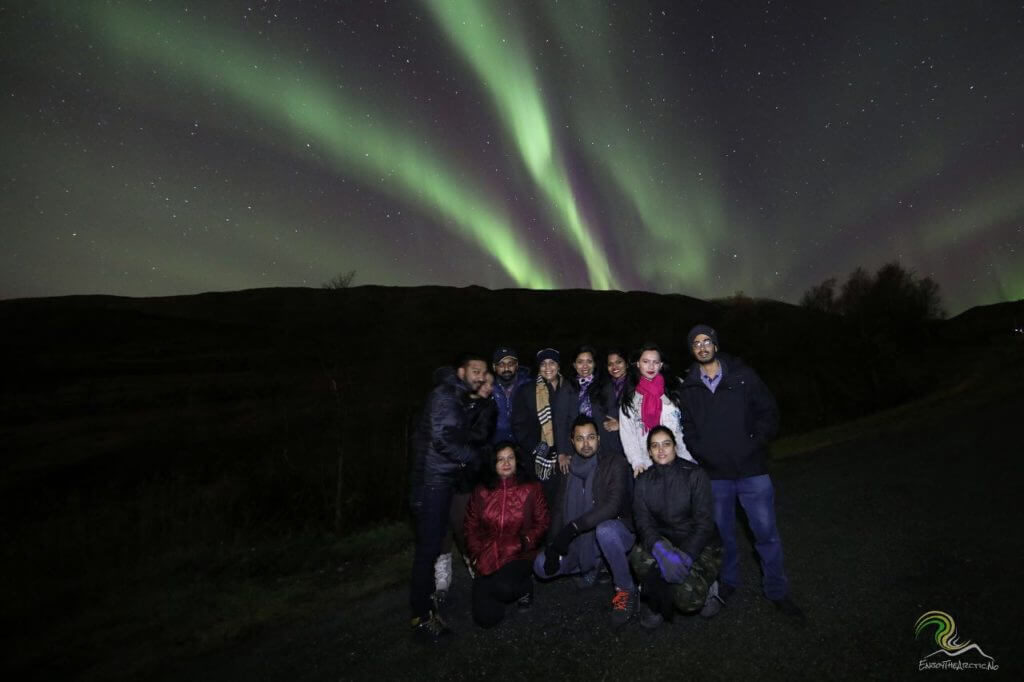 Northern Light Itinerary
Dates: 18th October – 30th October
Iceland Day Wise Itinerary
18-Oct          : Finland
19-Oct          : Finland (Ivalo)
20-Oct         : Finland Glass Igloo Stay
21-Oct          : Finland
22-Oct         : Norway
23-29-Oct   : Iceland Road Trip
Finland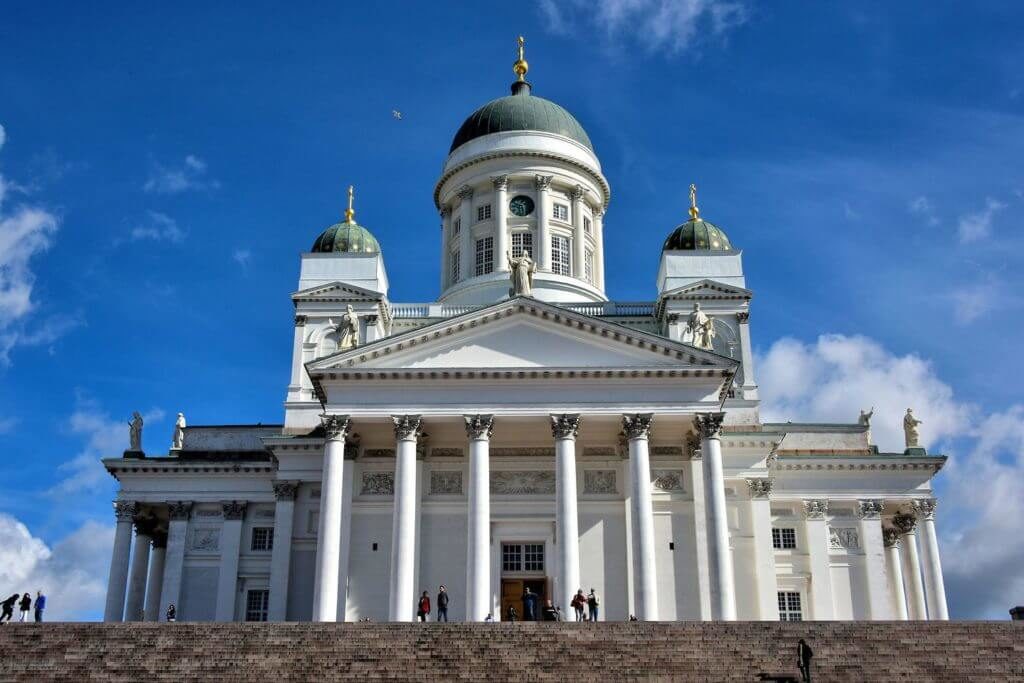 Finland is a Northern European nation bordering Sweden, Norway and Russia. Its capital, Helsinki, occupies a peninsula and surrounding islands in the Baltic Sea. Helsinki is home to the 18th-century sea fortress Suomenlinna, the fashionable Design District and diverse museums. The Northern Lights can be seen from the country's Arctic Lapland province, a vast wilderness with national parks and ski resorts.
Land in Helsinki(Finland) and explore the city
Helsinki Cathedral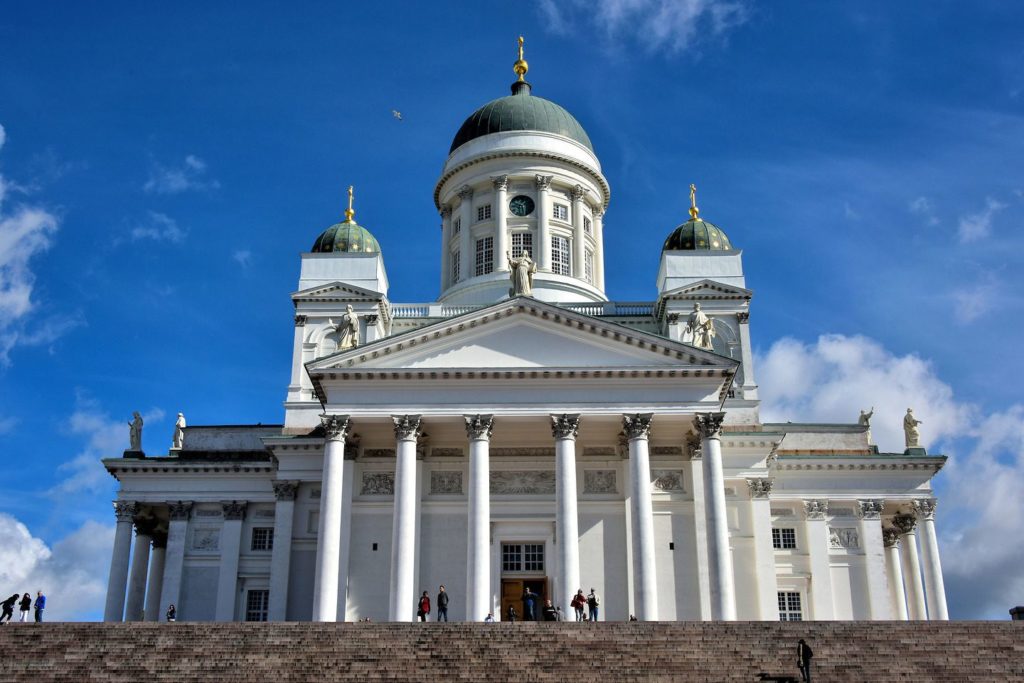 Helsinki Cathedral is the Finnish Evangelical Lutheran cathedral of the Diocese of Helsinki, located in the neighborhood of Kruununhaka in the centre of Helsinki, Finland. The church was originally built from 1830-1852 as a tribute to the Grand Duke of Finland, Tsar Nicholas I of Russia.
Senate Square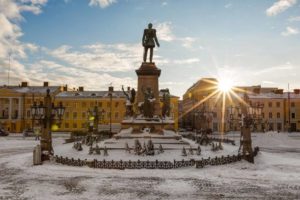 The Senate Square and its surroundings form a unique and cohesive example of Neoclassical architecture. The square is dominated by four buildings designed by Carl Ludvig Engel (1778-1840): Helsinki Cathedral, the Government Palace, the main building of the University of Helsinki and the National Library of Finland. A statue of Alexander II (1894) stands in the middle of the Senate Square. Helsinki Cathedral is arguably Finland's most famous and photographed building. The oldest stone building in Helsinki is the Sederholm House located on the southeast corner of the square.
Market Square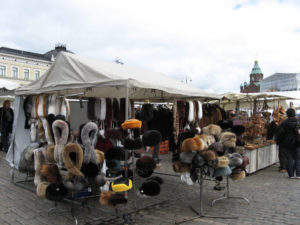 Located at the South Harbour at one end of the Esplanade Park, the Market Square is Helsinki's most international and famous market. The booths here sell traditional market foods and treats, as well as handicrafts and souvenirs. There are also heated café tents where you can comfortably have a steaming hot coffee even on the coldest days in winter.
Temppeliaukio Kirkko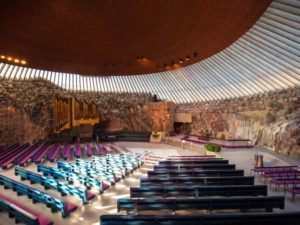 The Temppeliaukio Kirkko was designed by architect brothers Timo and Tuomo Suomalainen. Construction began in 1968 and was finished a year later in 1969. The architects chose a rocky outcrop rising about 40 feet above street level, and blasted out the walls from the inside.
The Temppeliaukio is now most commonly known by its English name, the Rock Church or Church in the Rock.
Day 2  & 3 (19 Oct & 20 Oct)
Fly to Ivalo (Helsinki) and get transferred to the Narnialand (something like that)
Igloo Experience (Once in life time experience)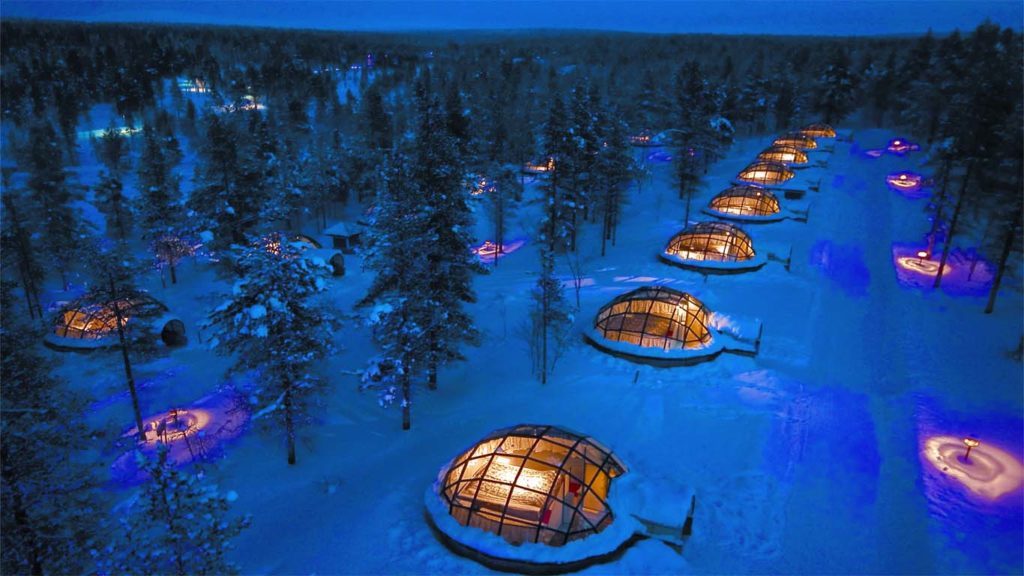 A once-in-a-lifetime experience, the website insists. A surreal experience like no other, claim dozens of 'Places to see before you die' lists. Intrigued, Walk through the snow-laden gates of Kakslauttanen Arctic Resort, set amidst frosty Arctic Forests.  Stare at the beams of sunlight filtering through slanting Arctic trees and entire fields covered with glistening snow.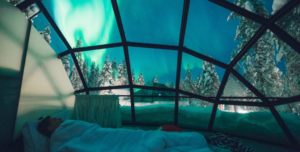 This hotel, hidden deep within the Arctic Wilderness, is almost at the Northernmost tip of mainland Europe.  The landscape is peppered with reindeer farms, picturesque trees, igloos, and skiing slopes. Dumbfounded by the landscape, You will walk into Narnia…..
In the afternoon checkout from this beautiful Igloo and take a flight to Helsinki by late evening and check-in the hotel.
northern lights travel blog ,northern lights travel guide ,Northern lights iceland ,  best place to see northern lights ,northern lights norway ,Icehotel ,kakslauttanen arctic resort ,best place to see northern lights , aurora borealis
Norway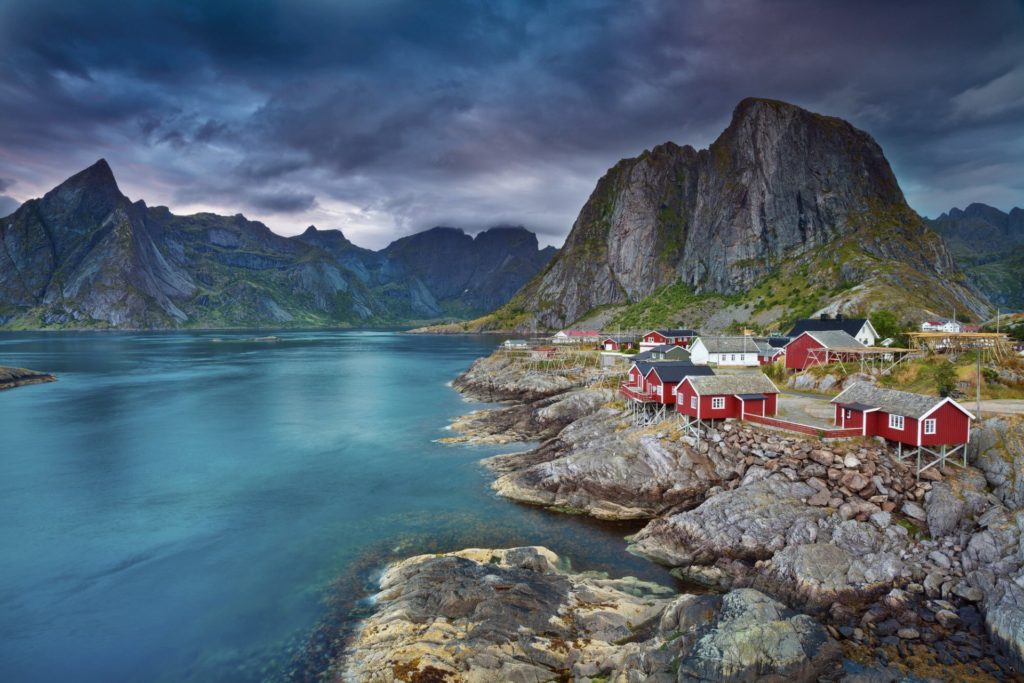 Tromsø, a city in northern Norway, is a major cultural hub above the Arctic Circle. It's famed as a viewing point for colorful Northern Lights that sometime light up the nighttime sky. The city's historic center, on the island of Tromsø, is distinguished by its centuries-old wooden houses. The 1965 Arctic Cathedral, with its distinctive peaked roof and soaring stained-glass windows, dominates the skyline.
They say Tromsø is the entrance to the North Pole but honestly once we spent a couple of hours there we did not want to go further. It may seem like a small village at first but Tromsø has developed into a modern city with a diverse, warm and vibrant population from all over Norway, as well as from more than 100 countries around the world. Tromsø's location in the globe attracts tourist, nature lovers, students and scientists alike. It is a city that offers endless activities and adventures from mountain climbing in the Midnight Sun, fishing trips to the fjord or lakes,downhill skiing beneath the spectacular Northern Lights and dog sledding trips to several incredible nearby hills, forests and lakes. Great hotels for all and restaurants for all kinds of tourists, pockets and tastes. This gorgeous polar city awaits for you, winter or summer, there is always something to do or see.
Day 5 (22-Oct)
Fly to Tromso, the northern light heaven in the arctic.
Tromsø Bridge (2:00pm)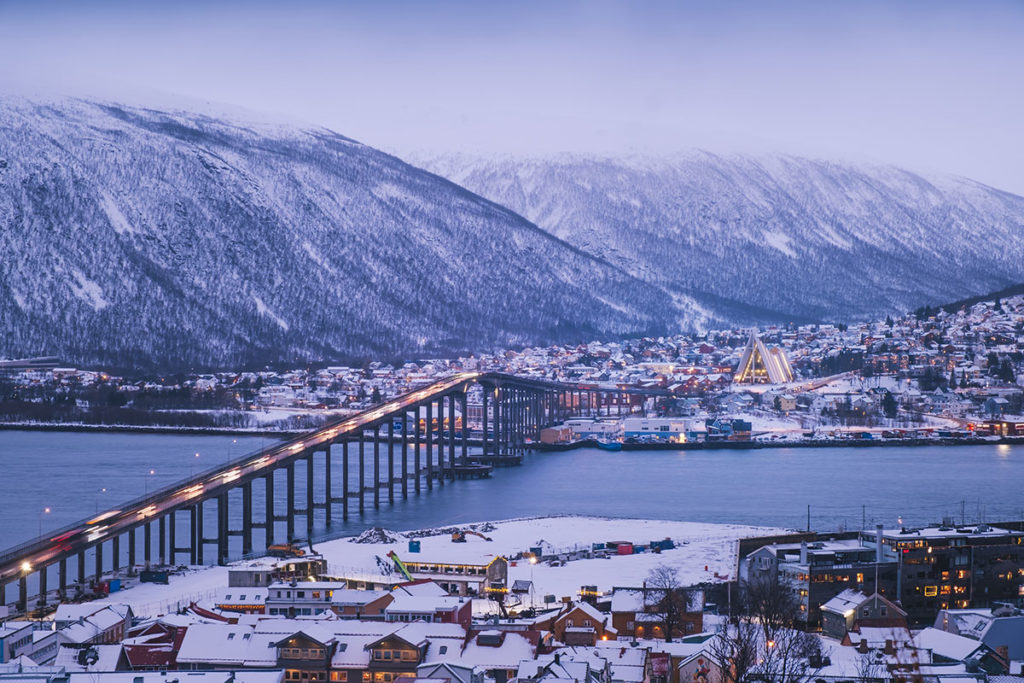 The bridge connects Tromsdalen on the mainland and the island Tromsøya, it was built in 1960 with a total length of 1000 meter (3,327 feet). There is one track for the cars in each direction and at both sides there is a separate path for pedestrians as well.
Mount Storsteinen (3:00pm)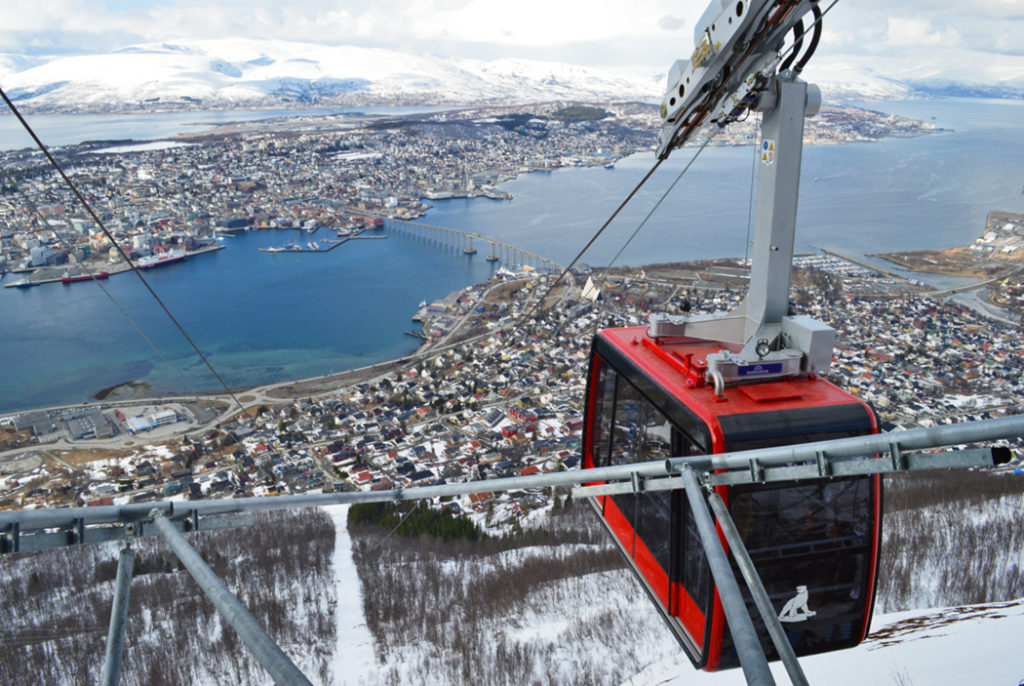 Take the cable car to the top of Mount Storsteinen and get this insane breathtaking panoramic views over Tromsø at 420 meters (1,380 ft) above sea level.
Northern Lights Hunt (7:00pm)
Aurora Polaris (polar light) is a physical phenomenon that occurs when solar storms are stronger than usual, sending charged particles towards the Earth. The particles are electrons and protonsthat form light when they collide with gases in the Earth's atmosphere. The polar light occurs at aheight of 90-180 km (56-112 miles) above the Earth's surface. This natural phenomenon may be observed in the night sky in a belt round the magnetic poles. The polar light appears as waves of light that vary in shape, colour and strength, from dark blue via green and yellow to red and orange. Polar light in the northern hemisphere is called Aurora Borealis or the Northern Lights, while polar light in the southern hemisphere is called Aurora Australis or the Southern Lights. Tromsø can offer some of the highest levels of Northern Lights activity on earth and some peoplesay it is the world's best place for a Northern Lights Tour. Take part in a search for Aurora Borealis through some of the most staggering landscapes in the Arctic. It is possible to see the Northern Light from September to March.
Science Center of Northern Norway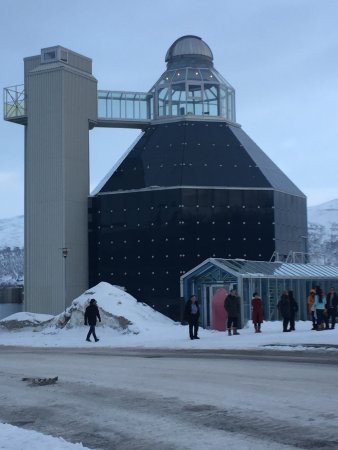 A non-profit Science Center located at the world's northernmost university, University of Tromsø, with plenty of educational, fun and interactive activities for children of all ages. Visit Norway'slargest planetarium with all-dome full-digital film screenings every day. "Experience the Aurora" is a planetarium movie in which a lot of the Northern Lights footage is from the Tromsø region.
 .
.
.
Elverhøy Church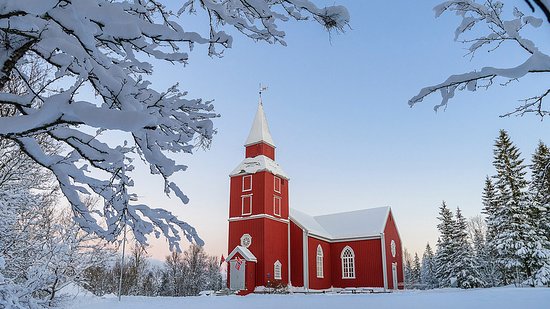 Elverhøy Church is a parish church. The church is part of the Elverhøy parish in the Tromsø arch- deanery in the Diocese of Nord-Hålogaland. The red wooden church seats about 435 people.
Botanical Gardens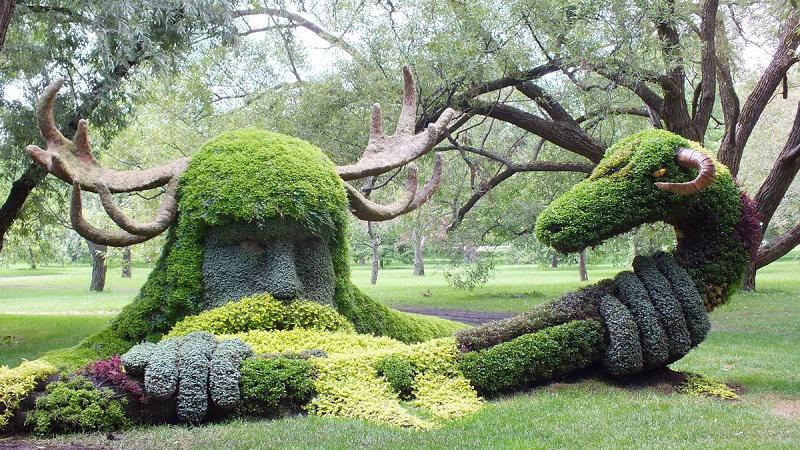 "The world's northernmost botanical gardens contain Arctic and Alpine plants from all corners of the globe, many of them too heat-sensitive to grow in any other botanical garden. Blue poppies from the Himalayas, lewisias from the Rockies, local primroses and a selection of traditional medicinal plants are among the highlights."
Polaria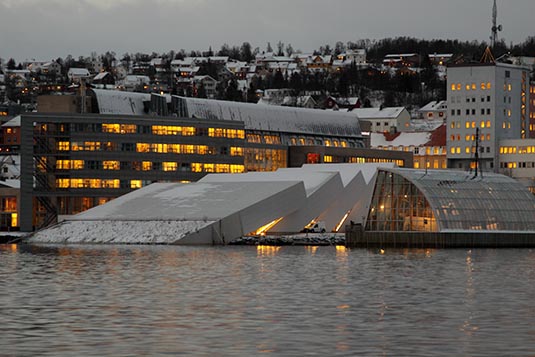 As the world's most northernly aquarium where the main attractions are the bearded seals, Polariaoffers an Arctic-themed experience and is located right outside the city center.
City Center (5:00pm)
The center of Tromsø features the largest collection of historical wooden houses north of Trondheim, and is home to one of the most important concentrations of Empire houses in Norway. Storgata is Tromsø's main pedestrian street, and it is a treasure trove of different shopsselling local and international products.
Iceland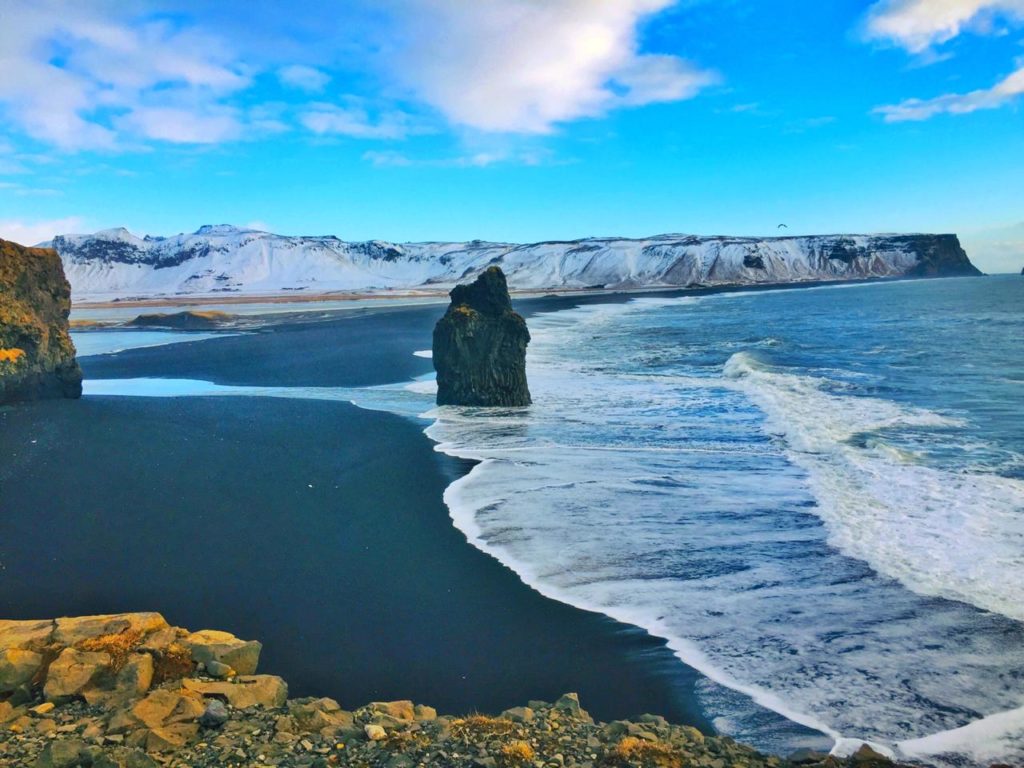 Iceland, a Nordic island nation, is defined by its dramatic landscape with volcanoes, geysers, hot springs and lava fields. Massive glaciers are protected in Vatnajökull and Snæfellsjökull national parks. Most of the population lives in the capital, Reykjavik, which runs on geothermal power and is home to the National and Saga museums, tracing Iceland's Viking history.
Flight from Tromso to Iceland
Blue lagoon spa (26th Oct)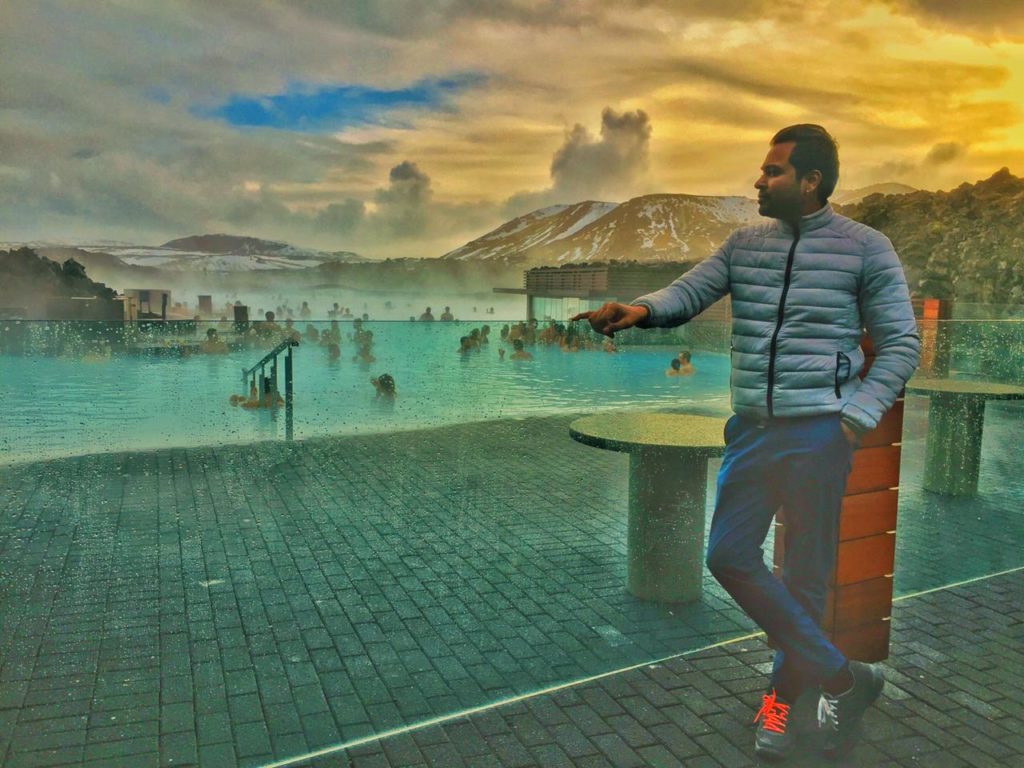 A visit to The Blue Lagoon is almost mandatory. It's the best way to relax after a holiday filled withactivities. Soak in the milky blue waters, order a drink from the bar or even treat yourself to a massage!
Day 7 (24 Oct) Gullfose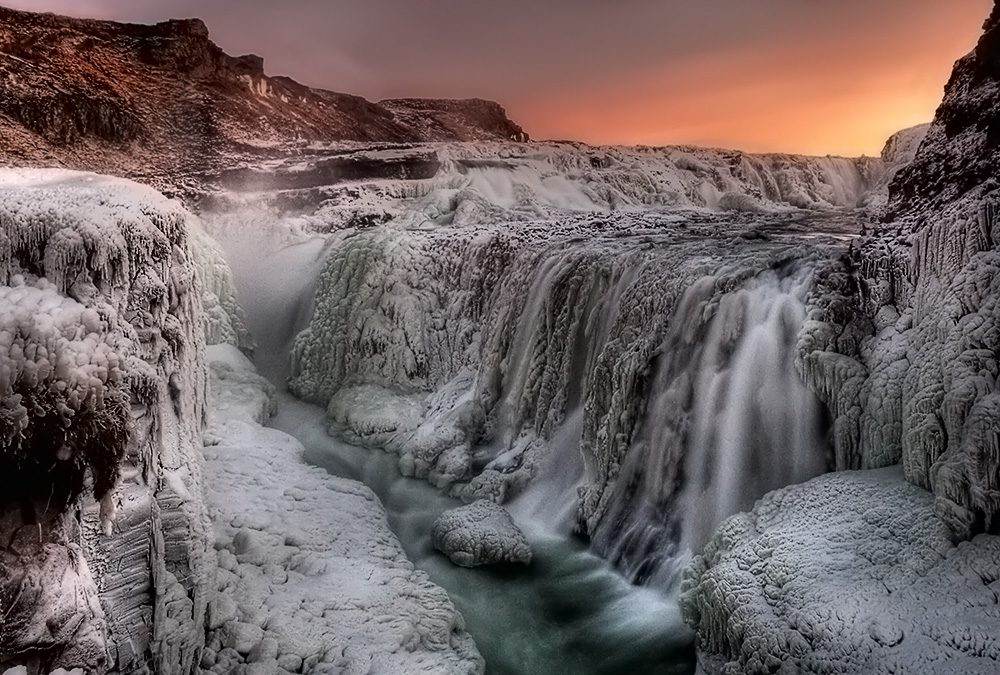 The Golden Circle tour is probably the most popular and accessible tour for travellers to Reykjavik and Iceland. There are three stops in the Golden Circle tour: the Gullfoss waterfall, the Gullfoss Geyzir, and the Thingviller National park. The Gullfoss is an excellent and magnificent attraction.
The Geysir field is situated at the northern edge of the southern lowlands, at an altitude of 105- 120 m above sea level. Until recently, the area was called Hverasandar. The hot springs are located to the east of a little mountain called Laugafell. The geothermal field in Haukadalur lies on the outskirts of the neovolcanic zone from which it is drifting, and is therefore gradually becoming a low-temperature field. Magma may have forced its way out of the neovolcanic zone along one or more fissures, forming intrusions. This would explain the sustained geothermal activity. There is no evidence of recent (holocene) volcanism in this area and the bedrock appears to have been formed subglacially towards the end of the glacial period.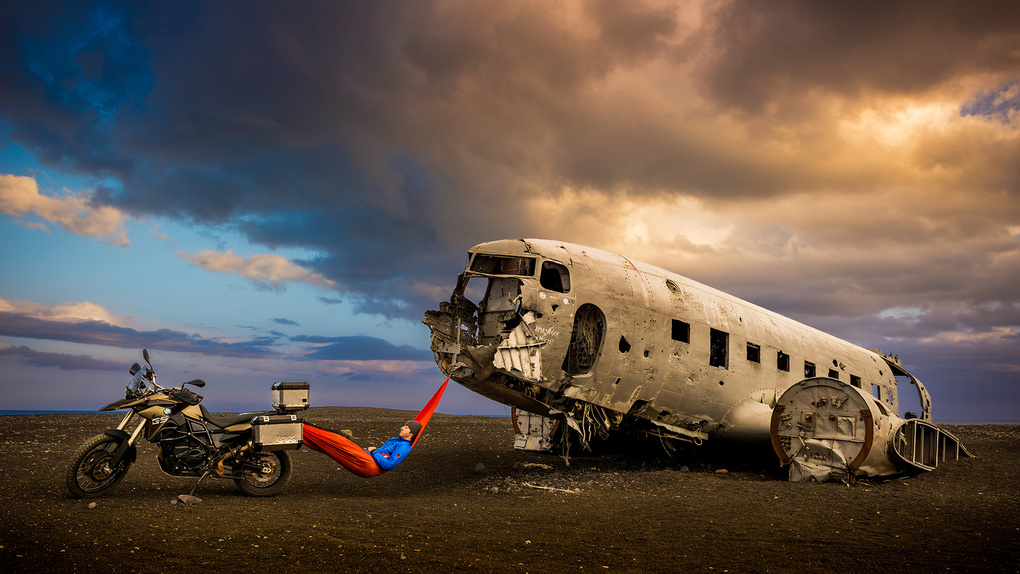 It's one of Iceland's most iconic & haunting photography locations. On Saturday Nov 24, 1973 aUnited States Navy Douglas Super DC-3 airplane was forced to land on Sólheimasandur's blacksand beach in the south of Iceland after experiencing some severe icing.
Luckily all crew members survived the crash, but the airplane's fuselage was abandoned. Now it'sbecome a photography dream location.
Puffins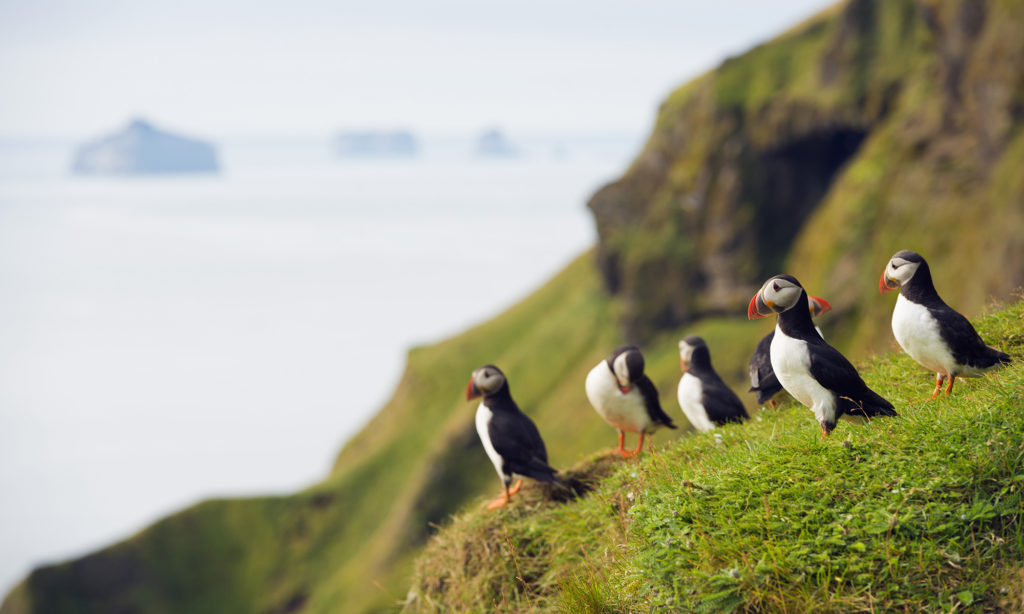 Puffins are any of three small species of alcids (auks) in the bird genus Fratercula with a brightly coloured beak during the breeding season. These are pelagic seabirds that feed primarily by diving in the water. They breed in large colonies on coastal cliffs or offshore islands, nesting in crevices among rocks or in burrows in the soil. Two species, the tufted puffin and horned puffin, are found in the North Pacific Ocean, while the Atlantic puffin is found in the North Atlantic Ocean/Iceland.
Vík: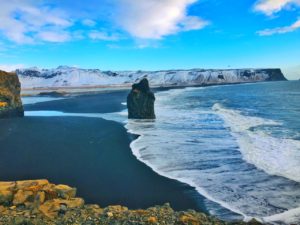 A quaint little town with a view towards Reynisdrangar, by one of the prettiest black beaches in Iceland. This is the last town in the south until you reach Kirkjubæjarklaustur, an hour drive away, so stack up on gas!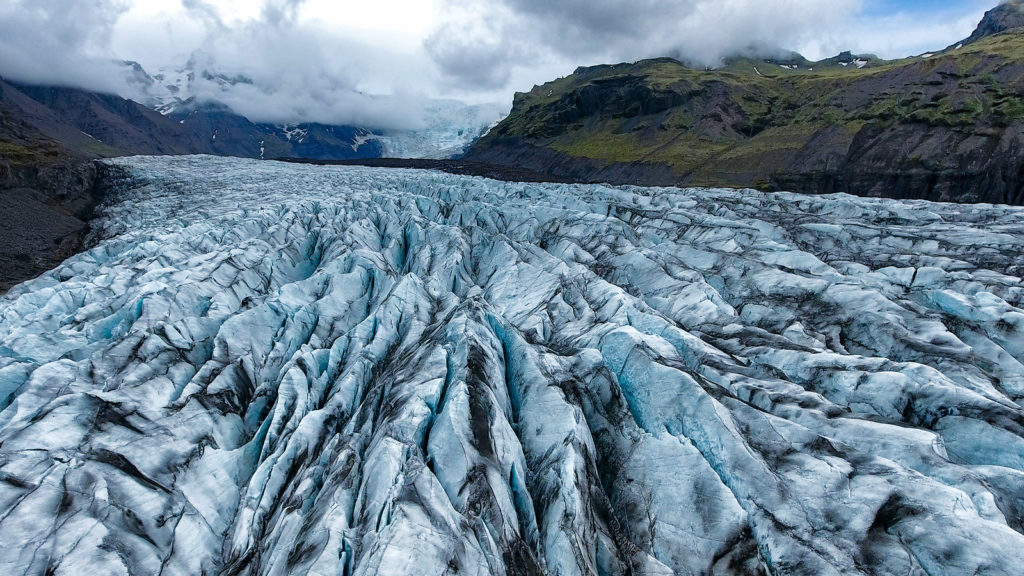 Formerly a national park on its own by the roots of Vatnajökull but now a part of the Vatnajökull national park. This area is surprisingly green and lush even though it's right next to a glacier! You can for example go on a short hike to the waterfall Svartifoss (Black waterfall) that's surrounded by dark basalt columns that lend the waterfall its name. Skaftafell is another hour's drive from Kirkjubæjarklaustur, or about 4,5 hours away from Reykjavík (not including stops!).
Day 8 (25 Oct) Jökulsárlón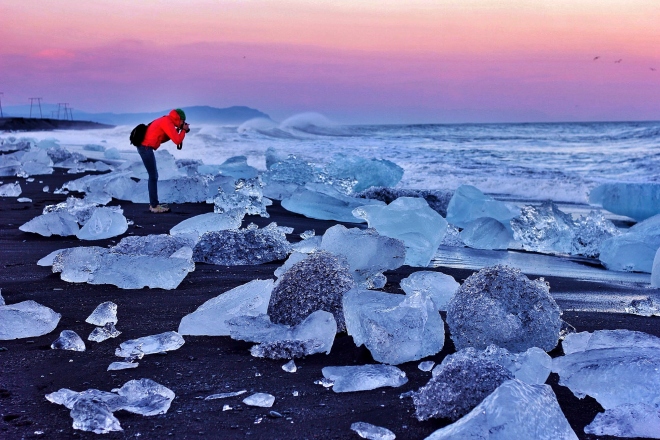 A big glacial lagoon, one of Iceland's most visited tourist attraction. Big blocks of ice break from the glacier and float around in this lagoon until they make their way out to sea. The coastline is dotted with big chunks of ice, and sometimes you see seals playing in the water. If you walk down to the coastline you can see waves playing with big chunks of ice dotted around the black sandy beach. Jökulsárlón is a 45 minute drive from Skaftafell – or around a 5 hour drive from Reykjavík.Note that it will probably take you longer to drive during wintertime, when the roads may be icy and the visibility poorer.
Álftafjörður
Numerous mountains, fjords and beaches. Álftafjörður (Swan-fjord) is very pretty, especially when flocks of swans gather there. And if you stop in Hvalnes, you can get this view of Eystrahorn mountain:
Reindeer! The East part of Iceland is the only part of the country where you can find wild reindeer, they were originally imported to the country but some of them either escaped or were let loose and now they roam wild in the nature.
Egilsstaðir
The largest town in the East of Iceland, right next to the forest (a 20 minute drive) and to Lagarfljót river, where rumours are that the Icelandic 'Loch Ness' lives: The Lagarfljot Worm. If you drive a bit further (off the main road) you come to Atlavík – a popular place to camp by the lake. It's also worth driving to Seyðisfjörður from Egilsstaðir, a 25 minute drive one way along road no. 93.
Day 9 (26-Oct) Mývatn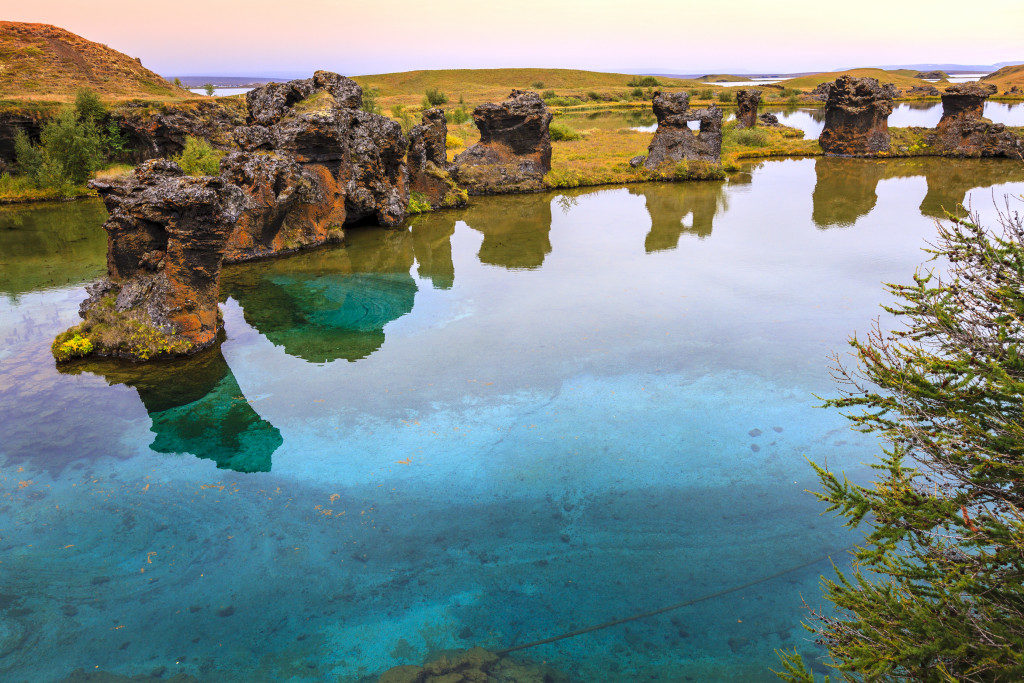 A stunning lake in the north of Iceland with rich vegetation and birdlife and stunning surroundings, filled with hot springs and caves. From Egilsstaðir it's a 2 hour drive to Mývatn – or if you drive the north way round from Reykjavík it's around a 6 hour drive.
depart from Reykjavík and Húsavík in North Iceland and normally last for only a few hours. Whales are beautiful to watch and to be out in the very cold North Atlantic ocean is an experience that reminds you of the great mysteries and awe of the sea
Day 10 & 11 (27 & 28-Oct) Dettifoss
In the northeast of Iceland is Iceland's most powerful waterfall, Dettifoss. Often a location for moviesets, most recently for the opening scene in Prometheus, this thunderous waterfall will leave you in awe
northern lights travel blog ,northern lights travel guide ,Northern lights iceland ,  best place to see northern lights ,northern lights norway ,Icehotel ,kakslauttanen arctic resort ,best place to see northern lights , aurora borealis
The West Fjords are the most remote area in Iceland and not a part of the ring road, therefore it will take you a while to get there. By renting a car and exploring on your own you'll find narrowfjords, beautiful beaches, cute little fishing villages and various hot springs.Reach Keflavik and stay here
Day 12 (29-Oct)
Come back to Keflavik and spend the evening in this small city
Day 13 (30-Oct)
On 30th  Oct Take a flight to Amsterdam & then to India the on same day
Fly back to India
If you have already filled up an application form on our website for any other trip ever before, then you don't need to fill up the form again, just email [email protected]
Q.I want to see your last trip pics?
Ans: Follow the link: PICTURES
Q. Can I drive?
Ans: Yes you can drive if you have a valid Indian driving license.
Q. Why this trip is less costly because all the trips for Iceland are starting from 1.5 lac?
Ans. We believe in passing the benefits to members also, as we are a group of passionate traveller who is running this company and not a business-oriented company.
Q. How will I meet the group if I come?
Ans: We will add you to our WhatsApp group for further communication and if you are coming alone then we will arrange an airport pickup for you by public transport.
Q.Any discount for a group?
Ans: Yes, if you are more then 2 then you will get a group discount of 3000 Rupee per head.
Q.Where can I see T&C of the trips?
Ans: Follow this link: CLICK ME
How to Contact us?
Call us on 9029099709 or E-mail us on [email protected]