Philippines
It's tough to think of a more beautiful corner of the world than the Philippines, with white sand beaches, bath-temperature water, and incredibly friendly locals.
Islands of Philippines, 7107 to be exact can make you in love with this
archipelagic country, with some of the worlds most beautiful beaches plus one out of 7 wonders in custody, Philippines is a traveller's paradise. Travel Buddies are going to explore this paradise for 14 days tour. We will explore each and every corner of Philippines.
Dates: 01-Dec to 13 Dec
Philippines 13 days Trip Itinerary 
Day 1: Cebu
Day 2: Cebu
Day 3: Oslob
Day 4: Bohol
Day 5: Bohol
Day 6: Siargao
Day 7: Siargao
Day 8: Coron
Day 9: Coron
Day 10: El Nido
Day 11: El Nido
Day 12: El Nido
Day 13: Manila (Fly back)
Before you read the itinerary, let me share that it is a backpack trip and no luxury with frills. Basic hostels/hotels will be provided and we will be always on the move so backpack of 40-60 litre will be our type. If you also love beaches and mountains, scuba and snorkelling and Party and party boats then this is your kind of trip!
Day 1 CEBU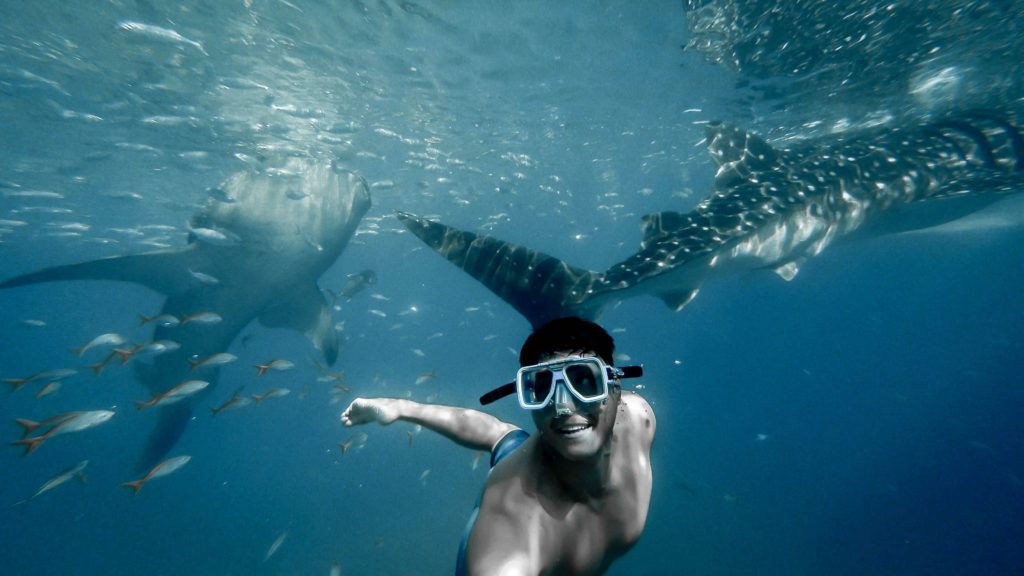 Cebu is a word derived from word Sibu which means trade. Opposite to the definition of its origination,  Cebu is the door to the Philippines and is famous for it Kawasan falls, Canyoneering in Algeria. It is a kind of launchpad for travellers from the outside world to land in Cebu and enter the magical archipelagic country.
Take an international flight from India to Cebu, Land in Cebu and check-in
After getting out of after-effects of a long flight, we will start of the downtown tour for this beautiful city named Cebu:
Downtown Tour Includes:
Magellan's Cross
Fort San Pedro
Basilica de Santo Nino
Cebu Metropolitan Cathedral
Most of the best waterfalls, whale sharks, snorkelling with sardines and turtles are all down south so we will be going after nature on day 2.
Day 2 Moalboal
SUNRISE HIKE TO OSMENA PEAK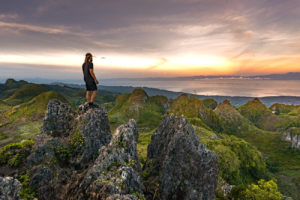 The Peak is known for having amazing panoramic views across jagged cliff lines and the ocean. Best for sunrise and will be speechless by the scene from the summit of the short 20-minute trek. We will start at 4 am to see the sunrise and be back to the city. (1.5 hour one way)
The Peak is known for having amazing panoramic views across jagged cliff lines and the ocean. It will be an amazing sunrise scene from the summit of the short 20-minute trek.
INAMBAKAN FALLS
1 hour from Moalboal, this out of the world waterfall is known for having a beautiful 100-ft waterfall that plunges into a wide pool of blue water. Surrounded by lush jungle greenery it is indeed an amazing scene. However, what makes Inambakan Falls such a memorable adventure is the multi-level trek to different pools and waterfalls.The main waterfall is a 100ft flow of water, which crashes down into the blue pool of water. limestone cliffs behind the waterfall. The orange tinge contrasts so vividly against the strong blue of the pool below.
Kawasan canyoneering
Canyoneering through the Gatorade blue waters all the way down the canyons into Kawasan Falls is one of the most popular tourist activities on the island. Thousands of tourists participate in the adventure every day.
The canyoneering starts in the jungle and you will wear a helmet and a life vest. Accompanied by a guide you will jump into the water and begin floating down the canyon. This goes on for the best part of 2 hours as you float, jump and climb your way down to Kawasan Falls.
The biggest jump is 50ft but it is optional. The biggest jump that will require to continue the journey downstream will be only a few meters. Halfway through the floating and swimming comes to an end more or less and you begin to trek through the water and the jungle. It is quite an immersive experience but still quite safe.
Finally, you will end up at Kawasan Falls. Here you finish the experience with a big jump from the top of the waterfall. Note that you don't have to jump you can walk down quite easily but it is the tradition to finish with the jump. Now you can enjoy Kawasan Falls and have a rest! If you prefer not to do the canyoneering you can just walk to Kawasan Falls at the base and enjoy it from there. It is definitely the most crowded waterfall on Cebu with lots of food outlets, umbrellas and touristy action going on. It's definitely one of the most popular waterfalls on Cebu but it is worth battling the crowds!
Day 3 Olsob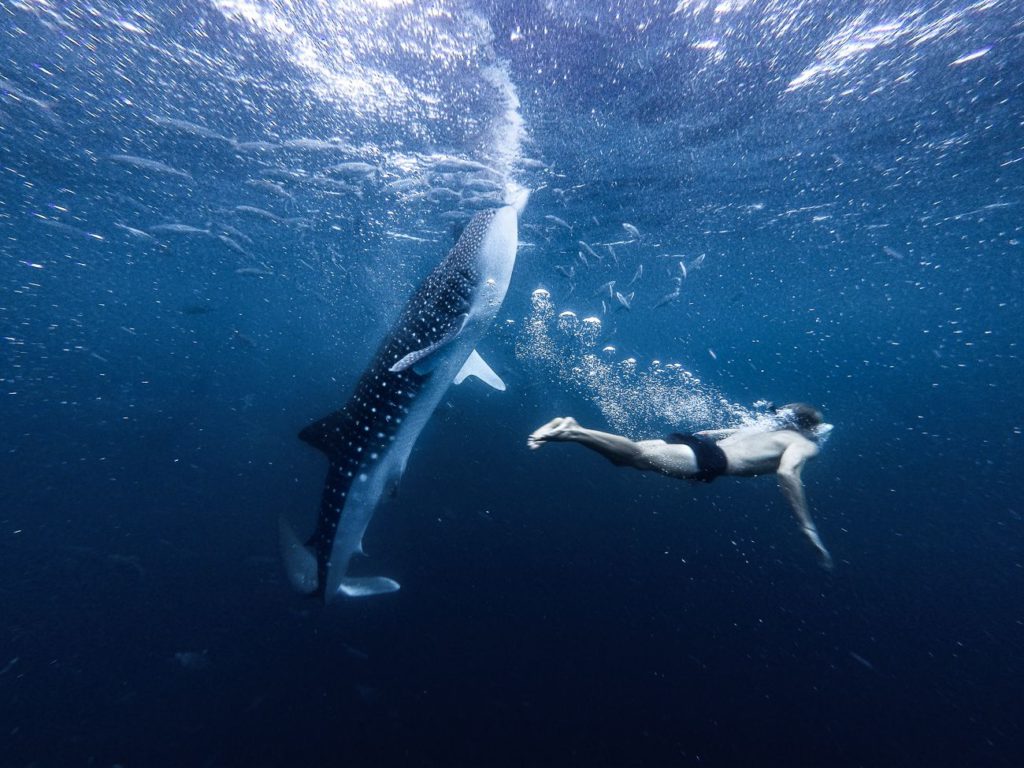 Our next destination will be Oslob, known as the whale shark capital of the Philippines. You must have heard about whale sharks are getting fed in the Philippines and as per me, it is better than being hunted. You can choose if you want to swim with these giants or just want to watch them from a distance.
Other attractions :
Sumilon Island
Tumalog Falls
We will stay here for 1 night and then move back to Cebu.
Day 4 & 5 Bohol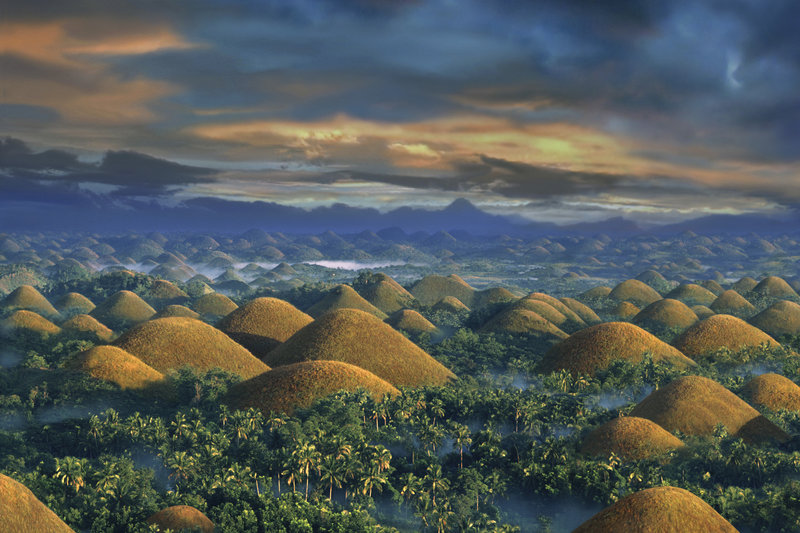 Bohol is an amazing little island with so many draw-cards. The biggest drawcard is the world-famous Chocolate Hills. However, other attractions are the epic waterfalls of Bohol. The island is also home to a unique animal, the incredibly tiny and cute Tarsier. A man-made tree tunnel, island hopping, scuba dive scene, and reggae beach bars make Bohol an action-packed part of your Philippines trip!
Cebu to Bohol is connected by ferry (2 hour)
Today we will either hire motorbikes or will take a tour. We will discuss it and then go ahead.
We will take a full day tour and will explore all the following places(Bohol Countryside Tour.) This tour is great because you get to do a lot just in one day. Our countryside tour will take us to the following places.
Visit the historical Blood Compact Shrine, and learn about the story behind its name
Marvel at the Neoclassical architecture of the Baclayon Church, which was completed in 1727
See the world-famous Chocolate Hills with its 1,268 cone-shaped hills that turn brown in the summer
Stroll through the beautiful Bilar Manmade Forest, a mahogany forest stretching in 2 kilometres long
Enjoy a delicious local buffet lunch on a floating restaurant that cruises through the Loboc River
Meet the tarsiers at the Philippine Tarsier Sanctuary, which was built to protect the world's smallest primates
Day 5
Hinagdanan Cave is on the way to all of the waterfalls, Chocolate Hills and pretty much everything from Alona Beach. It is overflowing with tourists most of the time but somehow we entered the cave and we enjoyed it all to ourselves for a good fifteen minutes before more than 40 nervous tourists huddled around the pool as we backflipped and dove into the crystal clear water.
While I was expecting a scene a little more magnificent the drive through the man-made forest is worth the journey if you are heading north from Alona Beach. Gigantic trees create a natural tunnel. Crickets and birds chirp incessantly as you make your way through the long tunnel. Entrance is free as this is just a regular road you will likely need to use to get to Chocolate Hills.
Day 6 & 7 Siargao 
We will fly from Cebu to Siargao.
The surfing capital of Philippines and official place for Cloud 9 World Cup, You will find gigantic waves. If you ever had a dream to learn surfing then this is the place. We will be staying in General Luna area so see cloud 9 waves.
Jacking Horse: The most accessible beginner wave on the island. A great spot for learning how to catch a wave but often crowded with surf lessons and it has a strong tide. Lots of paddling if you aren't a gun. Some of the local longboarders tear it up here!
SECRET SPOT
Siargao has a place locally known as the "Secret Spot" or the "Secret Place". Contrary to its name, it's not a heavily guarded secret. Rather it's a place that seldom receives attention compared to other Siargao attractions.
t has two sides: Doot Beach, a tranquil beachfront with fine, semi-white sand, and the mangrove forest, where you can rent a small paddle boat and explore the floating foliage. It's out of the way from the general hubbub of the surfing areas, a half-hour's ride from General Luna proper so we will use our bikes.
MAGPUPUNGKO ROCK POOLS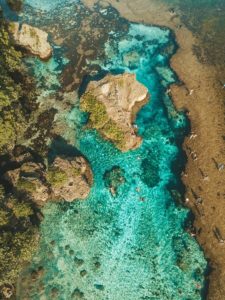 Magpupungko Siargao is a natural rock pool, best visited on low tide, that can be found on the east coast of the island. Magpupungko is one of the most popular Siargao tourist spots, and it's easy to see why. Magpupungko Rock Pools are tidal, meaning that they are only accessible on low tide when they are exposed. If you arrive at Magpupungko Siargao on a high tide you will not be able to see or even be permitted access to the natural pools for safety reasons.
Day 7  SUGBA LAGOON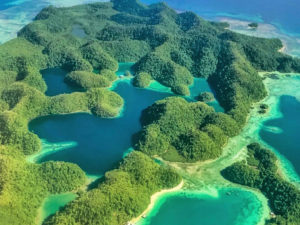 Today we will drive for a few hours to reach Del Carmen port first. If we are not driving then the second option is habal-habal, From General Luna, the trip takes about a couple of hours, and costs PHP 500 via habal-habal.
Day  Boracay (will decide about it)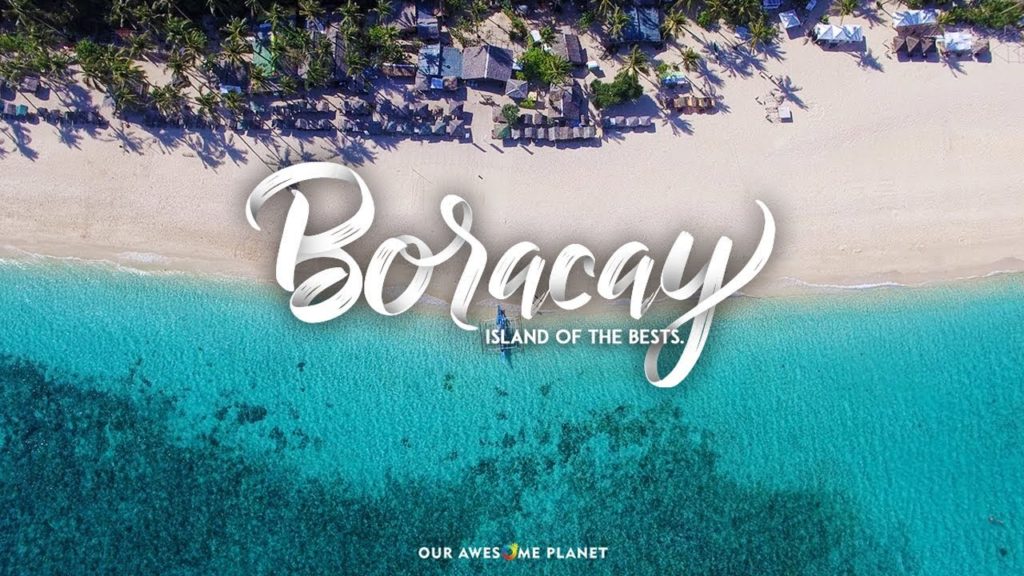 Boracay is a small island in the central Philippines. It's known for its resorts and beaches. Along the west coast, White Beach is backed by palm trees, bars and restaurants. On the east coast, strong winds make Bulabog Beach a hub for water sports. Nearby, the observation deck on Mount Luho offers panoramic views over the island. Offshore, coral reefs and shipwrecks are home to diverse marine life.
PS:Terminal Fee (P100), Environmental Fee (P75), and Ferry Fare (P25).
Willy's Rock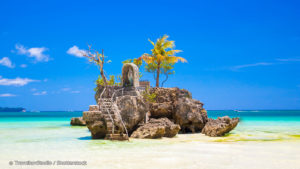 Situated one hundred meters off shore, in the shallow water near Boat Station 1, Willy's Rock is a castle-like volcanic formation that dominates the seascape along White Beach. Facing the beach are stairs leading to a chapel at the top, which contains a statue of the Virgin Mary. Willy's Rock is the most photographed landmark on Boracay and offers a commanding view of the island. On the distant horizon, Naasog Point on Panay Island can be seen.
Other Activities:
Parasailing
Flyfish
Party Hard
Party animals will love Boracay, as there are countless beach bars and nightclubs that keep pumping until very late into the night. … White Beach has plenty of bars to choose from. We will hit few which are located in Station One and Station Two , louder and offer both live bands and DJs.
Day 8 & 9  Coron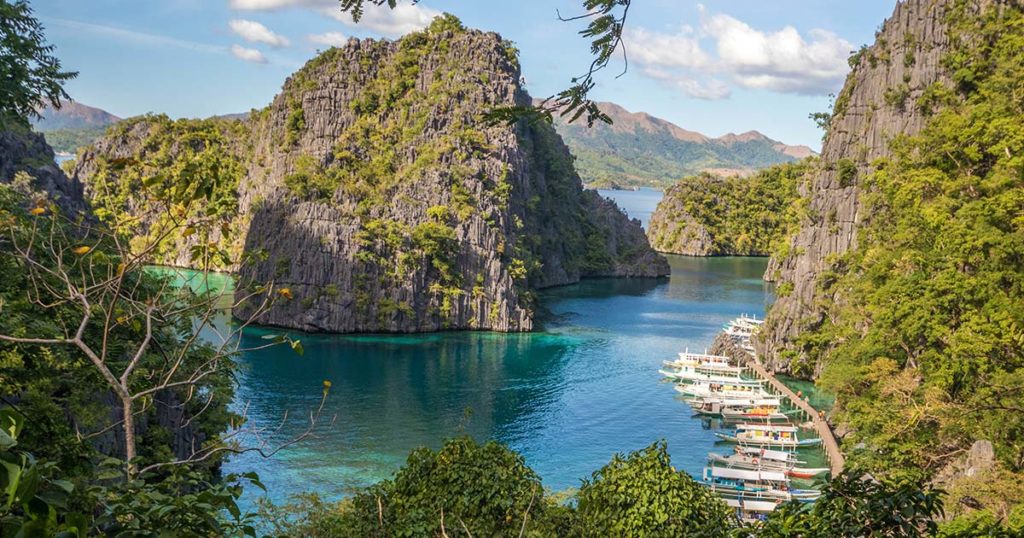 Kayangan Lake: Kayangan Lake has a short hike up a couple of hundred stairs to a little viewpoint hidden in the cliffs. It's a view you won't forget. The Philippines is truly one of the most beautiful places on earth. From the viewpoint, you walk down the other side of the cliff for a few minutes and reach Kayangan Lake.
Siete Pecados Marine Park: Next stop will be a snorkel at Siete Pecados. The coral is like an underwater fossilized forest. Each snorkel is always different and this was no exception. Starfish, hundreds of different fish and fluorescent coral.
Atwayan Beach: Enjoy a full seafood and barbecue spread conjured up on the grill at the back of the boat. We ate in a small hut on Atwayan Beach while looking out over the glistening bay.
Skeleton Wreck: People who wanna do scuba then this is heaven. It's a mostly intact WWII ship that found its resting place in Coron. Thousands of fish surround the wreck. To get down deep enough at the level of the wreck you will need to dive about 15ft but you can still get a great view from the surface.
Twin Lagoon: Our final stop of the day will be Twin Lagoon, a stunning pool of water hiding amongst the breathtaking cliffs. Through a small gap, you can swim under the cliff and into Twin Lagoon. A vast lagoon, personal giant, private swimming pool for half an hour.
BANANA ISLAND CAMPING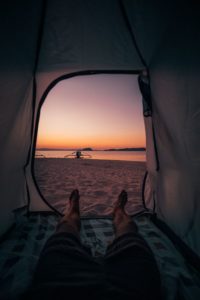 We will be doing overnight camping in Banana Island before we go to our next destination.
Day 10,11 & 12 EL Nido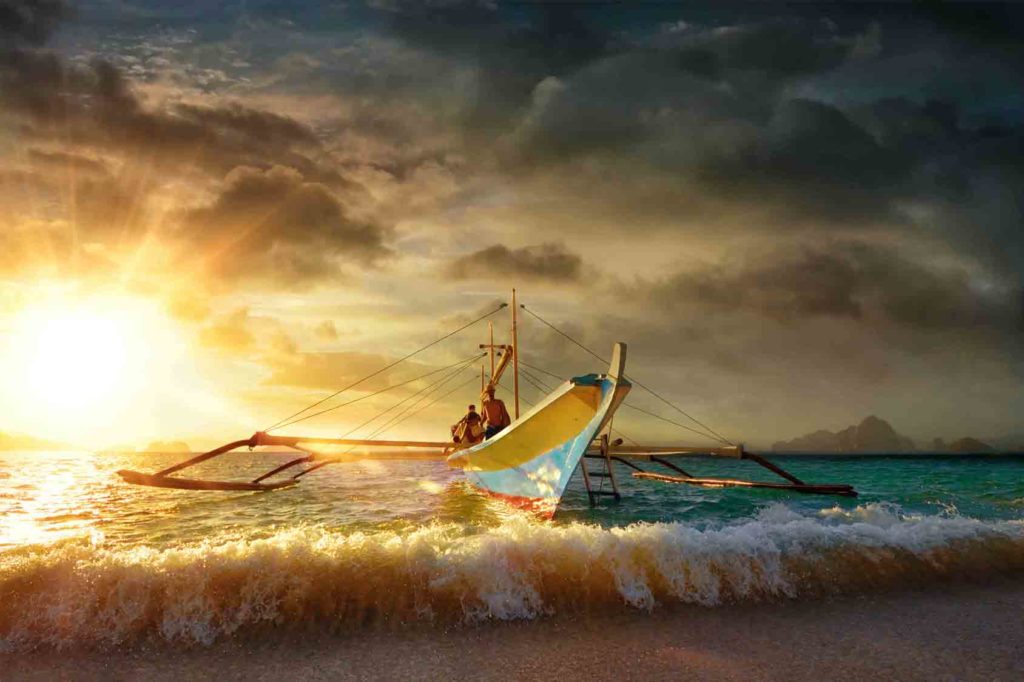 El Nido is a Philippine municipality on Palawan island. It's known for white-sand beaches, coral reefs and as the gateway to the Bacuit archipelago, a group of islands with steep karst cliffs. Miniloc Island is famed for the clear waters of its Small and Big lagoons. Nearby Shimizu Island has fish-filled waters. The area has many dive sites, including Dilumacad Island's long tunnel leading to an underwater cavern.
Today we will reach in afternoon so after getting freshen up, we will head for evening beachside walk and party.
Day 11 Tour A
Tour A takes you around the limestone paradise of Miniloc Island and its Big Lagoon. The sights at Miniloc are usually the ones perfectly captured in postcards. There are a couple of beach stops: one in Simizu Island and another at the 7 Commandos Beach in mainland El Nido.
Simizu Island is the usual lunch stop. But if it gets too crowded, the boatman picks an alternative, usually Payong-Payong Beach. But if you really want to see Simizu (or Payong Payong), just let the boatman know so he wouldn't skip it.
You can go kayaking around Big Lagoon! Let the boatman know beforehand that you intend to kayak so they can prepare the units for you before you leave town.
Stops: Big Lagoon and Hidden Lagoon on Miniloc Island, Simizu Island or Payong Payong, and 7 Commando Beach.
Twin Beaches
Together, Nacpan Beach and Calitang Beach make up the ever-so-popular Twin Beaches which lie in the north of El Nido.
Nacpan Beach is a 4-kilometer stretch of golden sand and strong waves that create the most mesmerizing combination. The waves can get a little strong, so it's recommended only to swim near the volleyball courts where the water is calmer.
Calitang Beach is right next to Nacpan Beach but is much smaller. In between the two beaches there is a viewpoint that you can climb up gaze down on the entire layout.
Las Cabanas Beach
Las Cabanas Beach offers everything you could want in a Philippine island beach: white sands, clear water, and palm trees lining the thing. However, Las Cabanas Beach has one extra feature that stands out: a zipline. From the beach, you'll embark on a 10-minute climb up some stairs to reach the landing point. The experts will strap you in and send you down a 750-meter long zip line to feel the wind in your hair. This zip line isn't particularly scary, but more so, an opportunity to soak some of the most gorgeous scenery you'll ever see in your life.
Day 12
Party Boat
Unlimited alcohol, carefree travelers, and world-class scenery all in one place- the El Nido Party Boat is a must-do. Climb on the 2-story vessel and set off on a booze-filled island hopping tour with likeminded travelers. You will cruise to 3 or 4 beaches in El Nido where you can jump off and play around. There will be a BBQ on board and snacks all day. Snorkel, dance, drink, swim, and make some new friends during the best boat trip ever.
Pick up is at 11am and the boat will return to shore around 6pm, just in time for sunset.
Fly from El Nido to Manila by flight and take your connecting flight from there in the evening.
*If you have already filled up an application form on our website for any other trip ever before, then you don't need to fill up the form again, just email [email protected]
FAQ:
Q. How can I connect for future trip updates?
Just click this link and join our Facebook updates for future trips:
 CLICK ME
Q: Can I see your pictures of this trip?
Ans: Follow the link: PICTURES
Q. How will I meet the group if I come?
Ans: We will add you to our WhatsApp group for further communication and if you are coming alone then we will arrange an airport pickup for you by public transport.
Q.Any discount for a group?
Ans: Yes, if you are more then 2 then you will get a group discount of 3000 Rupee per head.
Q.Where can I see T&C of the trips?
Ans: Follow this link: CLICK ME
How to Contact us?
Call us on 9029099709 or E-mail us on [email protected]
 Team
TBT
Mail: [email protected]
9029099709