Songkran is an annual festival which takes place over three days during the traditional Thai New Year,
April 13th-15th (in almost all provinces).

The official Songkran festival lasts three days but in reality the whole week is taken over by a mass celebration as the whole country shuts down for a momentous water fight. Wild scenes of exuberance can be seen throughout the Kingdom with music, dancing, drinking and people drenched from head to toe. Water guns, hose pipes, buckets, in fact, anything you can get your hands on can be used to splash people, and one thing is for certain: you will get wet! As April is the hottest month of the year in Thailand, everyone gets involved with this country-wide water fight and it brings great relief from the soaring temperatures. Songkran started as a Buddhist tradition, using a light sprinkling of water to symbolise purification but, as time went by, people began splashing each other in a more playful manner until recent years, when the entire country becomes one almighty water fight celebrated by millions!
Itinerary Brief:
Day 1  Phuket
Day 2 Phuket
Day 3 Phi Phi
Day 4 Phi Phi
Day 5 Phuket
Day 6 Fly back
Pictures from our last Thailand Trip:
            
Phuket:
As Thailand's most popular beach destination, Phuket sees wild celebrations during Songkran. All three days of the New Year break has developed into an orgy of water throwing using buckets and water guns. Even the police in Phuket will get involved, swapping their firearm for a water pistol for a few days. In the past, Songkran in Phuket was celebrated mainly on the first day but in recent years you will find a morning till night party consume the island for a solid three days.
Day 1 & 2
Where to Party for 2 days?
Patong Beach is home to the most raucous scenes during Songkran, unsurprisingly when you consider this is where you will find the most bars and the best nightlife. There is a parade, a Miss Songkran beauty pageant and an intense water fight along.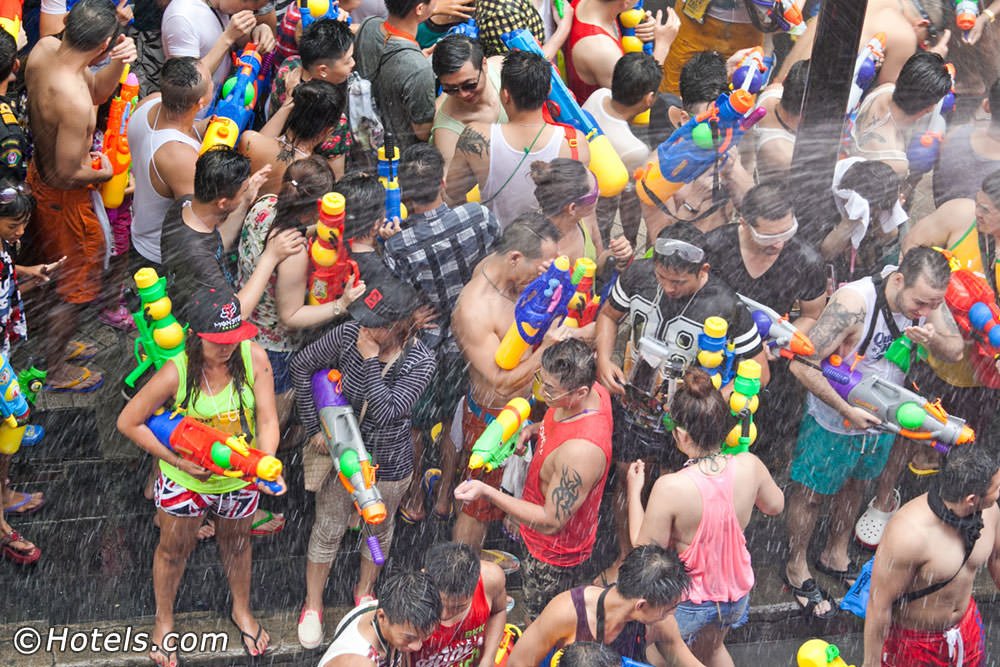 Photo courtesy: hotels.com
Other then this we will explore:
Wat Chalong
There is a saying among Thai tourists that if you are visiting Phuket but have not yet set foot in Wat Chalong, then you have not really arrived on the island.Wat Chalong is officially called 'Wat Chaitararam' by royal decree but not many people use that name. Located in the northern part of Tambol Chalong ('tambol' means sub-district in Thai) on Chao Fa West Rd, the wat is close to many local attractions. The name 'Chalong' means 'festival' in Thai – many years ago the area was named 'Chalang' after locals, fearing Burmese invaders, had moved from Thalang district. However, the Thai government(join travelbuddies group) pointed out that no such word existed in the Thai language and ordered local officials to change the name.Wat Chalong, or Chalong Temple, is replete with history and legend. Many stories have been told about how the miracles performed there and how the wat played a pivotal and healing role in the fighting between Chinese secret societies ('Angyee') in 1876.
Karon Beach
Karon features the third longest beach on Phuket Island. Located on the west coast, between Patong to the north and Kata (with which it shares a common municipality) to the south, Karon Beach is the second favourite holiday (join travelbuddies group)destination in Phuket. The beach itself has excellent snorkelling (and even diving) spots at its southern end and is wide enough for beachgoers to never feel crowded.
KATA Beach (beach hopping )
The pleasant bay of Kata, just a few minutes south of Karon Beach, entices and charms many visitors with its white sands and clear waters. Very popular with families, Kata is an all round favourite due to its spectacular palm-lined beach, great restaurants, lively(join travelbuddies group) but not raucous nightlife and varied accommodation options – all close to the beach. From May to October surfers flock to catch Kata's waves and from November to April the beach is alive with sunseekers.
Stroll the Phuket Weekend Market
Known also as the Naka market, this market is located right outside of Phuket Town. It is a crazy assortment of local and secondhand goods, interesting objects, and a huge variety of food. The market is broken up into two sections- the covered section (everything from jeans to pirated DVDs), and the open market (food, food, food!)
Aussie Bar Patong Beach
Among the largest and best-known of the Bangla Road pubs (not to mention being significantly more family-friendly), Aussie Bar stretches over two floors, with seating for up to 250 people. It is true to its name,(join travelbuddies group) with a particular focus on all things Australians are most stereotypically known for, particularly beer and sports. There are no less than four bars, three pool tables and dozens of large TV screens showing all manner of sports. The owner is an avid Australian Rules Football fan, but you will also be able to watch rugby, English and European soccer, cricket, motorsport, horse racing, golf, tennis, boxing, American Football, basketball and ice hockey, among others.
·
Phang Nga Bay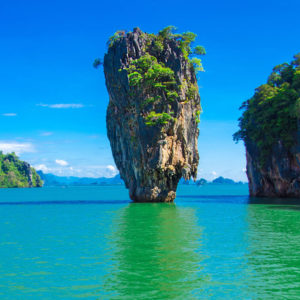 James Bond Island is a famous landmark in Phang Nga Bay. It first found its way onto the international tourist map through its starring role in the James Bond movie 'The Man with the Golden Gun'. A distinctive feature of this famous bay is the number of sheer limestone cliffs that vertically jut out of the emerald-green water.
The bizarre, why-doesn't-it-fall-over outline of James Bond Island or Koh Tapu (meaning Nail Island in Thai), lies next to the equally well known Koh Ping Ghan (sometime spell 'Ping Gan' or 'Ping Gun'). The entire area surrounding this island is indeed spectacular, but it can get crowded with tourist boats in high season.
Seduction Nightclub
Seduction Nightclub is the largest discotheque in Patong Beach. Located right on the main nightlife entertainment strip of the most popular resort in Phuket, it is found on the second floor of Seduction Complex – a nightlife entertainment complex with five separate venues – and can host a large crowd of dancers and partygoers (up to 3,000!).
Modern and chic, Seduction Nightclub is the perfect place for young visitors to Phuket planning for a long night out to dancing to the most trendy commercial beats, having fun with friends, meeting people, and partying 'til they drop. Professionally managed, all the actors involved in the Seduction operation – DJs, dancers, bartenders, waitresses, and security guards – ensure that everyone will enjoy a safe and fun night here
Day 3 & 4:
Phi Phi Island
Ko Phi Phi is one of the most popular tourist islands in Thailand. From the famous of Maya Bay (made famous in The Beach) to the(join travelbuddies group) monkeys on the aptly named Monkey Beach to the diving and nightlife, there are reasons people flock here. Destroyed by the tsunami in 2004, the island has been rebuilt and developed to an even greater extent than before. Though I've had a lot fun here, I personally don't like Ko Phi Phi. I find it too built up and touristy. It's very overdeveloped and ruined, but thousands of people visit each year and love it. Visit for yourself and decide.
(Optional)Dive the King Cruiser Wreck –
One of the best dive sites off Ko Phi Phi is the King Cruiser wreck. The passenger ship sunk in 1997 when it hit the Anemone reef.
This site is packed with fish including clown fish, tuna and barracuda, not to mention the sea anemones that cling to every surface of the reef.  Keep an eye out for the occasional leopard shark.
(Optional) Feed the sharks –
One of the most popular trips out of Ko Phi Phi is an early morning excursion to feed sharks. A six-hour trip will start at about 800 THB and will have you feeding black tip and leopard sharks. Most tours also include visits to coral gardens for snorkeling, where you will be likely to see leopard and black-tipped reef sharks. For free, head to the little rocky inlet of Hin Phae, at the Eastern end of Long Beach.
Snorkel in Maya Bay –
Made famous for its starring role in the Leonardo (join travelbuddies group)DiCaprio film,The Beach, Maya Bay is on Ko Phi Leh and is usually included with all the island/snorkeling trips you see advertised. For those who want to see the place without lots of boats and people, you can spend a night on the island. It's a far better way to experience the seclusion of this place. The beach is stunning, with 100 metre-high cliffs on three sides of the beach.
Hang out on Monkey Beach –
Monkey Beach is one of the most beautiful beaches in Thailand, not just Ko Phi Phi. Powder white sands and excellent diving makes this a popular spot but one of the coolest things about it is the monkeys that come down to the beach. They're pretty tame and you can feed them!
Go Rock Climbing –
With the rugged landscape and steep cliffs, Ko Phi Phi is the ideal destination to climb. You can arrange a tour that will take you by(join travelbuddies group) boat to one of the islands' limestone rock faces that is suitable for climbing. The views you'll get from the top of the rock face will be absolutely unforgettable. Most places charge around 1000 THB for a half-day. Tonsai Tower is a rock climbers paradise.
Day 5
Day 7 Check out and take a ferry to Phuket
This day is leisure day and you can explore the markets and go for shopping.
Day 6th
Check out and  take flight back to India.
Package:
26666 p.p 
Inclusions:
6D/5N
Stay in double occupancy
Breakfast(6)
Airport pick N drop
Taxi: Phuket to Krabi
Ferry: Krabi to Phi-Phi
Ferry: Phi-Phi to Phuket
Exclusions:
Airfare
Visa
Activity Charges
Lunch/Dinner
TipsEntry Charges to temples
BUDDY DISCOUNT = 999 INR per extra buddy with you
How to Book ?
Mail us on [email protected] and we will initiate a booking for you.
Do you provide any Group discounts?
Yes, we provide 1000 Rs/- discounts on package cost for each person you bring with you.
I want to talk to someone to clarify my queries
Call on 9029099709
Team Travel Buddies Talk
Email us:     [email protected]
Whatsapp us:  9029099709