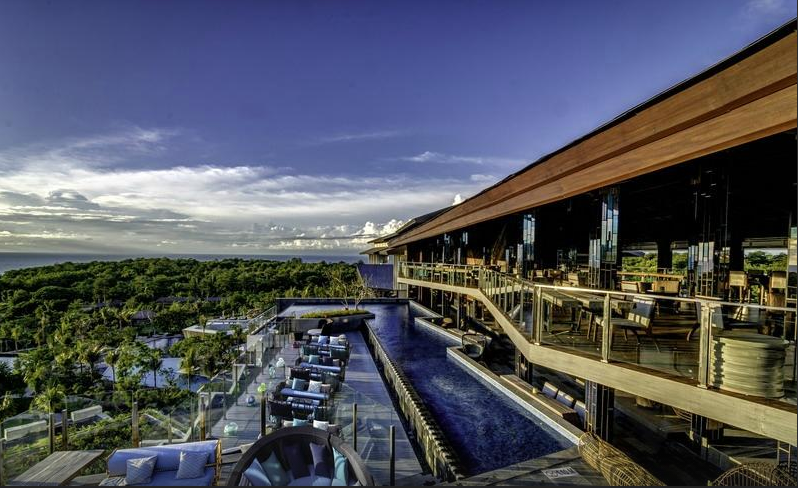 Bali – my college days
I was trying to take a quick nap as I was feeling so sleepy but suddenly someone woke me. Ssss sss it's our flight what they are announcing, get ready. I rubbed and opened my eyes and found myself at the kulalampour International Airport.
I realised, no sleep for last day and five hour flight after office made me so tired that I slept on the airport only. I picked my baggage and try to follow Praveen who was standing after Shweta, Dipti and shikha. Who all are they ?
Flashback ( zooooop )
I was in office n was randomly checking stuff on Face book and suddenly I seen a majestic picture of sea surfing and I stopped for few seconds and opened the link, it was a link of someone who had been to Bali and shared his pictures. Wow, what a mesmerising place, I said to myself.
Suddenly one idea came to my mind and I loved it so much that I start checking out the flight rates of mumbai-Bali return tickets. (Book your tickets with Malindo airlines from their site, as u will get the cheapest price and they provide good in house services too, my ticket cost me 28500 rs ) Then I checked the staying options and realised that it was well in my budget of 40 k. Feeling to be at the place which I seen today on Face book was giving me some sort of crazy feeling.
Back home in the evening, few more hours of research on this beautiful and wild Iceland..I posted on an event on the Travel Buddies Talk (https://www.facebook.com/groups/BuddiesTravel/).our face book page of Travel Buddies, which has more than 900 followers! To made it more appealing i used these words
"Do you want to party like crazes, go to a volcano, visit the oldest Buddhist and hindu temples, enjoy the blue water beaches, fly in the sky like a bird, enjoy the natural beauty on a bicycle…all in just 4 days!!! Then go to Bali!!"
The queries started pouring in from our face book and meetup.com members.( http://www.meetup.com/Travel-Buddies-New-Age-Solo-Backpacker/). One guy pinged me and asked queries that he is from Chennai and want to join me for Bali, another girl Shweta pinged me on my whatsapp number that she also want to join but she was from pune and Dipti also pinged me and said she was from mumbai and want to join but not sure as she never travelled with strangers.
Finally after answering 100s of queries, we were 5 people who confirmed for the trip. That's what happens..Everyone wants to travel but only who live that dream can finally take the adventure bang on!
5 was a great number for me to start my first international trip of Travel Buddies.
We three from Mumbai, one from Pune and one from Chennai..3 girls and 2 boys.. We were ready to roll.
We booked Malindo Air (http://www.malindoair.com/) to fly down to Bali due to its cost effective and leg space comfort.
To discuss the itinerary further, we met in Mumbai, we were three who planned out entire trip with inputs from all the others too.
Day one 0-
I quickly wrapped up my work as I had taken a half day off, at the office jumping around in the thoughts of leaving for Bali. Everyone at my office by now knew that I am going to Bali as I had been preparing for the travel well in advance.
I booked a UBER and even though driver came after 20 mins and telling us many stories about the strike,We finally managed to reach the airport just in time somehow.
Since Malindo Airlines is a low cost carrier, we decided to carry some food and snacks.
Back in the flight, the leg space is great, seats are comfortable and IFE is also good. They provide blankets on demand but they have limited numbers of them. They provide earplugs and one meal.
The flight was about 5.5hours to kulalampur and was intact very comfortable. At KL Malindo is on the "L" terminal.
(This is the low cost airlines terminal and has only three eating joints with limited options and almost no duty free shops. We enquired and strolled a little to find that before the security check, we can access the P & M terminal which is just like any other international Airport t terminals, with unlimited food options and duty free shopping).
Since it was early morning, we all settled down on some comfortable seats, had some homemade snacks and slept. In few hours we boarded our connecting flight to Bali! In just 2.5 hours we would be in our dream destination!
Nagurah Rai international Airport at Bali has Balinese elements with western touch and high tech airport technology. We were greeted by our guide and airport pick up service provider Mr. Katak. We had pre-booked his services through our research (always book your transport in advance to avoid extra charges at last moment and save time)
We were taken to a beautiful Balinese restaurant named "KAYUN Restaurant & Lounge" from there for lunch, which is famous for authentic Balinese cuisine and architecture. We couldn't find much vegetarian options there, the staff offered us to prepare some Indian bread (paranthas) which turned out to be pretty yummy.
(Must try Ginger tea and Mashroom soup)
From there we were dropped to our hotel Lokashari Bungalows, Ubud. On the way we witnessed that the beautiful Bali is a very traditional city with thousands of temples and statues of Hindu Gods. Rama idols, Ganasha, Arjun you find them all around. Our guide told us, most of the houses in Ubud are half house and half temples.
We reached Lokashari and got our rooms. The bunglows is a beautiful property, artistically done, with Balinese culture, medival touch and sceneric view. The rooms are done simple with basic amenities and the outdoor has a beautiful flowing pool, verandah. In all, you feel refreshed and inspired at a place like this.
If anyone is planning a 4-5 days trip to Bali, give one day to a property like this.
We settled in our rooms and got ready to hit the city. Since it was already around 4 in the afternoon, we decided to spend the day at the hotel and party in our room. We roamed about the streets and shopped like a local. The happening local market is just few kilometres from the hotel and the hotel provides a free of cost shuttle to that market. The market takes away the feeling of rural Bali and transports you back to the modern tourist look that Bali also offers. On reaching back our hotel, we realised the hotel had very few options of vegetarian dishes and since 4 out of 5 of us were vegetarians, we had to order same dishes. The quantity of food served per dish is very less so one dish will only suffice to one person. We partied till late night and as all of us were strangers, we utilised this time to know each other more. By the time we went off to sleep, we were 5 people who were now chuddy buddies and felt as if we knew each other since ages.. we were no more strangers..we were friends for life time!
We slept at 2 in the morning with plans for the day to enjoy the mesmerising Bali.
I wanted to feel the freshness of Bali so I woke up early (5:30 am) and came out of my hotel room, our hotel was made like old Bali forts so the cultural effect was mesmerising and feeling was amazing.i sat near the pool which was kind of private pool for us and I did some yoga and meditation, it was so calm That I felt like in a deep jungle where I was the only person. Ubudh's calmness attracts you like a magnet and if you staying here for two-three days then you starts getting addicted to it. Same happens to me, I did not take my international roaming as I wanted peace but I discovered contentment. People were getting ready for their daily jobs. One thing which you will find that every male will be wearing a traditional knot made of cloth. Mail lagers were very religious and they always wear traditional clothes during the day.by the time I came back from my morning walk one waiter was settling up the chairs in the breakfast area and out of curiosity when I asked him what is in the breakfast then he started with non vegetarian dishes, I did not stop him because I was waiting for the names for vegetarian food. You will hardly find vegetarian options in hotel menus in ubud, we found one vegetarian dish named nesi gorian. I realised that local people don't use milk in tea and coffee when I found a black tea on my table in response to my order for tea. I had my food and came back to my heaven of peace my room.
Day -1
I heard that People in Bali are very punctual and I found it right when our guide came at sharp 9:30 am to pick us up. The SUV was Prius 7 seater model, maximum people prefer these SUVs over other cars in Bali. We started from hotel at 10am and our first stop was "shop name", which was famous for "details". Bali is very famous for its handicrafts and coffee. We spent some time here and I bought some sticks for the memories. We started at 11:30 am and reached our next destination which was "shop name" and was famous for " details", a local women was making the " details " from the wooden machine. We seen the showroom also where they had kept all the handicraft teams. We bought one shawl from here for memories. We started from here at 12:15 pm towards our next destination and to our surprise it was not handicraft but a place famous for silver items. Entire village was doing the same job and seeking the silver stuff. One expert who was showing silver work as he was making silver rings. We entered the showroom and seen some beautiful rings. No shopping for me as I did not want to buy a ring for anyone, no girl friend no tension. Lol ! We started from here at 12:45 pm towards our final destination, the volcano. During the journey we Stuck in a traffic jam and while being in car was finding some good Shot and suddenly a cute little boy came out of his house with his mom and started giggling after seeing us. He was the best click I ever had. How happy he was in his own world. Kadakk our guide shouted, we reached we reached. Driver stopped the car and we came out. First time in my life I was seeing any volcano face to face and mount Batur was standing tall with glory and pride in his eyes. Lava and ashes which were spread near its outer portion was showing how powerful he was. Basis trip advisor's review we searched for our restaurant named "name " and to my surprise it was just opposite of the volcano and indeed was the best place to capture the beauty of the volcano. This restaurant was famous for its local flavoured cuisines and panorama view of mount batur. We entered and seen a long table full of veg and non-veg food, as we were already so hungry so we asked for 5 buffets. We started with tomato soup( 4 star) followed by dragon fruit ( local fruit 3 star for taste ) in starters. If you are a hard core non-vegetarian then this restaurant is heaven for u, you can start with pork/ chicken soup and then move to chicken/goat/pork sandwiches. "Dish name" with rice will be a mouthwatering Experience for you. For vegetarian " bull rice" is the safest option, it is kind of Indian pulav with local flavoured rice. In Bali they have three type of rice, white rice, brown rice and black rice. In sweets you will get " dish name " for vegetarians and "dish name" for non-vegetarians. Post lunch I wanted to have something hot so I checked the tea stall and for a relief I got a milk maid Tin on the counter. After having food and tea we thought of going to the balcony of the hotel to see the volcano from a close look. The moment we stepped out I realised the temperature difference of -15 c, it was so chilled that that we were not able to stand only and to my surprise at the entrance it was not like this so I realised it was because of the volcano and the huge lake attached to it. If we would have stand there for ten more minute then we could have frozen so we decide to take few pictures and leave that place. But first time I seen a active volcano who last erupted in 1917 and is famous for its extreme temperature. How powerful batur was can be easily calculated by its power of its aura, which was giving super chilled waves in the near by area of its territory. I saluted him and we came out of the hotel. It was time to our next destination I.e. Coffee plantation. We took the other route to come down from the mountain, a little fast and curvy road. After 30 mins we reached at " name ", from outside it was looking like a jungle. Kadak guided us towards the entrance, we followed him and I seen first time a fruit of coffee. Although it was green n looking like small guava but in actual it was a coffee plant. From that small way we got into the a bigger area where there was one guy was sitting and showing us how they were converting these coffee beans in to their actual colour and shape. One man was burning the seeds till they were getting brown. One guys gave us the sample of five types of coffee and tea, 1. Lemon tea 2. ?? Coffee 3. Ginger tea 4. ?? Coffee 5. Tea . I tried " name of the coffee" and it was mild in starting but getting strong by the time it was reaching my throat. This was the actual coffee. We bought " coffee name " and came back to our SUV. We again started our journey towards our hotel.we reached back at around 6:30 pm and we all decided to go to Jazz Bar to enjoy our evening. I am not a fan of live music but it was Bali yar so I thought of give it a try. Her name was " name", she came and sit with one of the customer sitting there and her team was planning the music equipments during that time. We ordered beers ( Allen cider must try) fro everyone. In starters was French fries and pizza. We were busy in our conversation and suddenly we heard a loud tone of someone who was singing on top of here voice and the words were """ words """ . Her voice gave me goose bums, her expressions made us freeze and her passion made everything stand still. She was The Singer. My first live music act and I was into it totally. We spent happy 4 hours there and we ordered toquilla to wrap up our party. One order converted in two and three and then five. People were super high so we asked for a taxi and reached our hotel. Good night
Day 3-
We woke up very early today as we had to shift to kuta, Legain. After breakfast, we clicked pictures of the bunglow trying to capture what ever possible we could of this beautiful place. Our today's itinerary included visit to the famous temples of Bali and checking in our hotel at Legain-Champlugmas. We loaded in the Bali SUV and moved towards the first temple..(Rana pls put the name-i have forgotten). Its a historic temple of three Hindu Gods- Brahma, Vishnu and Mahesh. Built amazingly in a huge area, the temple vibrates positivity and serenity. The temple stays closed generally and tourist can walk around the temple but not enter inside. Proper conduct and temple attire comprising a waist cloth (sarong) and sash are required, available for rental or donation fees at all sites to enter the main building of the temple. Also the temple opens only during ceremonies. We loved the place for its majestic feel and positive energies. From here we moved to the most popular and signature temple of Bali- the Tanah Lot temple. Its built on a small island off the coast of Beraban village in the Tabanan regency and is accessible only during the low tides. It is islands one of the most iconic landmark built with ancient architecture, set against exotic backdrop amidst constantly crashing waves. It is simply among Bali's not-to-be-missed highlights on tours to Bali. The onshore site consists of smaller onshore village temples alongside visitors' leisure facilities that comprise restaurants, shops and a cultural park. We moved around taking pictures of this amazing and breathtaking beauty, crossed the small distance from shore to the temple making our way through the low tide waves. You can offer prayers and offerings and take the water frm the holy spring there. Frm there we moved to a lovely restaurant by the sea side. It offers limited vegetarian options but the seneric view and beautiful landscape compelles you to have atleast a glass of wine sitting there. This was our last temple and frm here we headed directly to our hotel in Legain, kuta. Champlung Mas is a nice 3 star property just off the lane of the kuta market.
pending
It is centrally located. Has two swimming pools, one rooftop along with a bar, lounge, dinning area. The rooms are big and have balconies opening to the market lanes, backside, poolside. With big bathrooms it provides all facilities such that any other hotel provides. As the whole Bali has, ubud or Kuta or any restaurant, free wifi is available here too. We settled down in the hotel and were deciding about the evening, when our itinerary showed that today evening was booked for the Rock Bar. Its very easy to travel within Bali. We just had to request the reception to call a taxi for us and the Blue bird metered taxi arrived within few minutes. The drive to Rock Bar was almost 40 minutes from Kuta. Rock bar at Ayana Resort and Spa is one of its kind in Bali. Its a very popular place to get the best view of sunset. The mysterious look of this luxury property engulfed us. Rock Bar is built on a unique rock formation at a secluded limestone cliff. Its an amazing work of anyones creative thinking, its designed with an open-top platform built onto the natural formation. We went down from the Resort to the Rock Bar, in an open slanting lift, that was the beginning of this experience called Rock Bar. We couldn't get a table on the top floor and that did made us sad a little but soon our comfortable seats, friendly staff made us excited again. The experience of the signature cocktails, exceptional views, and mood set by its music was amazing. We enjoyed everybit of this lovely place. We even played truth and dare and I was asked to dance to the tunes of the DJ in the middle of the Rock bar with I enjoyed to the fullest. We ordered some vegetarian starters, again from the limited options but they turned out to be very tasty and filling. We clicked 100s of pictures there from the open Bar to the swimming pools..we covered every place of the Resort so as to have the maximum memories of this place. We requested at the Reception for a taxi and within few minutes we were driving back to our Hotel after a great evening at Rock Bar. Back at the hotel, we had already placed an order for the Indian food to be delivered at our Hotel frm a close by Indian restaurant Atithi. We all were dying to eat some Indian food as it had been some days we tasted it. The food was good and we chatted till late night, rather early morning after dinner. We realised that we were actually turning into life time friends as we slept that night..hoping this trip never ends.
Day 3
After enjoying our night at rock bar we came back to our hotel by taxi whom we paid 120000 Indonesian rupia. He asked for night charges too but I knew we are not supposed to pay night charges as taxi meters changes the rate and charge you the extra amount during night so do not pay NIGHT CHARGES to any taxi driver.
In the morning I went to the " beach name" which was approx 2000 meter from our hotel.
Suddenly a fresh and cold breeze touched me the moment I entered on the beach.
A calm and clean beach with a touch of culture, it takes you to some other world only.
Spending time their alone was a heavenly experience. If you like to spend time with you then do repeat it.
One wave after other was coming and reminding me that life is like this beach only where one moment after another is coming and melting down in the sand and we are seeing it by standing on the beach, sometime the wave is too big that we need to push ourselves back and some time a small wave comes and touch our feet and go.
Contentment was the word and I was so happy that I did not sleep and woke up early and came here.
Coconut water is around 230000 lac here ( 110 Indian rupees) so I thought of not to have it and I left for my hotel.
Post getting fresh we all met at breakfast and I found many options for vegetarians in this hotel unlike our last resort.
I had my bread toast, Fruits, juice and donuts and others had fish sandwich and omelette bread. We tried to fill ourselves to skip lunch.
If you are in Bali am not doing water sports then you are like not doing puja being in temple. Always book water sports directly and not through your hotel and some agent, in this way you will be save lots of money.
"Name " is one of the famous and first start rated company for water sports. You can book them by sending whatsapp message so we did whatsapp them and they sent a car at sharp 2pm ( they provide pick and drop which is a part of package, so do not book taxi and go on your expenses).
One black SUV came at sharp 2pm and the driver was snark guy who greeted us well, we started from our hotel and it took around 1 hour to reach the cleanest beach of Bali, " beach name".
We came out of the SUV and entered in a corridor which was attached to the beach, we came out of the other side and what I seen was a entirely different world only.
A dream world it was, sea was looking like a beautiful girl's deep eyes. White waves were coming again and again and making the entire scene more magnetic.
Suddenly a loud voice " helloooo guys " shaken me.
One 6 feet 3 inches body builder was standing there and looking at us.
His name was " name " and he was the head of water sports branch.
He shown us the album with pictures of the different kind of water sports and told us about snorkelling, sea walk, parasailing, and jet ski.
I selected parasailing, snorkelling and jet ski.
I heard that if ever you wanted to feel how does it feel to be a bird then try Parasailing.
I thought I can be a bird, bird of a size of 6 feet 2 inches lol !
They tied me with the safety gears and I was ready to roll.i was feeling like a kid who wanted to enjoy the world and zooooop, I was in my dreams only and boat with my ropes I was attached started pulling me and I had to run for few steps, I was moving with the rope and I realised I will be in the sea if I will not fly now and suddenly rope pulled me and the parachute, in next 30 seconds I was in air and getting pulled up towards the sky.
A very shaddy feeling suddenly over powered me that what if something will happen in the sky ? Then my inner voice ( Indian wali) said no boy it is not the time to get afraid off so I let my self loose.
I was too high in the sky and was able to see the entire Bali, beautiful mountains and the sea was looking like a glass and entire sea coral was so visible.
People were riding jet ski and white water waves were coming on the surface due to the speed of jet ski. Mesmerising was the world.
Then I seen the sky and spreaded my hands and yes it I was feeling like a bird.i always wanted to do it and now when I was doing it I felt like dream come true.
For next few minutes I was seeing my friends who were waiving hand towards me and the boat which was pulling me. One loud sound was taking my name and asking me to pull the blue rope, I realised instructors told me to follow them while landing so I pulled the blue rope and then red and then blue with more force and then red with full force and the blue again Pheew and finally I landed.
The next was the jet ski, they said I could have done it alone too but only if I knew swimming, even though I knew swimming I did not want to take chances.
So we started our jet ski ride, he asked me to take the charge and explained me the controls.i dive many bikes but driving in the sea and that to on top speed without helmet was mind blowing.
The thrill of riding this water monster was a unique experience. It went for around 20 mins and was worth paying.
I was drenched but still was waiting to do my last water sports and that was snorkelling.
One girl wanted to do sea walk so instructor took us both in one go in the boat and he also asked the entire group to come along.
Sitting in the boat and seeing the sea was so soothing.we started preparing for snorkelling, fortunately I got the right size of fin for me.
I was in my fins and was feeling like a half fish and half man ( lol ), the gear for snorkelling was around my eyes and I was trying to breath through its pipe.
By this time boat reached at the point from where we had to jump in the sea. He signalled me to dive and Chaapak, I went down few meters in the water n water came inside that pipe from where I was suppose to breath.
One table spoon of salty water was in my mouth, actually five to six table spoon I think.
And came back on the surface and took a deep breath and put that gear again on my eyes.
I realised I need to out my head inside the water and that snorkelling pipe must be out on the surface.
The moment I put my head down and started seeing inside the sea then I was stunned for a moment.one fairy tail world was there in the sale of coral. Tiny fishes, big fishes were there and some strange creatures were also roaming here and there, suddenly I felt like in the world of Finding Nemo. I pushed my legs and my fins pushed me so hard that I found myself like a boat with a motor in the shape of fins, no I pushed my legs with more power and I was going on my top speed.
I was loving this game and seeing the world of sea, instructor gave me some food to attract the fishes. I was attracting dishes by giving them food in the middle of the sea ( sale shark aa gayi to ) one negative thought came into my mind and I said Bhago.
I asked instructor about it and he smiled and said No sharks here. Pheeeew , I was looking inside and one guy asked me to pose for the pictures so I gave many poses and he clicked me from inside the sea.
Then I seen shikha who was wearing a glass helmet attached to a pipe which was supplying her the oxygen.We spent around 1 hours there and then came back to the starting point.We gave our regards for the good services and started our journey back to our hotel.
While coming back we , we went to this little Indian restaurant close to our hotel. It was being run by some Indonesian couple whose name I can't recall. It was named ATITHI, which means that guest is equivalent to God. We have been hearing this since childhood: atithi devo bhava. Seeing an authentic Indian name could not resist us. You can't miss the spot for its bright red walls and ceiling painted sky blue with clouds, and although it seems small, the table layout allows for plenty of space. Also, what will capture your ears is the Hindi Bollywood music playing. We were tired, hungry, drenched after the water sports, craving for our share of Indian tea and, it's counter part hot pakodas. The menu was intriguing with all Indian menu from vegetarian to non-vegetarian including Dal makhani to chicken biryani. They served us boiled peanuts which tasted awesome just like in Indian restaurants. Tasting country food away from country makes you excited like a child, which you only understand when you have the experience of it. We ordered hot hot ginger chai, along with mix pakodas and aloo chops. As Indians, you try and make few changes with the recipes, which we did here too. Chai and snax were served. The Indian name and our wait had made our expectations high. We took a sip of the long awaited chai. Aha that's the taste, that too in a foreign country. Half battle worn. The pakodas and aloo chops were waiting. That too was hot hot hot, served with 3 dips which looked yummy too. We had a full filling of the food, along with the music and good company. That evening fully satisfied, we moved back to the hotel for our next encounter.
By the time we reached hotel it was 6 pm. We had decided to go to a club today evening. We had found out few options of clubs close by as we didn't want to travel much. Sky Garden was the place we finally zeroed on. We took good 2-3 hours to get dressed up and then asked for a taxi at the reception. However we were told that it will be easier if we walk down as Sky Garden is just 200meters away and if we decide to go in a taxi we will get stuck in traffic. So we decided to walk down, although the girls hated this as they had to walk down in their heels. We walked through the colourful and brightly lit streets of kuta, where from every corner we heard Madame, come for massage, Sir..pedicure, message.. We reached skygarden and saw it was a huge building with restaurant, roof top lounge and 8 pubs and clubs on various floors. With a 10 us dollor of cover charge which entitles you to 2 free beers or 1 free vodka and other options. You can enter the place and go to any of the floors for clubbing. We landed on the topmost and took our seats by the bar. After 2 drinks, we were on the floor dancing. We don't know how much did we dance and where all did we dance..from one corner of the dance floor to the other, we climbed up on the on the bar counter and danced there too (this was probably made exclusively for dancing only by the Club). The music varied frm rock to old pop to trans and the jam packed floor gave that thundering feeling of high excitement. We had our shots of tequilas and drinks. We danced till 4am in the morning and went from one floor to another, one club to another. We finally decided to move back to the hotel with a very heavy heart as none of us wanted to leave but we had a flight to catch next morning. We took a cab for 4 of us and one of us reached the hotel through the jet(name of bike service which dropped u Rana) Back in the rooms, we realised we were hungry so we opend our fridge and hogged on the indian left over food we had of last night and it tasty so yummy. We don't remember when did we sleep but I am sure it was almost morning. The alarm rang and is was already 8, we had to leave the hotel by 10.30 for the Airport. We quickly packed and went for the breakfast. After that few of us who had not shopped till now for anything went for a little sovereign shopping to take back home. In the Bali markets you have to bargain very hard..the prices drop to almost more than half. Rows of enthralling items, accessories, Bali printed bags and other stuff. We picked up few stuff and went back to our rooms to get ready.