Bali: Adventure Re-loaded
Bali is an Indonesian island known for its forested volcanic mountains, iconic rice paddies, beaches and coral reefs. The island is home to religious sites such as cliffside Uluwatu Temple. To the south, the beachside city of Kuta has lively bars, while Seminyak, Sanur and Nusa Dua are popular resort towns. The island is also known for its yoga and meditation retreats.
We are not doing Bali in a budget way but luxury. We will be staying hotels which are inside a safari-inspired setup, you can see lion while having breakfast, our Gili island bungalow has its own private beach and last but not the least will be our bubble hotel to amaze you. This trip will surprise you every day and you will experience nothing but an adventure.
Dates: 30-Nov to 5-Dec
10-Oct: Gianyar
11-Oct: Gili Island
12-Oct: Gilis Island
13-Oct: Nunggalan
14-Oct: Fly back home
14-Oct: Extended trip
15-Oct: Fly back home
Day 1
Fly down to Bali and move to our beautiful hotel in Gianyar.
This themed resort in Bali gives a unique holiday experience with Safari-inspired ambience and accommodation. Located within the grounds of the Bali Safari Marine Park, all lodges feature an open-air terrace, giving guests the opportunity to observe different animals at close range.
Boasting a lovely view of Mount Agung in the distance, the property is embraced by pristine nature and rare tranquillity.
Adventurous travellers will have great fun watching and even feeding the wild animals from their own balcony. Leisure travellers may want to explore the traditional Balinese architecture on the premise or lounge around the Kiboko Pool.
Hotel is one of the best family-friendly retreats in Bali with 39 fully-equipped rooms and 4-star facilities that reflect the rustic charm of the African Safari.
Rock Bar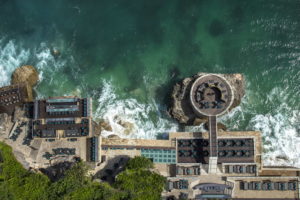 Perched atop distinctive rock formations along Jimbaran's pristine sunset coast, Rock Bar Bali is widely respected as one of the globe's most popular sunset, cocktail and entertainment venues. Showcasing unparalleled views from 14 meters above the Indian Ocean, Rock Bar is accessible via AYANA's dramatic cliff side inclinator. Featuring a glamorous sunset vibe, and a seductive after-dark ambience, listen to premier international DJs as they heighten your experience from a custom DJ booth carved directly into the cliff face.
In the evening we will explore Kuta market area and party hard.
Day 2
Today we will take a ferry and go to Gili island.
Our Beach Resort is Set on Gili Trawangan, the largest of the 3 Gili Islands found off the north-west coast of Lombok, is home to some of the most renowned scuba diving in Indonesia. It is here, situated on the picturesque and peaceful northern beach of Gili Trawangan, that you will find our Resort. Our Resort is a hideaway with accommodation in a wooden house. The protected marine park offers some of the best scuba diving and snorkelling in Indonesia, with pristine reefs boasting a rich array of sea life.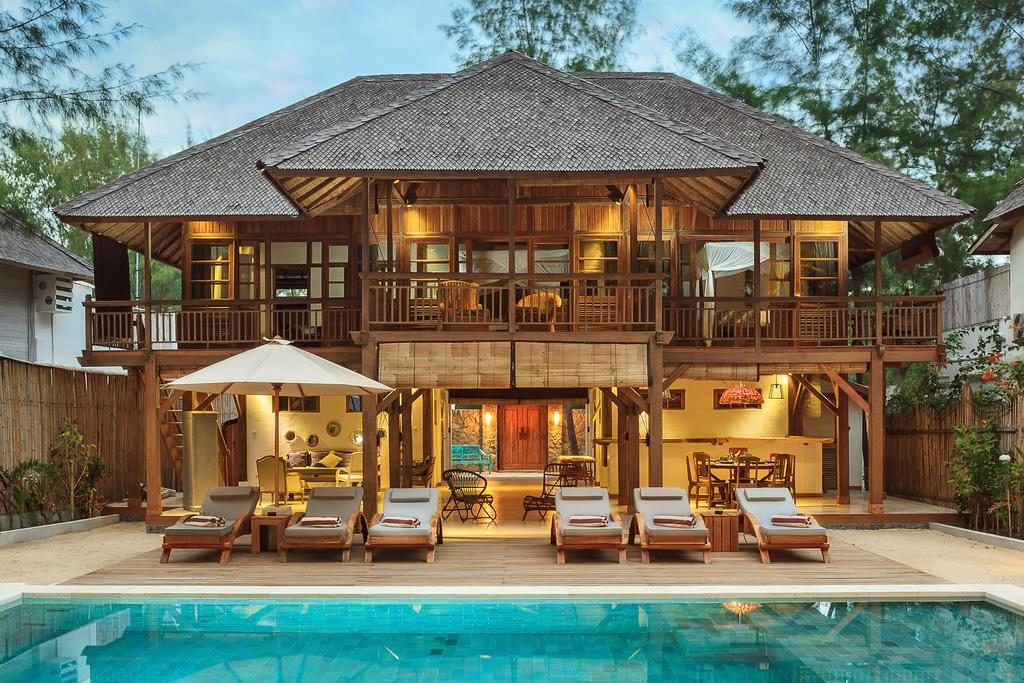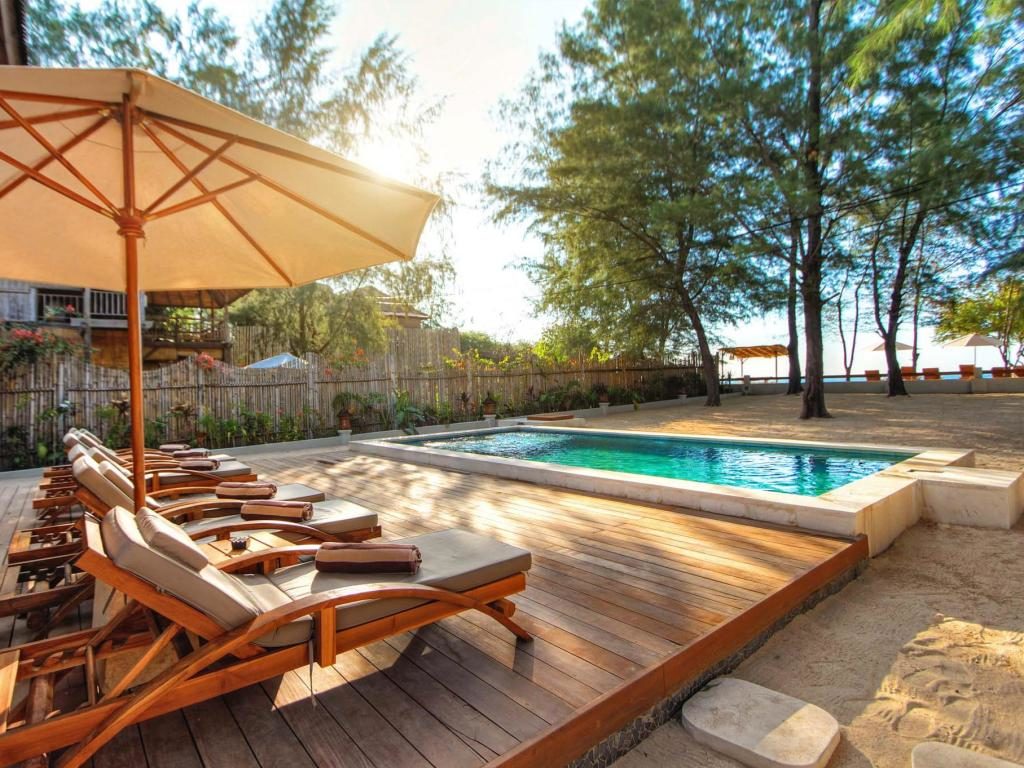 In house party and dance on the beach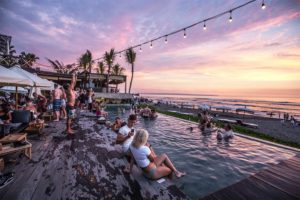 In the evening we will have a party on our own bungalow and beach with Bollywood music and local beer.
Day 3 (Optional tour)
Today we will go for a snorkelling tour.
Tour Activity details:
Our boat has a glass bottom, a ladder and a roof. You will be alone with the crew (one captain and one snorkelling guide).
The guide will help you and show you the sea turtles.
During 2 hours around Gili Meno, the captain will bring you to nice spots:
north of this island, sea turtles are numerous. It is almost guaranteed that you come across with a sea turtle,
west, underwater sculptures created by Jason deCaires Taylor, a well-known underwater sculptor,
southwest, you can swim over the top of Bounty wreck.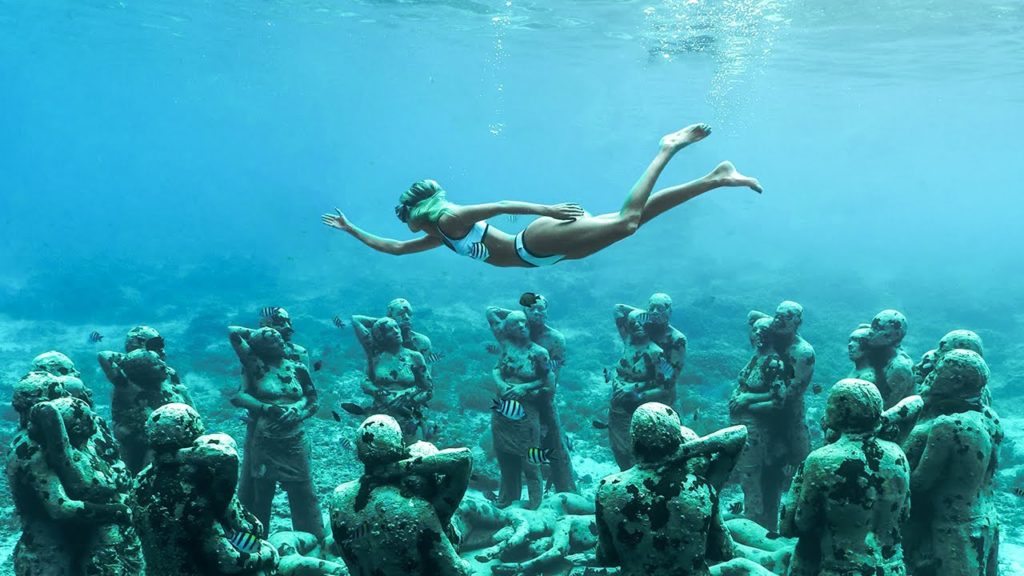 Day 4
Today we will come back from Gili island and check-in to the most beautiful hotel of our trip.
Bubble Hotel 
Put on your hat, adventure and romance are calling! Together with your soulmate, find the hidden oasis at the end of the world, follow the path full of romantic adventure.
Wake your inner instincts: Find the treasure of ancient spirits, explore nature, cook over the campfire and under the stars. Share these experiences with your hungry soulmate and make love under the Big Dipper. Don't wait! These experiences will be yours.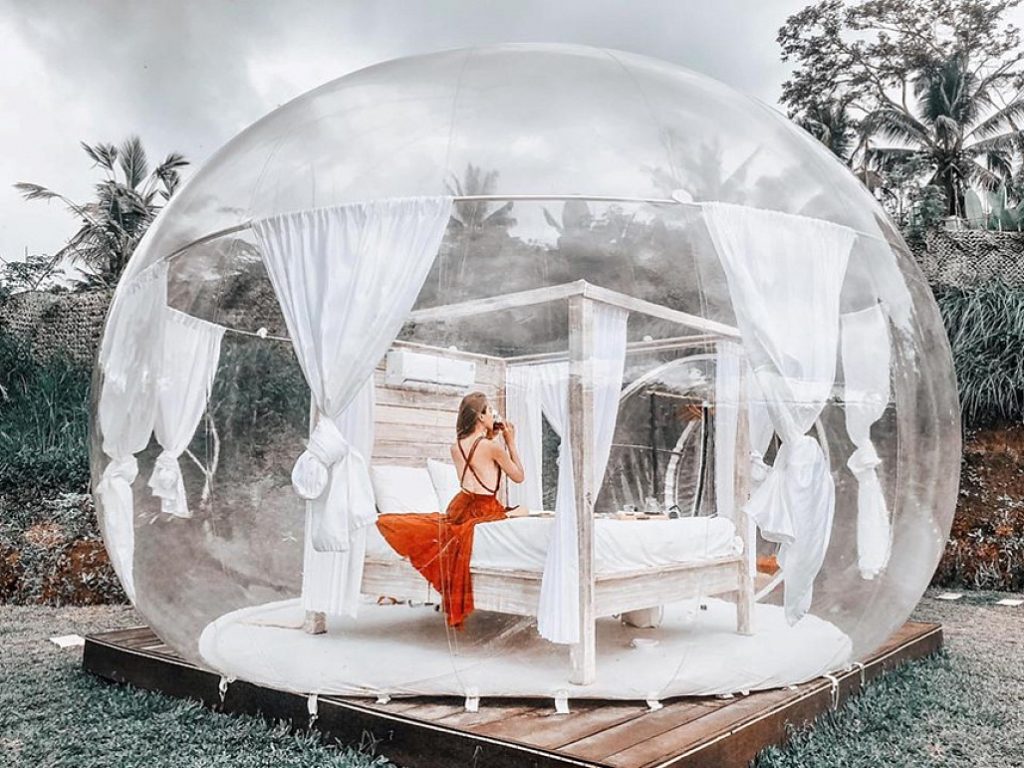 Day 5
Flyback to India
Extended Day
Day 6
You can extend 1 day and we can arrange to stay in Ubud and explore Tanah lot temple, Monkey forest and Ubud palace. This incurs an extra cost.
—-

—-
FAQ:
Q. How can I connect for future trip updates?
Just click this link and join our Facebook updates for future trips:
 CLICK ME
Q. What will be the weather in September?
Ans. The average temperature this month is 27°C (81°F), the average low is 22°C (72°F), and the average high is 31°C (88°F).
Q. How to apply for a visa and what is the cost.
Ans. Surprise, the visa is free for Indians
Q. Can I see pictures from your earlier trips?
Ans. Yes, click on this LINK
Q. What kind of hotels we will be staying?
Ans. We will be staying the best hotels in the city centre, if you need the names of the properties then email us on [email protected] and check the reviews. We always provide the best hotel experience to our customers.
Thanks
Gaurav Rana
Team TBT
9029099709
www.travelbuddiestalk.com