IRELAND
1600+ KMs, 13 Days and One Country IRELAND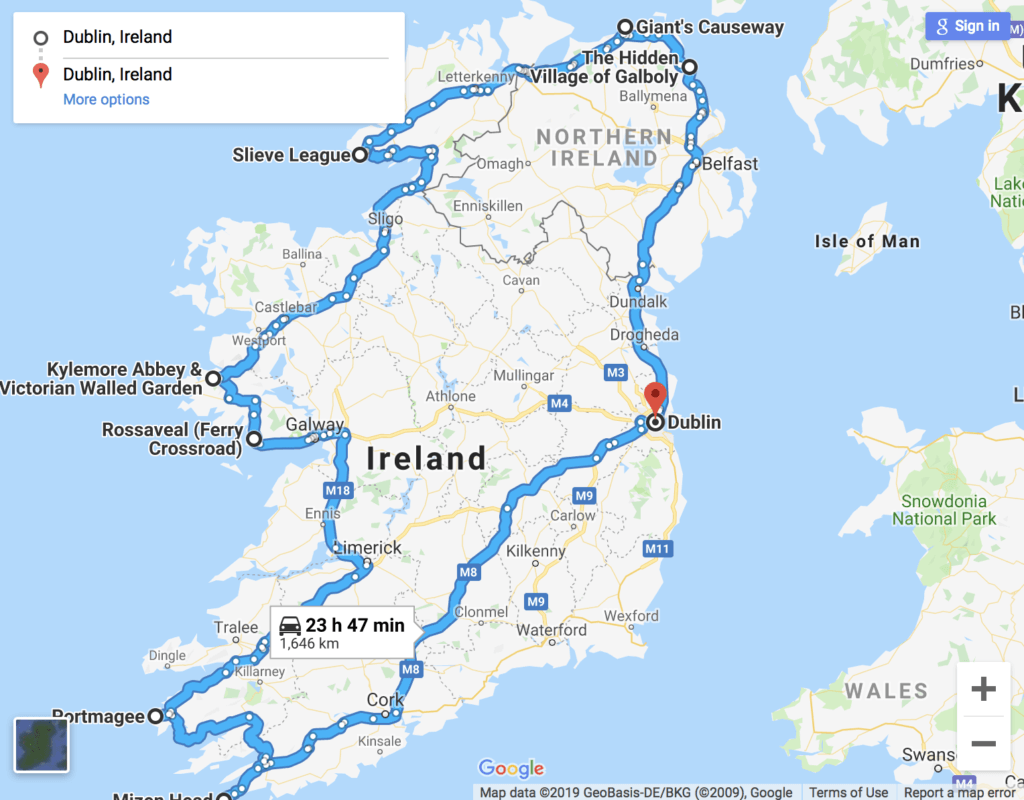 After exploring countries like Iceland, Jordan,Bali and Norway by road, we are going to explore the Ireland. Ireland's Wild Atlantic Way is a spectacular driving route that stretches for over 1,600+ miles along Ireland's west coast, from Malin Head in the north, to Kinsale in the south. It's home to over 1,000 attractions, ranging from castles, to stunning landscapes, to old churches, towns, villages and more.
Learn how to explore Ireland
Ireland 12 Days Itinerary 
Day 1:Land in Dublin
Day 2:Explore Dublin
Day 3:Reach Cork (255 km/ 3:35 hour)
Day 4 & 5: Reach Port Magee (163 km/ 02:36 hour)
Day 6 & 7:Reach Galway (268 km/ 03:42 hour)
Day 8:Inishmore Island by Ferry and Stay here (by ferry)
Day 9 :Reach Donegal (203 km/ 3 hour)
Day 10:Reach Belfast (120 km / 2 hour)
Day 11:ReachBack to Dublin to cry that it's all over! (119 km / 02:39 hour)
Day 12:Fly back home
lets start with the weather, In summer (May to July), the averages for highest temperatures are between 18 degree and 20 degree. The warmest months, July and August, get about 18 hours of daylight and it gets dark only after 11pm. Hence the well-worn phrase in Ireland; "sure there's a grand stretch in the evenings".
Is it safe to be in Ireland? Millions of tourists visit Ireland every year with very few crime complaints or issues. If you are planning a trip to Ireland, in the grand scheme of the world, you have selected a relatively safe place. No country is completely crime or worry-free, however, Ireland does not have a super high-risk rate for crime.
Why Road trip? They say you can not see a country if you have not explored its villages, beaches and roads and we also believe so. Road trips gives you the best view of a country and you can meet locals and know about their culture in depth. you can can take as many breaks you want and much more then a normal point to point tour.
Day 1: Land in Dublin
Land and get transferred to the hostel. Today will be a easy day so you can explore near around places.
Dublin Castle

Christ Church Cathedral

Guinness Storehouse

Temple Bar Area
Day 2: Explore Dublin
Trinity College and the Long Room

Stephen's Green Shopping Centre

Molly Malone Statue

Temple Bar District
 Day 3:Reach Cork (255 km/ 3:35 hour)
Today we will start our road trip from Dublin to Cork. We will cover 255 km during the day.
Rock of Cashel
The English Market
Cobh
St. Fin Barre's Cathedral
St. Anne's Church
Cork City Gaol
Blarney Castle
Blackrock Castle Observatory
Old Midleton Distillery
Day 4 & 5: Port Magee (163 km/ 02:36 hour)
Road trip is not about to be in 5th gear always, In Port Magee we will spend 2 days and explore its length and depth.
Skellig Michael
Ring Of Kerry (Ferry booking Required)
Cliffs of Moher
Day 6 & 7: Galway (268 km/ 03:42 hour)
Kylemore Abbey/Connemara National Park
Aran Islands (By FerrY)
Lynch's Castle
Eyre Square
Browne doorway
Galway Market
Spanish Arch
Day 8: Insihmore Island by Ferry and Stay here 
Explore the island by cycle
Day 9: Donegal (203 km/3 hour)
Slieve League Cliffs
Malin Beg and Silver Strand Beach
Caves of Maghera Strand
Day 10: Belfest(London) (120 km/2 hour)
Crossing border by road from Ireland to London or Northern Ireland you can say.
Giant's Causeway
Dark Hedges
Peace Bridge
Carrick-A-Rede Rope Bridge
Dunluce Castle
City Walls
The Titanic experience
George's Market
The Cathedral Quarter
Silent Valley Reservoir
Day 11: Dublin (119 km/02:39 hour)
We will come back to Ireland from Northern Ireland and reach Dublin
Free day for shopping
Day 12: Fly back home
To know the cost options, please fill up the

Application form on

link below

and you will receive an automated mail from TravelBuddiesTalk within 5 seconds with Cost and other details.
Once you have seen the cost on that email and have read all the details of the trip on this page, Reply back to that mail with your questions or confirmation.
Important: If you don't see an email with cost details from TravelBuddiesTalk in your inbox within a minute of filling up the form, check your spam folder.
*If you have already filled up an application form on our website for any other trip ever before, then you don't need to fill up the form again, just email [email protected]
FAQ:
Q. How can I connect for future trip updates?
Just click this link and join our Facebook updates for future trips:
CLICK ME
and type START
Q: Can I see your pictures of last trip?
Ans: Follow the link: PICTURES
Q.Is it safe to travel to Ireland?
Ans: Ireland is generally a safe country  to travel.
Q. Why this trip is less costly because all the trips for Ireland are starting from 1 lac?
Ans. We believe in passing the benefits to members also, as we are a group of passionate travelers who are running this company and not a business oriented company.
Q. How will I meet the group if I come?
Ans: We will add you in our WhatsApp group for further communication and if you are coming alone then we will arrange a airport pickup for you.
Q.Any discount for a group?
Ans: Yes, if you are more then 2 then you will get a group discount of 3000 Rupee.
Q.Where can I see T&C of the trips?
Ans: Follow this link: CLICK ME
How to Contact us?
Call us on 9029099709 or E-mail us on [email protected]
   vladivostok,moscow city,russia tour,moscow weather,moscow city,make my trip,tour packages russia, russia travel package, russia travel guide, russia travel blog, russia travel cost, russia travel video, russia travelogue, russia travel visa, russia travel places
Team
TBT
Www.travelbuddiestalk.com
Mail: [email protected]
Call/Whatsapp : 9029099709
,ireland road trip 5 days
,ireland road trip 7 days
,ireland road trip planner
,ireland road trip 10 days
,ireland road trip 4 days
,ireland road trip 3 days
,ireland road trip itinerary
,road trip around ireland
,road trip around ireland planner
,road trip ireland and scotland
,road trip across ireland
,road trip around northern ireland
,planning an ireland road trip
,aa road trip planner ireland
,ireland travel insurance
,ireland travel from india
,ireland travel itinerary
,ireland travel checklist
,ireland travel with uk visa
,ireland travel and leisure
,ireland travel and tourism
,aa ireland travel insurance
,ireland tour packages from mumbai,
ireland tours from London,
ireland tourist visa cost,