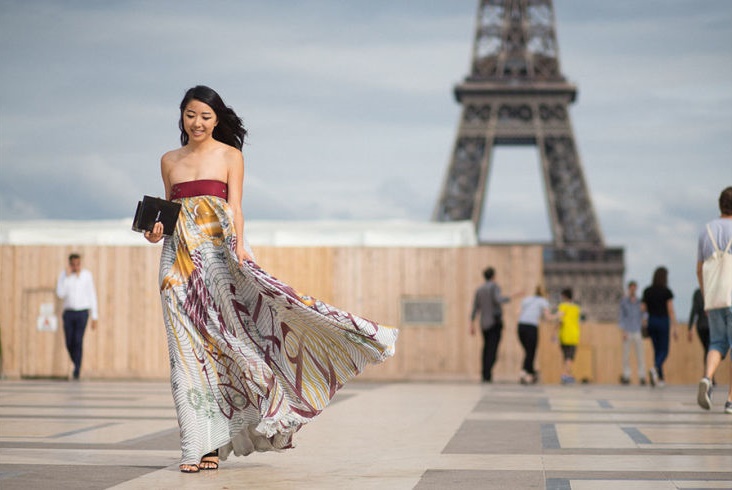 Blog: What to wear in Paris
Our New Series on what to wear in which city:
City: Paris
Your plane and your hostel are booked and you cannot wait to be in Paris.
But there is one last thing you have to do: PACKING.
How to dress for Paris when you know you will be walking all day long.
1. Pack some comfortable yet elegant basic clothes
Advantage: they can all be mixed together.
– Neutral colored jeans/pants
– A skirt (one you can walk with) or elegant short pants for the daytime
– Some blouses/ T-shirts for Men
– Some cotton tops (loose T-shirts for instance)
– Some cardigans and pullovers/Sweater & Jackets for Men
– A trench, a blazer or a coat
– A dress for the evening: simple and not overdressed/ Chino & Smart Tee with Jacket for Men
What not to wear if you do not want to look like a tourist (if you don't care go ahead ):
– Large cropped pants, especially those lace-trimmed ones
– Mom jeans (unless you are a hipster)
– Fleece jacket
– Anything related to sport and hiking
– Lots of flashy colors worn together
–Red Mufflers
Stick to No More Than 3 Colors Rule
Pack elegant walking shoes
– Sneakers are an option! They are really trendy right now: New balance, Stan Smith, Converse, etc… but not the one you take for exercising).
–
Any flats
: boots, derbies, loafers, sandals, etc.
– Chunky heeled shoes that are not to high: they are as comfy as flats to walk with.
Classy flat shoes can be worn on a night out but if you can, add a pair of higher heels in your luggage.
– Hiking shoes or exercise sneakers are a no: Paris is not a mountain or a sport club
– Ballerinas. Except if you don't sweat, or do not fear it is maybe gonna rain at some point.
Large enough to fit all your stuffs for the day, comfortable enough to be carried around, resistant enough not to be damaged and classy enough to be stylish
If you take only one, choose a classic that'll match all your outfits and can be worn both day and night.
Comfortable bag = light, carried on shoulder (or on the back), large straps.
Add a cotton tote bag inside just in case you need to carry more (they are stylish).
Trendy backpack for men
– Any bag that you have to carry on your elbow or in your hand, you'll get tired
– Fanny pack
They are light in the luggage and add great style.
– Some jewels for a night out/ Watch for men
– Bold lipstick and polish
– A scarf (for summer of for winter) and gloves (if it's winter) that will match with your other outfits
– An umbrella (or you buy a pretty one in Paris)
 Outfits ideas for a night out in Paris
Most of restaurants/ bars in Paris do not expect you to be super fancy. Actually if you wear of cocktail dress or a gown in a chic restaurant, you might be looked at as overdressed.
Just add a bit of sophistication to your daytime outfit with jewels, make up and hair and you are good to go.
All of these are "basic" suggestions considering a minimal luggage and quite classic choices.
You can be much more creative!
And adapt the outfit to your style, your age and your bodytype.
Just always keep those two main advices in mind:
– elegant even during the day
– never overdressed or oversexy at night
For Men
Is your luggage ready to board now?
If you like this note than do LIKE our page.
SHARE IT WITH YOUR FRIENDS AND BE PARIS READY !