Sri Lanka: Ancient Civilisation
Endless beaches, timeless ruins, welcoming people, oodles of elephants, rolling surf, cheap prices, fun trains, famous tea and flavorful food make Sri Lanka irresistible. Sri Lanka's 2000-plus years of culture can be discovered at ancient sites where legendary temples boast beautiful details even as they shelter in caves or perch on prominent peaks. The charming island nation of Sri Lanka is located in the Indian Ocean, southeast of the Arabian Sea. Blessed with a rich history of over 3,000 years, it is one of the most important Buddhist centres in the world. Rising above its conflicted past, the country has emerged stronger and is in the midst of a huge wave of development. Connecting its villages with urban towns, the country offers travellers an intriguing mix of natural beauty, culture and spirituality.
Overview (7days/6nights)
Hike to the World's End
Wander endlessly through gorgeous Tea Plantation
Spot some wildlife without going on a safari
Go find what is so secret about the secret beach
Party late night
Get clicked while swinging in front of endless sea
Take a cultural tour to the Fort City of Galle
Snorkel at Hikkaduwa Beach
DAY 01:
Arrival at Colombo and transfer to Nuwara Eliya

Upon arrival and going through the immigration process we'll drive to our very first destination of this country, Nuwara Eliya. Often referred to as 'Little England', this genteel highland community does have a rose-tinted, vaguely British-country-village feel to it, with its colonial-era bungalows, Tudor-style hotels, well-tended hedgerows and pretty gardens. Indeed, Nuwara Eliya is one of the most favoured cool-climate escapes for you. Check-in at your hotel here and relax for a while before heading out to the most iconic place to spend the evening here, Gregory Lake.
DAY 02:
Hike to World's End and walk endlessly through the gorgeous tea plantation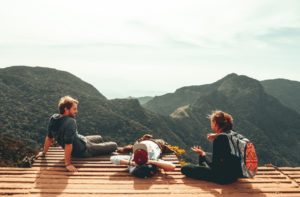 After getting up early in the morning and having our breakfast we'll start a hike to the world's end. The Horton Plains plateau comes to a sudden end at World's End, a stunning escarpment that plunges 880m. The 9.5km round trip takes a leisurely three hours and the view from World's End is unencumbered. After that, we'll walk the most famous tea plantation and can also visit the tea factory for a tea-tasting session.
DAY 03:
Nuwara Eliya to Mirissa via Ella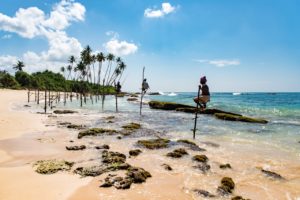 After waking up to the beautiful view and having our breakfast we'll drive along the most scenic roads in Sri Lanka. We'll visit Ella and take photos in front of the most iconic 9-arches bridge before reaching our destination for today, Mirissa. Fringing two sandy bays separated by a rock island reachable at low tide, Mirissa feels hidden away compared to Sri Lanka's other busier resort towns. Mirissa's beach and nightlife make it a popular tourist destination. Throw your bags as soon as we reach our hotel and head directly to the beach to crack open a coconut, slip into a hammock and rock gently in the breeze, and allow the hours, slip calmly by.
DAY 04:
Whale watching at Mirissa and Party in the evening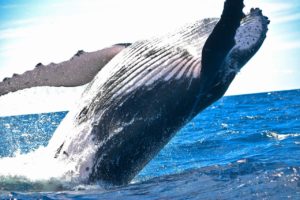 Today we'll spend a day watching the peaceful, gorgeous and totally harmless giants, Whale from a boat ride near Mirissa. Later in the evening, we'll party on the beach or in our hotel where we'll be staying.
DAY 05:
Daytrip to Galle and Transfer to Hikkaduwa via Unawatuna
We'll check out from hotel after having our breakfast and drive to the Dutch capital of the country, Galle. A Unesco World Heritage Site, this historic city is a delight to explore on foot, an endlessly exotic old trading port blessed with imposing Dutch-colonial buildings, ancient mosques and churches, grand mansions and museums, Galle is a jewel. From there we'll drive to our next destination today Unawatuna Beach and then finally rest at Hikkaduwa for the day. We'll enjoy snorkelling here at Hikkaduwa Beach.
DAY 06:
Hikkaduwa to Colombo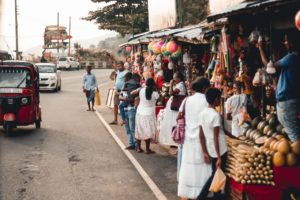 Today we'll drive to our last destination, Colombo. The commercial capital of Sri Lanka, Colombo city has plenty of gifts to offer you that will leave you breathless. This city is being very popular for holding the old and new culture as well as the history of the country very carefully. Besides, this city also comes with exciting nightlife as well as some world-class restaurants, which attracts numerous people every year in this city. Furthermore, this city has been the eighth-century port, which houses different administrative and financial offices that are relevant to the travellers. Also, these offices are considered as the finest part of the colonial structures. We can also spend our evening shopping for our friends and family at the famous Pettah Market.
DAY 07:
Head back to home
After having our breakfast we'll check out from the hotel and will be dropped to the airport to take our flight back to our home.
Visa Policy
Citizens from most of the countries including India may obtain a visa on arrival, provided that they have completed the electronic travel authorization (ETA) procedure either prior to travel or on arrival in Sri Lanka. Visa charges are $20 for SAARC countries, including India.
–
Q. Who are we?
Gaurav Rana is the founder of TBT and an avid traveller. Having experience of 4 years, 26 countries and 42 states. He is following his dream of covering all the 197/197 countries in this world and that is why this websiteis running. He takes people with him on the trip he is going and ensure this is a budget trip. We are doing Iceland @80k which is the best ever deal you will get on google and he is able to do this because he been to Iceland 6 times. Follow him on Facebook and Instagram for more details.
Q. How can I connect for future trip updates?
Just click this link and join our Facebook updates for future trips:
 CLICK ME
Q: Can I see your pictures of this trip?
Ans: Follow the link: PICTURES
Q. Can I drive?
Ans: Yes you can drive if you have a valid Indian driving license/IDP.
Q. Why this trip is less costly because all the trips for New Zealand are starting from 2 lac?
Ans. We believe in passing the benefits to members also, as we are a group of passionate traveller who is running this company and not a business-oriented company.
Q. How will I meet the group if I come?
Ans: We will add you to our WhatsApp broadcast(9029099709) for further communication and if you are coming alone then we will arrange an airport pickup for you by public transport.
Q.Any discount for a group?
Ans: Yes, if you are more then 2 then you will get a group discount of 3000 Rupee per head.
Q.Where can I see T&C of the trips?
Ans: Follow this link: CLICK ME
How to Contact us?
Call us on 9029099709 or E-mail us on [email protected]
Thanks & Regards
Team Travel Buddies
FB: Facebook Link
Insta: Instagram Link