How Crocodile hunter Steve Irwin got killed by Stingray
I have no fear of losing my life – if I have to save a koala or a crocodile or a kangaroo or a snake, mate, I will save it.
I believe that education is all about being excited about something. Seeing passion and enthusiasm helps push an educational message.
Where I live if someone gives you a hug it's from the heart.
Who was Steve Irvin
Stephen Robert Irwin (22 February 1962 – 4 September 2006)



nicknamed "The Crocodile Hunter", was an Australian nature expert and television personality. Irwin achieved worldwide fame from the television series The Crocodile Hunter, an internationally broadcast wildlife documentary series which he co-hosted with his wife Terri. Together, the couple also owned and operated Australia Zoo, founded by Irwin's parents in Beerwah, about 80 kilometres (50 mi) north of the Queensland state capital city of Brisbane.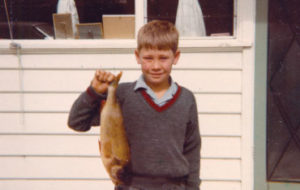 Irwin was born on his mother's birthday to Lyn and Bob Irwin in Essendon, a suburb of Melbourne, Victoria.[1] He was of Irish descent on his father's side.He moved with his parents as a child to Queensland in 1970, where he attended Landsborough State School and Caloundra State High School.[3] Irwin described his father as a wildlife expert interested in herpetology, while his mother Lyn was a wildlife rehabilitator. After moving to Queensland, Bob and Lyn Irwin started the small Queensland Reptile and Fauna Park, where Steve grew up around crocodiles and other reptiles.
Irwin became involved with the park in a number of ways, including taking part in daily animal feeding, as well as care and maintenance activities. On his sixth birthday, he was given a 12-foot (4 m) scrub python. He began handling crocodiles at the age of nine after his father had educated him on reptiles from an early age.[4] Also at age nine, he wrestled his first crocodile, again under his father's supervision. He worked as a volunteer for Queensland's East Coast Crocodile Management program and captured over 100 crocodiles, some of which were relocated, while others were housed at the family park.[6] Irwin took over the management of the park in 1991[6] and renamed it Australia Zoo in 1992.
Marriage: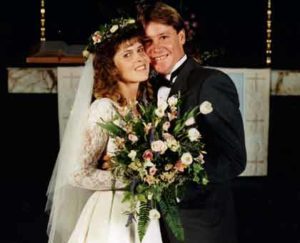 In 1991, Irwin met Terri Raines, an American naturalist from Eugene, Oregon, who was visiting wildlife rehabilitation facilities in Australia and had decided to visit the zoo. According to the couple, it was love at first sight.[8] Terri said at the time, "I thought there was no one like this anywhere in the world. He sounded like an environmental Tarzan, a larger-than-life superhero guy."[9] They were engaged four months later and were married in Eugene on 4 June 1992. Together they had two children: a daughter, Bindi Sue Irwin (born 24 July 1998), and a son, Robert Clarence "Bob" (named after Irwin's father) Irwin (born 1 December 2003).[10] Bindi Sue is jointly named after two of Steve Irwin's favourite animals: Bindi, a saltwater crocodile, and Sui, a Staffordshire Bull Terrier who died on 23 June 2004. Irwin was as enthusiastic about his family as he was about his work. He once described his daughter Bindi as "the reason [he] was put on the Earth." His wife once said, "The only thing that could ever keep him away from the animals he loves are the people he loves even more."[1] Although the Irwins were happily married, they did not wear wedding rings; they believed that in their line of work, wearing jewellery could pose a hazard to them and/or the animals
Honeymoon: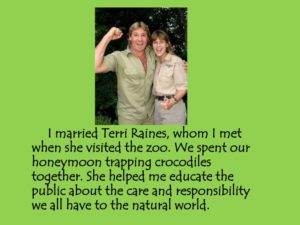 Steve and Terri spent their honeymoon trapping crocodiles together. Film footage of their honeymoon, taken by John Stainton, became the first episode of The Crocodile Hunter. The series debuted on Australian TV screens in 1996, and made its way onto North American television the following year. The Crocodile Hunter became successful in the United States, the UK,[12] and over 130 other countries, reaching 500 million people. Irwin's exuberant and enthusiastic presenting style, broad Australian accent, signature khaki shorts, and catchphrase "Crikey!" became known worldwide.Sir David Attenborough praised Irwin for introducing many to the natural world, saying "He taught them how wonderful and exciting it was, he was a born communicator."
Heroic Acts: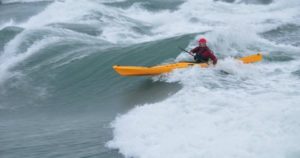 In November 2003, Irwin was filming a documentary on sea lions off the coast of Baja California Peninsula in Mexico when he heard via his boat's radio that two scuba divers were reported missing in the area. Irwin and his entire crew suspended operations to aid in the search. His team's divers searched with the rescue divers, and Irwin used his vessel to patrol the waters around the island where the incident occurred, as well as using his satellite communications system to call in a rescue plane. On the second day of the search, kayakers found one of the divers, Scott Jones, perched on a narrow rock ledge jutting out from the side of a cliff. Irwin and a crew member escorted him to Irwin's boat. Jones did not recognise Irwin. The other lost diver, Katie Vrooman, was found dead by a search plane later the same day not far from Jones' location
Irwin died on 4 September 2006 after being pierced in the chest by a stingray barb while filming an underwater documentary film titled Ocean's Deadliest.
What is Stingray?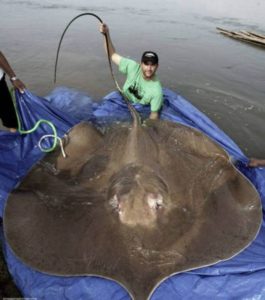 Stingrays are a group of rays, which are cartilaginous fish related to sharks. They are classified in the suborder Myliobatoidei of the order Myliobatiformes and consist of eight families: Hexatrygonidae (sixgill stingray), Plesiobatidae (deepwater stingray), Urolophidae (stingarees), Urotrygonidae (round rays), Dasyatidae (whiptail stingrays), Potamotrygonidae (river stingrays), Gymnuridae (butterfly rays), and Myliobatidae (eagle rays).[1][2]
Most stingrays have one or more barbed stingers (modified from dermal denticles) on the tail, which are used exclusively in self-defense. The stinger may reach a length around 35 cm (14 in), and its underside has two grooves with venom glands.The stinger is covered with a thin layer of skin, the integumentary sheath, in which the venom is concentrated.A few members of the suborder, such as the manta and porcupine rays, do not have stingers.
How Stingray killed Steve: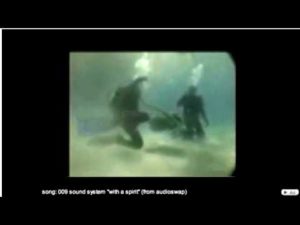 The 44-year-old Irwin's heart was pierced by the serrated, poisonous spine of a stingray as he swam with the creature Monday while shooting a new TV show on the Great Barrier Reef, his manager and producer John Stainton said.
Irwin was videotaped pulling the barb from his chest moments before losing consciousness forever, a witness said Tuesday.
The tape has been secured by Queensland state police as evidence for a coroner's inquiry.
Stainton described the footage, which he had seen, as "shocking."
"It shows that Steve came over the top of the ray and the tail came up, and spiked him here (in the chest), and he pulled it out and the next minute he's gone," Stainton told reporters in Cairns, where Irwin's body was taken for an autopsy.
"That was it. The cameraman had to shut down," Stainton said.
Video Of Stingray Killing Steve:

Steve Irwin's Wife Reveals the Heartbreaking Reason Why She Hasn't Dated Since He Died
Terri is finally putting those rumours to rest by clarifying a few things about her dating life.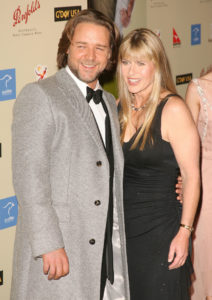 The 52-year-old conservationist officially denied that she is dating the Gladiator actor in a recent interview with Access Hollywood. Joined by her daughter, Bindi, Terri said that Russell has been a fierce ally in protecting the family's wildlife preserve in Australia, and that they are just friends. In fact, she hasn't dated anyone since her husband Steve passed away in 2006.
"He's a great guy but absolutely just a dear friend," Terri told Access Hollywood. "The saying goes, when it comes to friends I'd rather have four quarters than a hundred pennies… and he's definitely a quarter."
The mother also explained why she hasn't been romantically involved with anyone over the past 10 years. "I feel a connection still with Steve," she told Access Hollywood. "You know when you take those vows, and say 'we'll be together as long as we both shall live,' I really don't think I would've married if I hadn't met Steve. And he's very special to me and continues to be."
When asked by Access Hollywood if she wanted her mother to date, Bindi said she just wants her mom to be happy.
"Honestly, all I want in life in mom's happiness," said the 18-year-old. "What people sometimes forget is that when you find your soulmate, if you've found that soulmate you really don't want to move on. So mom had her soulmate and mom and dad will always be married and will always be together. I think that's a beautiful thing."
Terri Irwin now works as the owner of the Australia Zoo, where she continues to preserve the Steve Irwin Wildlife Reserve and cherish Steve's memory.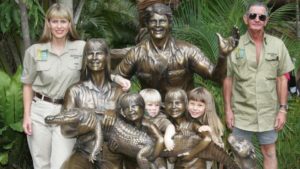 Courtesy : wikipedia & youtube
SHARE THIS ON YOUR FB TIMELINE & FREINDS
Team
TBT