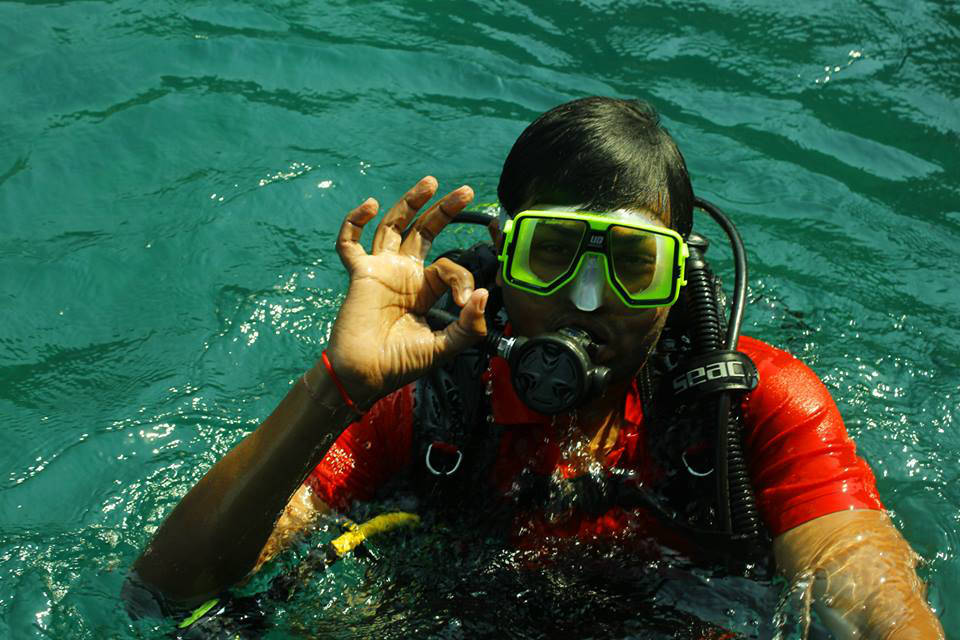 My First SCUBA DIVING EXPERIENCE
My First SCUBA DIVING EXPERIENCE:
Netrani (also known as Pigeon Island in old maps) is a tiny island of India located in the Arabian Sea. It is off the coast of Karnataka situated approximately 10 nautical miles (19 km) from the temple town of Murudeshwara. Views from above give this island the appearance of being heart-shaped.
Feb-May is the best time to tick-off your long awaited to-do list .
Getting to Netrani island (Day 0)
Train: 16335 ,Tilak nagar-Murudeshwara,Nagercoil express is the best train ,it starts at 08:40 pm and reaches Murudeshwara at around 10:18am next day.
From station you can take a auto n it took us 30 mins to reach Murudeshwara.
Where to Stay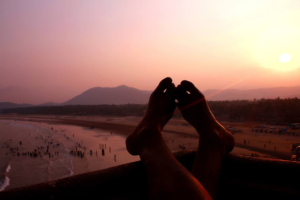 As this was a budget trip so we booked a budget resort named R.N.S beach side Resort. Which was safe n clean and just on the beach only.It was very much in our budget.Taking rooms with triple sharing is best option to save money.
Food
As at this part of MUMBAI you won't get mumbai kind of food but yes ,you can get south indian masala dosa & fish curry at the restaurant on the beach.
Naveen beach resort, here you can get good sea food.
Roam Around:(Day 1)
1.)Gokarna beach is the cleanest beach in murudeshwara, you can get their by reaching their via a taxi,it is around 45 km from murudeshwara.
2.)Water sports at murudeshwara beach is also a good option.
3.)Shiva temple at the murudeshwara temple is the world's largest Shiva sculpture and is of 123 ft.
Another newly added masterpiece is the world's largest Rajagopuram in front of the temple complex. This 249 feet tower was inaugurated in May 2008.
Scuba Diving :(Day 2)
Snorkelling: 700 Rs
Scuba: 5000 Rs
You can connect to any of the scuba divining companies, we went with Dreamz diving and they were the professionals (i must say)
Scuba (To-Do list was in my hands)
We were asked to be at the beach around 6:30 am, and when we reached their then i met a guy with long hair (steve),who was our instructor ,approx 10 people were their which were suppose to be in one boat.
Steve started giving us the basic information regarding the boat journey of approx 2 hours.
We started our journey, sitting space was comfortable, we enjoyed the ride and seen fishes like, Dolphin & flying fish.
Approx about after 2 hours, we reached the Netrani Island , our boats were floating around the island because it was a rocky island so it was impossible to climb over it.
Steve asked us to start wearing Snorkelling glasses & life jackets and go in to the sea.
Swimming knowledge is not required for scuba & snorkelling but yes ,you should not be a water phobic.
The first step in the water n i was like woo-hoo, although it was cold but it was fun to be in the swimming pool of the earth.
I was able to see till end of the sea, it was full of beautiful & colourful fishes, red-blue-orange, all colours were available.
Steve called me to get ready for scuba dive.
Pheeeew…….as it was my first dive so i was little nervous….was thinking about my to-do list and than i decided ,this is the time…i came back on the boat and he made me sit at the edge of the boat and asked me to step in the fins(shows like equipment ) ,and then he asked me to wear the jacket(filled with air so that i can float ) then he gave me belt with a weight of 50-60 kg ,which i wore around my waist.
After this he gave me the glasses which covered my eyes n nose and now i was breathing from my mouth.
Last was the oxygen cylender,whihc was of approx 20kg,so now i was sitting with the weight of approx 140 KG(Belt 50kg+Cyclender 20 KG+My weight 70 Kg=140 KG) and than Steve dived in the water and he was also in the same costume like me.
he asked me to roll over n came in to the water (as due to weight it is difficult to dive directly),i did that and in seconds i was in the water, now he asked me to take the cylinder pipe in my mouth and start breathing from it. It was quite a task, he said "take your time",i was around 10 minute doing that activity and was kind of comfortable.
I shown him my yes node, he came near to me and pushed a button on my jacket, which released the air from it, suddenly i started feeling i was of 140 kg and i had to hold the rope, which was hanging from boat till the end of the sea,i was holding it and Steve told me 3 sign
1.) Thumbs up: i am fine
2.) So-So: i am ok types and will take time
3.) Thumbs down: I am not ok ,take me up
i gave him the "thumbs up" sign and he took me down,woo-hoo,it was the amazing feeling, which you cannot imagine in the swimming pool of your city was seeing the sea with a different angle, and i was amazed that i was able to breath from the pipe easily. He asked me to slip on the rope and come down did that and it was amazing ,suddenly i started feeling pressure on my ears and i used "So-SO" sign,steave asked me to release the air from my ears by pushing air from my mouth, this was a pressure releasing trick which they told us in the starting. I tried but failed, again tried but failed, again tried and some bubbles were coming out of my ears and i was feeling relaxed….Steve asked me to do this whenever i feel pressure on my ears.
He was pointing on the fishes n also showing which fish is this with the help of a plastic board ,which was attached to his waist, a dolphin was coming toward was,i was like OMG, he signalled me to be calm,
zhooooop,she went like that ,wow ,it was a amazing experience.
Next 40-45 minutes we were busy seeing the world of coral & then he shown me some eel fishes which were under the coral and facing us. the water was clear like a swimming pool .
I was feeling like Khrihtik Roshan from "Jindgi milegi na Dobara" movie,and was trying to find Katrina but she was not there, My bad luck.
Steve took some pics of mine and a small video so that i can flaunt this later.
We came on the surface after 45 mins and i must say i was a fantabulous & safe dive.
Post everyone did the scuba we started our journey back to the beach and returned around 4pm.
Return Journey:(day 3)
Train: Matsya-gandha
Number:12620
Timings :5:40pm

this is the best train to save a day and reach on time.we reached mumbai around 9:20am neaxt day