A U L I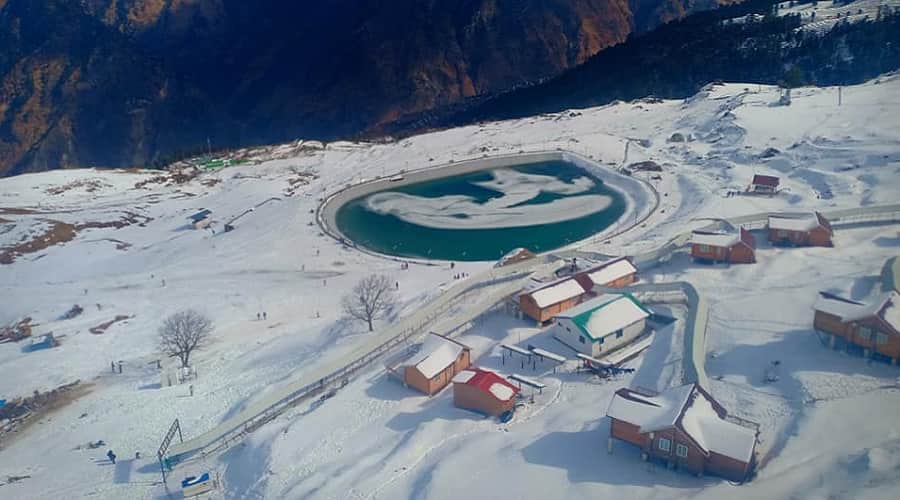 Auli is one of the most picturesque places. With seeing the mighty ranges to skiing in the fresh snow, Auli has it all. It does not just end here, Auli lies in the upper ranges of Himalayas and even though it is a famous tourist spot, the place does not look crowded.
Lying at the height of 2,800 meters, Auli offers the most captivating views of mighty Himalayas. It is located in Uttarakhand, which in itself offers an abundance of natural beauty. It lies in the Garwali district and lies in the upper ranges of the Himalayas.
Best Time to visit Auli:
Auli can be visited anytime during the year. However, since Auli is the skiing destination and is famous for its snow-peaked mountains, it is better to visit this beauty during the winter season. Reaching here during the winters might get difficult though due to road blockages, so before leaving for this place do ask for the road conditions.
Winters: During the months of November to February, one can expect snowfall and the temperature goes down in negative 8 degrees. This is the best time when one can experience skiing activities. Many tourists come here during this time due to experience skiing.
Auli offers really amazing views with high peaks of the Himalayas. One can see Nanda Devi from here. The mighty Nanda Devi is at a height of 7800 meters. From far you can see the snow-clad mountains and it is so relaxing to have a cup of tea while watching these mountains. The colours, in fact, become even more enchanting during the sunset time when the entire sky lit up in a shade of pink colour. This is the time when you will actually get the "peace of mind".
Experience Skiing in Auli
Auli, 16 km from Joshimath is an ideal winter resort run by Garhwal Mandal Vikas Nigam (GMVN). A 3 km long slope ranging from a height of 2519 to 3049 m is a major attraction. The Auli resort run by GMVN has snow beaters which beat the snow to keep the slopes fit for skiing at all times. A 500 m long ski-lift carries skiers back to the slope top, thus saving them the trouble and time to bridge up wearing long skis.
Cable Car and Ropeway
One of the major attractions in Auli is to enjoy a cable car ride. Locally known as a Gondola, the cable car ride in Auli is the second highest and the longest cable car ride in Asia after Gulmarg. Covering a total distance of 4 km, the journey starts at Joshimath and ends at Auli, and takes a total time of around 24 min. Perched at a staggering height of 3010 m above sea level, the entire trip is a visual and sensual delight. You can enjoy the majestic Himalayan peaks in the surroundings and the lush green valley below. The scintillating views and the gorgeous panoramic vistas are a sight to behold.
The ropeway works with two cable cars through 10 towers and can accommodate up to 25 passengers. Although, the passengers have to keep standing as there are no seats. Moving at a speed of 3 m per sec, you can enjoy views of the oak forests below in addition to snow-capped peaks and verdant meadows. In case you are lucky and are travelling at the right time, you can also be a witness to a skiing competition going on below.
Hanuman Temple:
Hanuman Temple: According to myths and legends it is believed that Lord Hanuman rested at this place for a while when he was travelling in search of 'sanjeevani' herb for Laxman, brother of Lord Rama.
Artificial Lake
At a separation of 1 km from Auli GMVN, Auli Artificial Lake is one of the world's most noteworthy synthetic lakes, arranged adjacent to the Cliff Top Club. This lake was produced by the administration in perspective of making fake snow on the new ski slants at the season of low snowfall. Water from the lake is utilized to sustain the snow firearms positioned along the ski slants. It helps with giving great skiing surface to help expand the ski season.
Dates: 03-Jan – 6-Jan
Day 1: Start from Delhi in private vehicle and stay in Auli overnight
Day 2: Explore Auli
Day 3: Skiing
Day 4: Travel back to Delhi and take flight (take flight train after 10:30 pm)
Connect with us on 9029099709
If you have already subscribed then kindly Email us [email protected]
Gaurav Rana is the founder of TBT and an avid traveller. Having experience of 4 years, 26 countries and 42 states. He is following his dream of covering all the 197/197 countries in this world and that is why this website is running. He takes people with him on the trip he is going and ensure this is a budget trip. We are doing Iceland @95k which is the best ever deal you will get on google and he is able to do this because he been to Iceland 6 times. Follow him on Facebook and Instagram for more details.
Q. How can I connect for future trip updates?
Just click this link and join our Facebook updates for future trips:
 CLICK ME
Q: Can I see your pictures of this trip?
Ans: Follow the link: PICTURES
Q. Can I drive?
Ans: Yes you can drive if you have a valid Indian driving license/IDP.
Q. Why this trip is less costly because all the trips for New Zealand are starting from 2 lac?
Ans. We believe in passing the benefits to members also, as we are a group of passionate traveler who are running this company and not a business oriented company.
Q. How will I meet the group if I come?
Ans: We will add you to our WhatsApp group for further communication and if you are coming alone then we will arrange an airport pickup for you by public transport.
Q.Any discount for a group?
Ans: Yes, if you are more then 2 then you will get a group discount of 3000 Rupee per head.
Q.Where can I see T&C of the trips?
Ans: Follow this link: CLICK ME
How to Contact us?
Call us on 9029099709 or E-mail us on [email protected]
Thanks & Regards
Team Travel Buddies
FB: Facebook Link
Insta: Instagram Link