Versatile Vietnam
Vietnam is a thin strip of land in Southeast Asia, bordered by Cambodia, Laos and the South China Sea. Known for its buzzing cities, spectacular beaches and incredible street food, this country is very popular in the backpacking circuit. Vietnam is brought to life by the myriad magical experiences it offers. Its cities are full of life with happy locals zip-zapping on colourful scooters, the countryside offers a landscape that is unforgettable, the interiors are teeming with rich biodiversity and there is the classic Vietnam tourism picture to take with farmers moving around with conical hats.
HIGHLIGHTS (Scroll for detail itinerary)
Spend a day at Leisure on Ha Long Bay Cruise

Go for Vespa City Ride & Street Food Tour

Take a full day Hanoi City Tour

Hike to the Mua Caves

Try rowing boats on the Trang An Landscape Complex

Go exploring the Kong: Skull Island

Treat yourself with the excellent views from the top of the Marble Mountains

Explore the ancient city of Hoi An

Visit the UNESCO World Heritage site of My Son Sanctuary

Go for Ho Chi Minh City Tour

Explore the Cu Chi Tunnel
THE ITINERARY
DAY 01: ARRIVAL AND HA LONG BAY CRUISE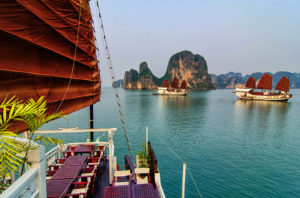 Consistently ranked among the world's top 10 destinations by TripAdvisor, the city is going to be our gateway to our Vietnamese Rhapsody. After getting through all the immigration formalities we'll directly get transferred to the harbour from where we will board the vessel to cruise through an exciting and fun-filled itinerary for 2 days.
Halong Bay's karsts are thought to have evolved over a period of 20 million years. The entire area stretches over 1,553 square kilometres and contains up to 2,000 islets, with 775 islets in the core bay area. It's one of Vietnam's most biodiverse zones, with signs of human habitation dating back tens of thousands of years. One of the best ways to appreciate this one of the seven wonders of nature is on a luxurious overnight cruise through the karsts, watching the sunset – and sunrise – from the deck. We'll be picked up from the hotel and transferred to the harbour from where we will board the vessel to cruise through an exciting and fun-filled itinerary for 2 days.
DAY 02: RETURN FROM HA LONG BAY AND TRANSFER TO NINH BINH
Start the day at sunrise, with a Tai Chi session on the deck. Then, explore the caves along the bay – Trinh Nu and Hang Trong (the Virgin Cave and the Cave of the Wind) that are encrusted with spectacular rock formations. Then we'll be dropped off to the Hanoi city centre, from where will drive to Ninh Binh.
90 odd kilometres from the capital city of Hanoi, Ninh Binh is a small city in the Red River Delta of northern Vietnam. It is a fascinating place where apart from an inspiring scenery, you have easy access to the most rural and authentic side of the country. It boasts of the most majestic and spectacular natural landscape in Southeast Asia, called Trang An Landscape Complex. After checking in and having lunch we'll go visit Thung Nham Bird Sanctuary. Evening we can spend strolling the market and trying out some local street food.
DAY 03: EXPLORE THE WONDERS OF NINH BINH AND TRANSFER TO HANOI IN EVENING
Wake up before Sun to go on a hike to the Mua Caves. Have breakfast at the hotel after returning and then checkout and visit the gems of the city like Trang An Landscape Complex, Bai Dinh Pagoda and Hoa Lu Temple etc. In the evening we'll get transferred to Hanoi and explore the Old Quarter area of the city on foot.
DAY 04: FULL DAY CITY TOUR OF HANOI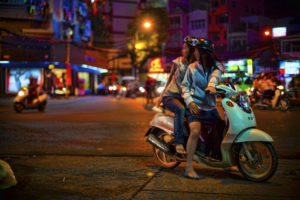 Hanoi, the capital of Vietnam, and also its second-largest city, is a fascinating blend of East and West, combining traditional Sino-Vietnamese motifs with French flair. It is largely unharmed from the decades of war and is now going through a building boom, making it a rapidly developing city in Southeast Asia.
Hanoi is full of museums, temples, parks, lakes and wartime sites to see, the most famous include Ho Chi Minh Mausoleum, Lotte observation deck, one pillar pagoda and of course the Imperial Citadel. In the evening we can go for a Vespa Ride zipping through the streets of Hanoi and making intervals to experience Vietnam's eminent street food, culture and vibrant nightlife.
DAY 05: FLY TO HUE AND EXPLORE THE IMPERIAL CITY
The deeply evocative capital of Nguyen emperors, the last royal dynasty of Vietnam, Hue is a city in central Vietnam that sits along the bank of Perfume River. The city is a marvellous blend of new and old as sleek modern hotels tower over crumbling 19th-century Citadel walls.
After landing here in the morning we'll get transferred to our hotel. After checking in and having lunch we'll go and explore the imperial city. The night we can enjoy the walk along the promenade of Perfume River.
DAY 06: TRANSFER TO DA NANG AND ENJOY THE BEST BEACH OF VIETNAM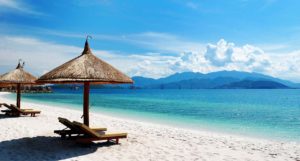 After having breakfast and checking out of the hotel from Hue we'll drive for a couple of hours to reach         Da Nang. En route, we'll visit the Marble Mountains, a cluster of five hills made from limestone and marble in Da Nang. It's also a well-known pilgrimage site with peaks, caves, tunnels and temples all just waiting to be discovered. Named after the elements metal, wood, water, fire and earth, Marble Mountains exist in a coastal area that is renowned for stone-cutting and sculpture. There are also Buddhist sanctuaries and places of worship dotted across the mountains which are a much-visited spiritual site. You can even see a special circular cave here. It leads to the summit, where you can enjoy spectacular panoramic views. In the evening we can go for a swim in the South China Sea. After that, we can explore the local market.
DAY 07: FULL DAY EXCURSION TO THE ANCIENT CITY OF HOI AN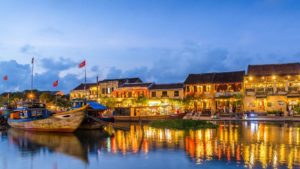 Hoi An, the historic city, is recognized as an exceptionally well-preserved example of a South-East Asian trading port dating from the 15th to the 19th century. The architectural designs and streets of Hoi An reflect influences of both foreign and indigenous cultures. This unique blend is the reason why UNESCO has also declared Hoi An as a World Heritage Site. The city of Hoi An completely justifies its meaning, 'Peaceful Meeting Place'. Yellow walls, old wooden houses of Chinese merchants, colourful lanterns, small shops, proximity to a lovely beach and a quiet countryside are what describe this peaceful town. This love at the first sight city will be our second destination of the trip. After having our breakfast early in the morning we'll start our journey to the My Son Sanctuary, which is about an hour ride from the city. My Son sanctuary consists of a bunch of abandoned and partially ruined Hindu temples mainly dedicated to Lord Siva. The temples were believed to be constructed between 4th to 14th century AD by the Champas, who were independent Hindu kings in the south and central Vietnam with roots from central Java. Later today we'll explore the ancient city of Hoi An. Some other places to visit are Japanese Covered Bridge, Kim Bong Carpentry Village, Thanh Ha Pottery Village and Vinahouse Craft Village etc.
DAY 08: DA NANG TO HO CHI MINH CITY
The last destination of our trip, Ho Chi Minh City (HCMC) is Vietnam's most dizzying: a high-octane city of commerce and culture that has driven the country forward with its pulsating energy. A chaotic whirl, the city breathes life and vitality into all who settle here, and visitors cannot help but be hauled along for the ride. Wander through timeless alleys to incense-infused temples before negotiating chic designer malls beneath sleek 21st-century skyscrapers. The ghosts of the past live on in buildings that one generation ago witnessed a city in turmoil which now is a city of energy and discovery. We'll go on a city tour and witness some historical and as well as modern sights and landmarks that has this city to offer. Some of the major sights include Cu Chi Tunnels, Central Post Office and The World of Heineken etc.
DAY 09: HEAD BACK HOME
We can explore some more of the city before finally transferring to the Airport. It's time for us to head back home with the great experience and stories from these destinations. We'll be dropped off to the airport to catch our flights.
—-

—-
---
PAYMENT TERMS
You can secure a spot with an advance payment of Rs. 10,000/-. The balance must be paid 30 days prior to the trip.
SPECIAL INSTRUCTIONS
Carry light snacks, fruits and water as the food might not be to your liking. Don't travel empty stomach.

Carry your identity proof with you always.

Also, carry medicines for headache and fever etc. for your own benefit.

Carry sufficient clothes to keep you warm as the weather could be chilly during night.

Caps and full sleeves clothing is advisable.

Traditional clothing for both men and women are compulsory while visiting any religious place.

Carry mosquito repellent and sunscreen of 30 SPF and above.
VISA POLICY
Vietnam offers e-visa for most of the countries including India, which can be obtained 8-10 days prior departure.

8 USD is the charge for a maximum of 30 days. Also one needs to pay 25 USD in cash upon landing.

This type of visa is a single-entry and single-exit visa used for tourist and one-time holiday purpose only.

Documents for Vietnam visa application

Confirmed return air ticket (not compulsory before applying for the visa).

Scanned colour copy of first and last pages of your passport.

Scanned colour copy of your passport size photograph without specs.
Thanks & Regards
Travel Buddies
Website:                      http://travelbuddiestalk.com/
Email:                          [email protected]
Facebook:                   https://www.facebook.com/TravelBuddiesTalk/
Meetup:                      https://www.meetup.com/Travel-Buddies-New-Age-Solo-Backpacker/
Whatsapp:                 9029099709 9987791020