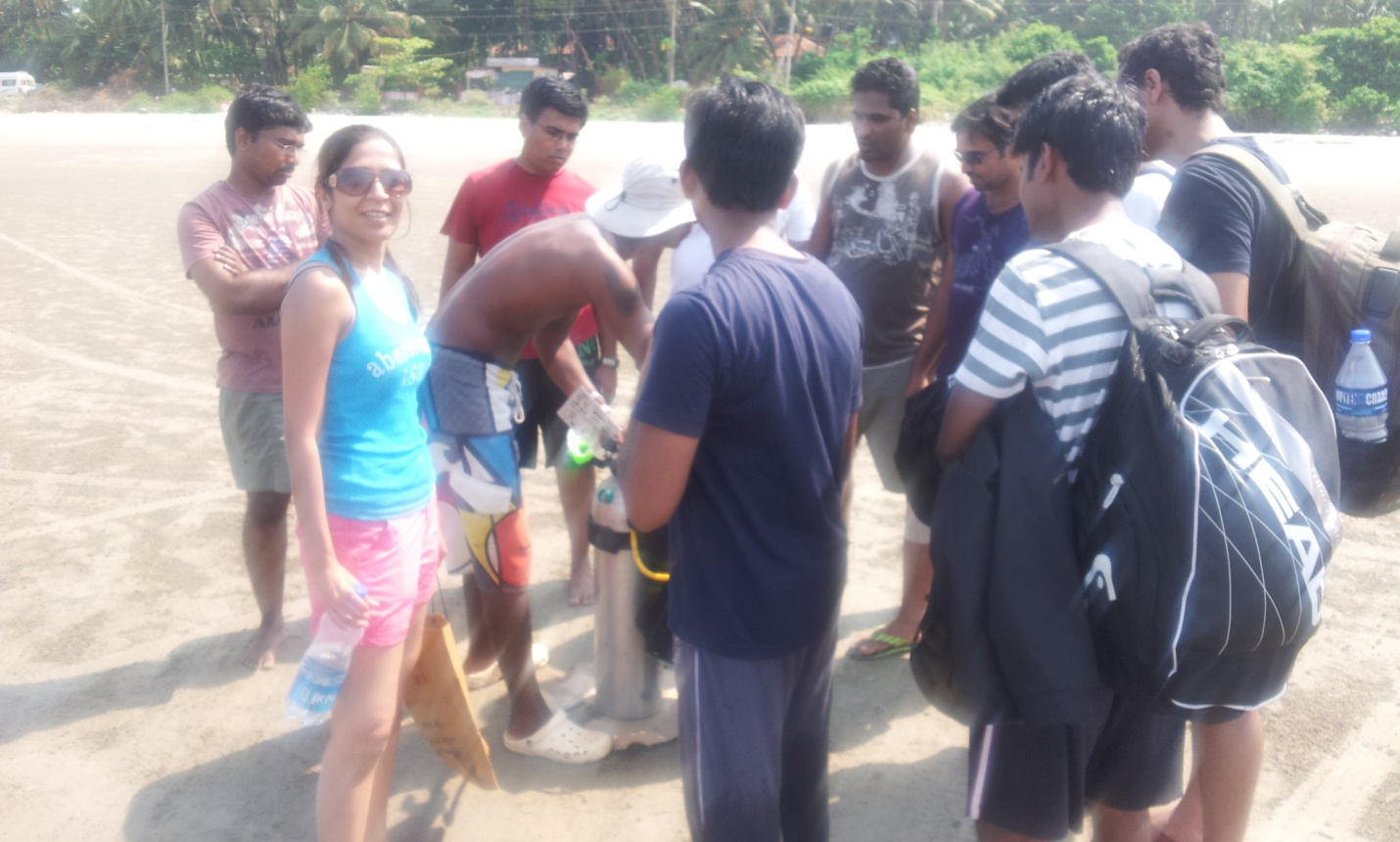 Go Goa
Goa- a usual destination for Indians, yet an unusual one for me. I love the atmosphere, thrill, countryside, views, beaches and so many other unsaid things of this place.
Millions of the stars above my head and breeze and sounds of water, not possible in the concrete jungle of our cities to see stars like this, feel this breeze even during the darkest coolest nights.
I was mumbling and suddenly i realized a small hand on my shoulder ,i literally shouted and when i checked what was that found a small cute puppy was there, who was trying to come over the bed ,where i was sleeping. I got up and sat on the bed and realized a very big wave was approaching my bed,i was so scared because i never seen waves during the night but somehow it got dissolved before reaching my bed. Yes, I was in Goa and i was here for a meet up.
I was sleeping on the beach, outside my hotel.
Morjim was the name of the beach and i was enjoying the breeze coming from beach side and view above my head, the word came in to my mind was H.E.A.V.E.N…..Yes i was in heaven…..otherwise how many times you get a chance to sleep on the beach!!!
Flashback:
My First Goa EXPERIENCE:
I was working in my office and got a call from my friend on meetup, let's do party in goa , GOAAAA, a word which can excite any person in india to the core ,does not matter where he or she is (office,Home,Toilet,With GF or With BF).
I stopped my work and called up my contacts in goa and said i want a different experience in goa and we are around 18 friends.
Being a avid travellers i have friends in many places,my friends told me that you should explore beaches other than regular Bagha beach .He suggested a beach named Morjim,which is approx 35 km from Bagha beach and a kind of raw n unexplored beach.
I asked all of my friends to be prepared for a budget back pack trip !
We hired a traveller and started our journey at 6:45 pm from Andheri in mumbai I boarded traveller from Vashi and met my new friends first time,people were quite and were in their shells.
So we started with our ice braking session,which gave a boost to everyone .
Being a admin of the group i explored my right of grilling people. People connected so well that within a 1 hours we were sounding like a bunch of childhood friends.
We reached goa around 2pm after a journey of 18 hours, the first look of cottages was so beautiful that we were mesmerised by it.
Checkin, freshn up, food and hit the beach.
For next 1 hours everyone was on the beach and i was clicking them with my DSLR.I realised long back that only one thing can make people smile without a reason and that is photography. Thats why i say my hobby is to make people smile and some times laugh. Everyone was laughing, posing for the pictures, swimming, playing football and having our sweet and salty soda drinks.
Evening was at "Club Cabana" the most happening club of goa. Music was loud and people were awesome.
This club is on the hill and you can see the entire goa from here,at one time you started feeling that you are in the stars and goa is on your feet. I took my 7th beer and by this time people became so interesting that i wanted to tell them all the stories of this world.
We moved to the pool of the club ,where people were jumping in the water and having fun ,felt like i could have done the same but my mind said, hold your horses….so …i dropped the idea.
We spent good 6 hours there in the club and around 4;30 am we came out of the club and reached our hotel at morjim beach.
Slept like a donkey (boys i am talking about) ,girls slept like girls only.
Woke up at 11am ,and came out on the beach and had my brunch while others were still rolling on there beds.
Today's plan was to go to a unexplored beach ,which was a around 3km from our hotel,at 12pm ,we started our journey and reached a restaurant "End of the World'. We parked our vehicle and reached on the beach,there were 7 beds were arranged in a row and were on the beach.we grabbed our seats n allowed our butts to rest.
We enjoyed the full afternoon at this place and everyone went inside the sea and had fun….food part: Hellow,Hi Maam,Hello Sir, a very chirpy voice was coming from our backside and when we truned around then see a girl ,whose name was khusi,she came closer and said,kya chahiye ye btao hum le ayengey (like a song she asked for the order)….she was the owner of the restaurant…i asked for salad and other asked for their food too.
You know having food and beer while chilling out at beach is the best experience.
We all had fun and i clicked pics and others played some games…we did not realise that it was 6pm and we had to go back to our hotel,so we all packed our bags and started our journey in our traveller.
We took shower and by this time ,everyone was tired enough to go to any club again so we decided to go to a restaurant which was adjacent to our hotel,it was not a hotel but heaven.
Huge stairs were starting near the beach and lamps were palced on the corner of each staircase,we started crossing the stairs and suddenly some soothing music took charge of our consciousness ,it was like some music from some monesty temple and it had the power to pull you towards it…dark night and with the little light of lamps we were pulling towards the ordination of the music source. after 23 stairs ,we gathered on the top of the staircase,it was a beautiful restaurant ,speacially for love birds….so romantic that you could have proposed someone and i bet she would have said yes…..i thought let me propose 3-4 girls immediately to take the advantage of the place.
We sat on the corner seats from where were able to see the SEA and we were feeling the calmness of the breeze coming from the sea.love was in the air….music was taking our consciousness out every minute….it was heaven…yes it was.
The dim lights around us were giving a soothing feeling to all of us, we wanted to sit there forever.
We sat there eat, drank till 1am and played one game ,where everyone was given a paper with a name of the group member and we had to provide a positive comment.
Paper with my name was with the person sitting next to me,so we started giving comments clockwise. And after a good one hour got my paper with so many positive comments which i thought were the best one i ever heard or seen.
I checked this paper many times, as if i got the wrong paper in my hands
But it was my paper only….
We came out of this heaven around 1am and came back to the beach,a weird idea came to our mind that lets sleep on the beach tonite…..but what if water will take us away? What if some mermaid will come …what if its not allowed? What if what if?
I suggested lets have some beer and decide, me n one moreperson went inside the hotel(which was on the beach only) and asked the waiter(who was sleeping) to give 10 bottles of beer, we came back with the beer and arranged the boxes n put some mattresses over it so that we can sleep here..after gulping 2 beers,i was looking at the sky, darkest hour of the night and white waves coming towards us, wow it was amazing, goa was amazing, we were amazing…..we all were talking n watching stars an someone shouted,he i just seen the falling star..chatting, laughing..drinking we didn't realise when we dozed off.
…i opened my eyes and i realized it was morning and i was on the beach.i checked my phone and it was 5am,i asked everyone to wake up before hotel people will come and throw us in to the sea.
We decided to go for a morning walk,it was refreshing to walk on the beach in the early morning, we walked for around 5 km spotted a cute Russian restaurant hopped in with the thought of having some early morning drinks….
We order tea/coffee/juice and were chatting about our last night adventure.
We came back to our hotel from this place and this was the time to pack our bags and to go back to our home………This was the best Goa Trip i ever had….Will come back soon …so do Miss me.