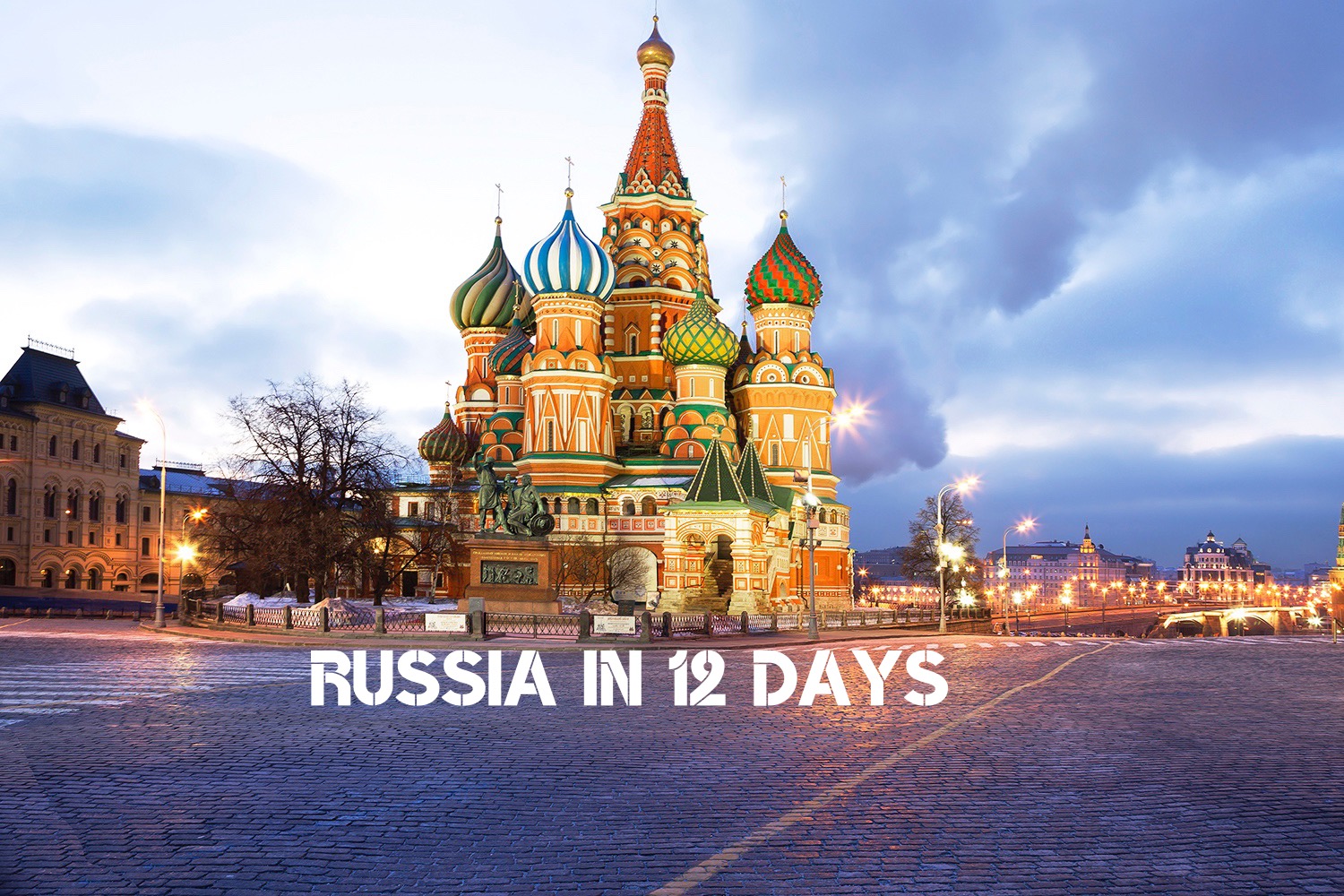 12 DAYS IN RUSSIA – A DETAILED TRAVEL PLAN ITINERARY Russia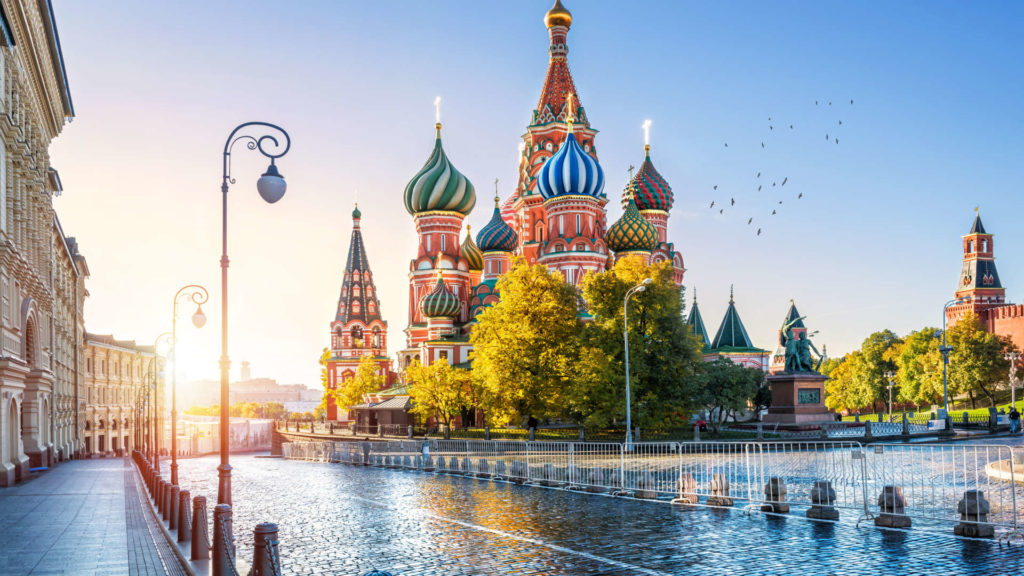 12 Days In Russia : Detailed Itinerary for Travelers
Most of the travelers think that idea to explore Russia is scary but Russia is one of the most exotic and scenic places your will have ever visited. Beaches to mountains, Castles to Catherdrals and Museums to Bunkers, Russia has it all.
The west of the country is the most explored part because of the existence of cities like St Petersburg and Moscow, they provide picture perfect locations to travel hungry visitors. These cities can take you to the old era as we well as the future era at the same time.
Still thinking?
Let me help you by providing details of the country so that you can also plan to explore.This enchanted country named Russia.
12 Days segregation city wise:
Day 1,2 3     : Moscow
Day 4,5.       : Nizhny Novgorod
Day 6,7,8.   : Kazan
Day 9,10,11 : St. Petersburg
Day 12          : Final day in Moscow
If 12 days are not possible for you then you must do 7 days trip split between  Moscow and St. Petersburg.
You can fly by a return air ticket, which will cost you 25000 INR-29000 INR(Delhi-Moscow-Delhi). All the flights to Russia fly from Delhi only so if you are booking from Mumbai for example then you will be transferred to Delhi first.
Russian Visa (Easy or Tough?)
Before  you fly, you will need a Russian visa which is a semi cumbersome process.
PROCESS TO OBTAIN A RUSSIAN VISA
You will first need a Russian Tourist Invite, not to be confused with a visa. This will cost you around 2500-3000 INR. Some 5 star hotels may give it free if you book your entire stay with them. We too can help arrange a tourist invite for you.
Tourist visa can be issued for single or double entry to the Russian Federation.
Double entry tourist visa is issued to foreign citizens only in cases when according to the supporting  documents, the tourists during their stay in Russia plan to visit neighbouring states (the "near abroad" countries – the CIS and Baltic States), or a state, from which they will return through the Russian territory (for example, China or Mongolia). In such cases all itinerary points should be mentioned in the tourist confirmation issued by the host Russian organization.
The maximum length of stay while travelling to Russia on a tourist visa is 30 days.
A Visa is issued for the exact duration of your stay mentioned in your hotel reservations as well as flight. So plan accordingly. You do not get extra days for a buffer.
KEEP THESE THINGS IN MIND BEFORE ENTERING RUSSIA
#Download Google Translator in case you do not find someone who speaks English. It will save your time and energy.
#Conversion of Ruppee to Rubles: 1.06:1 (1.06 INR=1 Ruble), you can use your International Debit Card in Russia.
#US dollars and Euros can be exchanged everywhere.
#Forex card loaded with Rubles is the best option.
#As soon as you arrive, the immigration will give you  a Migration card.Do not lose this even by mistake as this is needed
At each and every point in Russia from the day you entered till the day you exit the country.
#Keep a passport copy, visa copy and invitation copy in color handy with you and incase any random stranger pretends to be a cop asking for your passport, show him the copy, he will ask for the original, say you will show that to him only inside the nearest police station. If he is an impostor, he will leave.
#Download Yandex Taxi App, It works like Ola/Uber. It is very cheap.
#Just before you exit the airport building. You will find a stall selling MTC sim cards. They are the best in Russia. For 500 RUB you will get 5 GB 4G internet and unlimited calls to mobile in Russia valid for a month. This is the best package for a tourist.
#Russian people are considered as cold but reality is, just start the conversation and they will be the warmest and welcoming.
#
According to Russian law
, your 
Russian visa must be registered within 7 working days
 of your arrival (excluding weekends and official holidays).So, if you stay in Russia seven working days or more, then you need to register your visa. This can be done at the nearest post office for 250 RUB. All hotels do it too for a small additional fee.
MOSCOW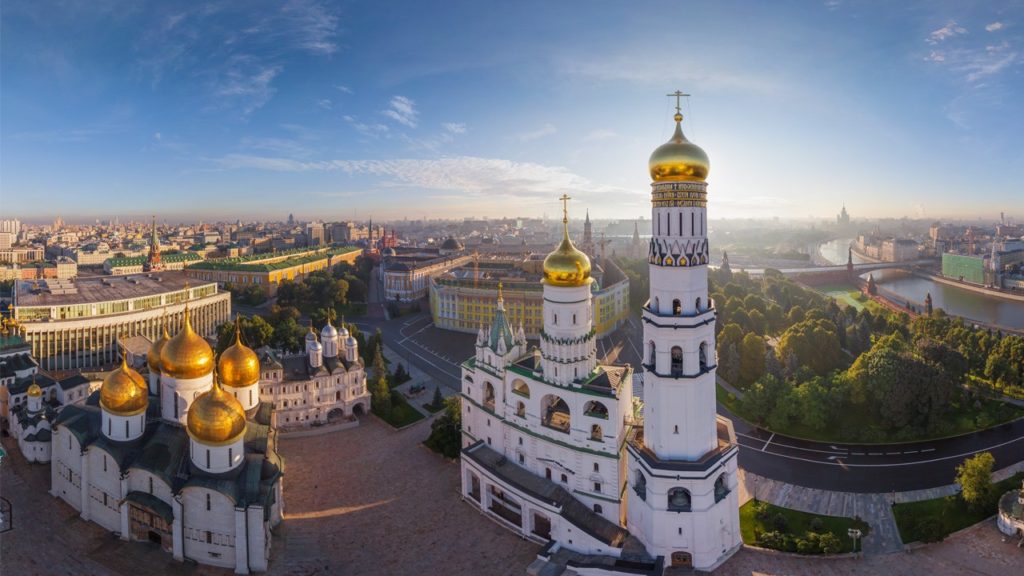 Moscow, on the Moskva River in western Russia, is the nation's cosmopolitan capital. In its historic core is the Kremlin, a complex that's home to the president and tsarist treasures in the Armoury. Outside its walls is Red Square, Russia's symbolic center. It's home to Lenin's Mausoleum, the State Historical Museum's comprehensive collection and St. Basil's Cathedral, known for its colorful, onion-shaped domes.
Moscow is the city of attractions, if you love Kremlin(Citadel), history, parks then you will love Moscow. First 3 days will be in Moscow.
WHAT TO SEE IN MOSCOW:
Red Square: The heart of Moscow and the first destination for most visitors to the city. Surrounded by St. Basil's Cathedral, the State History Museum, Lenin's Mausoleum and one of the Kremlin's long brick walls.
Lenin Mausoleum: in the centre of the Red Square. Walk past the embalmed body of Vladimir Lenin.
St Basil Cathedral: in the south part of Red Square. Built in 1555-61. Inside is a museum, although it looks best from the outside, but if you have the time, take a peek inside.
The Kremlin Museum Complex: Includes the Armoury Collection of royal clothing and chariots, the Diamond Fund, several churches, the Patriarch Palace and the Bell Tower (open only in the summer). Guided tours fill up fast and should be booked early.
Tretyakov Gallery: One of the world's greatest museums, this is probably the one to choose if you only want to visit one museum in Moscow.
Novodevichy Convent: Both a convent and a fortress, Novodevichy was built in the early 1500s and has remained nearly intact since the 17th century, making it one of the best preserved historical complexes in Moscow.
Church of the Ascension: Built to commemorate the birth of Ivan the Terrible, Kolomenskoye's Church of the Ascension upended the Byzantine style with its wooden conical tower, and proved to be a milestone in the history of Russian ecclesiastical architecture. Since 1994, it has enjoyed a spot on the UNESCO World Heritage list.
Museum of Soviet Arcade Machines: Great new space full of old soviet fun! Go hunting, shoot torpedoes, drive cars, check your strength and much more… Price includes 15 15 kopek coins to enjoy the games. It also features a cozy cafe.
Christ the Saviour Cathedral: This cathedral, the tallest Orthodox church in the world (the largest being the Temple of St. Sava in Belgrade), was blown up on orders from Stalin in 1931, with the view of building the gargantuan Palace of the Soviets, to be crowned by a 100 m high statue of Lenin.
Bunker-42: Decomissioned cold war era soviet underground military nuclear bunker; now a museum. Entrance by guided tour in Russian.
Gorkiy Park: The most well known of Moscow's many parks, Gorky Park is one of the trendiest places in the city due to its cafes, places to stroll, an open-air cinema theatre, free Wi-Fi, and contemporary public art projects.
Nikulin Circus: The Nikulin Circus on Tsvetnoy Boulevard is the oldest and perhaps the most popular circus in Moscow. The nearest train station is Tsvetnoy Bulvar. Showtimes are usually 7pm in the evening, with rest days on Tuesdays and Wednesdays. There are afternoon performances at 2.30pm on Saturdays as well. For the most up-to-date information, check their website for the monthly schedules. Please buy tickets in advance as touts buy all the tickets and sell them for twice the rate.
FAMOUS STREETS
Old Arbat Street: Walk down this kitschy street and don't forget to look at the small by-streets around the Arbat. They allow you to feel the "old Moscow spirit".
New Arbat Street: Located near Old Arbat Street, this street offers a contrast from the touristy pedestrian-only thoroughfare. New Arbat is perhaps where Moscow's rich are the most visible, as some of Moscow's most expensive restaurants and nightclubs are located here.
Tverskaya Street: This street starts from the Kremlin itself and runs northwest in the direction of Tver (hence the name) and Saint Petersburg.
WHAT TO EAT IN MOSCOW :
Borsch: The Beet and cabbage red soup is a delicious belly warmer.
Russian Salad:World famous Russian salad should be a must try when you are
In the country of its ordination.
Shashlik:this dish is a form of shish kebab, although the Russian version is served with chunkier portions of lamb, beef, chicken or salmon, and served with a bread.
Honeycake: This delicious looking cake involves alternating thin layers of honey with sweetened
Russian Pancakes:Blini are Russia's version of the thin French crêpe and a staple on most Moscovian menus, typically made with buckwheat for savoury fillings or white flour for sweet toppings. You'll see accompaniments of smoked salmon, creamy mushrooms, sour cream, jams and condensed milk– to name a few–but the high-end, revered combination is a spoonful of red salmon or black sturgeon caviar.
WHAT TO DRINK IN MOSCOW :
Alcohol : Vodka was a exclusive product made for Moscow once upon a time and still 70% of
Vodka is consumed in Russia only so Vodka should be your drink.
Non-Alcoholics: Tea is a very popular drink in Russia. There are traditional drinks such as sbiten, a spicy hot drink flavoured with wine or honey, or ormors, which is made of berry juice and birch tree juice, but you might not find these readily available on menus.
WHERE TO PARTY :
This is a catch in Russia, it is strictly Face control system for entry. What is Face control?
Face control refers to the policy of upscale nightclubs, casinos, restaurants and similar establishments to strictly restrict entry based on a bouncer's snap judgment of the suitability of a person's looks, money, style or attitude, especially in Russiaand other former Soviet countries such as Ukraine.
How to beat face control?
Entry before 10:00 PM, dress well and stay cool
Entry is mostly free or minimal and drinks aren't expensive when compared to Metros like Mumbai in India
Never try to get sloshed else you will be get kicked out.
 MOSCOW TO NIZHY NOVGOROD :
Trains are the best and in the budget of every travelers if you are in Russia.
So from Moscow to Nizhy Novgorod you can take early morning train.
It takes 04:31 Hour for 1425 Rubal =1509 INR.
You can book it from
www.tutu.travel
Or
www.russiatrain.com
Trains are spic and span so no need to worry about it.
NIZHNY NOVGOROD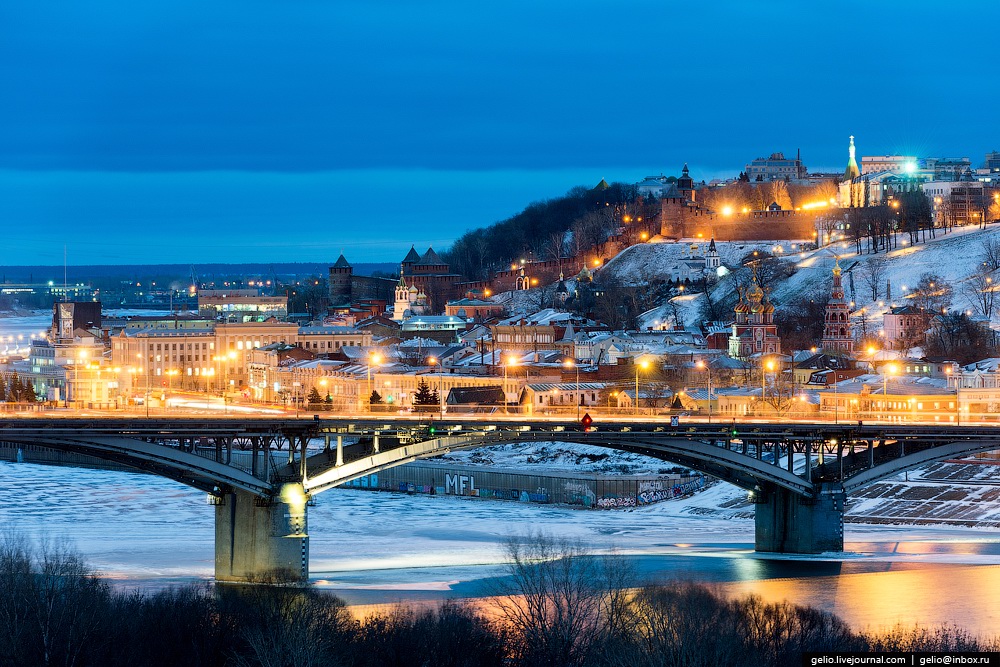 Nizhny Novgorod is the the city of Volga and Oka river.This is Russia's 5th largest city.You will be in love with the city the moment you reach here.There are many places where no vehicles are allowed and these places/streets can allow you to be in the peace for your travel here.
WHAT TO SEE IN NIZHNY
The Kremlin:
Beautiful Kremlin contains a church and a war monument. You can also see the gorgeous view of river Volga.
Bolshaia Pokrovskaia Street
Walk down Bolshaia Pokrovskaia Street, a pedestrian avenue lined with historical buildings, shops, and cafes. This brick walkway begins at Gorky Square and ends near the River Volga, at the Kremlin fortress. You can watch street performers or visit souvenir shops as you go. Notice important landmarks, monuments, and buildings with classical facades along the way. The area stays up well into the night, featuring many restaurants and bars.
Church of Nativity of Most Holy Mother of God
Rising above the streets and the river, Church of Nativity of Most Holy Mother of God serves as a structure of high national importance and a solid example of Stroganov Baroque architecture. This 18th-century monument, often described as the town's most striking creation, features a red and white ornamented facade and domes of multiple colored tiles.

Chkalov Staircase
Climb to the top of Chkalov Staircase for a view of the Volga River. Built during the Soviet era, the construction of the massive staircase was controversial because of the monumental cost, as well as the use of German prisoners of war as labor. Today, the staircase has become one of the city's most popular landmarks. Take the challenge and climb the 1,500 steps from the waterfront up to Minina Square at the top. It's a long walk, but you'll be rewarded with changing views of the river and the kremlin along the way. Wear comfortable shoes for the trek.
Limpopo Zoo
Have a fun day out and see animals from the four corners of the world at Limpopo Zoo. The zoo is the home of numerous mammals, birds, fish, and reptiles, ranging from species such as kangaroos, apes, and stingrays, to native Russian animals like Amur tigers and leopards.
NIZHNY TO KAZAN
Trains are the best and in the budget of every travelers if you are in Russia so from Nizhy Novgorod to Kazan you can take late night train with sleeping space.
It takes 08:30 Hour for 1844 Rubal =1955 INR.
You can book it from
www.tutu.travel
Or
www.russiatrain.com
Trains are spic and span so no need to worry about it.
KAZAN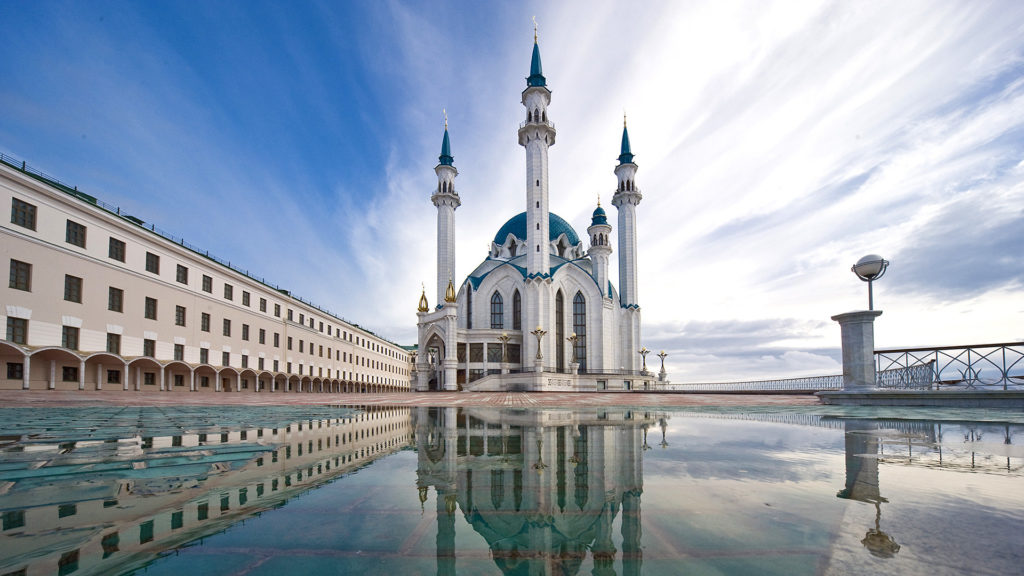 If you ever been to Istanbul then you will see a replica in Kazan.It is a place where Europe and Asia touch each other and you can see it fro the top of the church. The culture and cuisine varies and people are very friendly.
WHAT TO SEE IN KAZAN:
Immerse yourself in the Middle Ages in the Kremlin
Many Russian cities started with the constructions of a Kremlin and Kazan is no exception. This is where you should
Start your tour of the city. It is the oldest building in the city and was rebuilt in the second half of the 16th century.
Don't let Söyembikä Tower topple
According to legend, the tower is named after the only woman to rule the Kazan Khanate. Ivan the Terrible heard of Söyembikä's beauty and proposed to her, but she turned him down – so the Russian tsar threatened to raze Kazan to the ground. Söyembikä had to agree to marry him, but in return she asked for an unusual wedding present: A seven-storey tower to be built in seven days. Her desire was fulfilled and the tower was built one floor a day. On day seven the tower was completed and the wedding feast started. During the celebration Söyembikä climbed the tower and threw herself off it.
It's situated in the grounds of the Kazan Kremlin. Its height is 58 meters and as of today it leans by two meters, like the famous Leaning Tower of Pisa.
Kul Sharif Mosque
The main mosque of the Republic of Tatarstan and one of the city's most beautiful buildings is also located in the grounds of the Kremlin. A mosque stood on the site back in ancient times but was destroyed during the seizure of Kazan in 1552. It wasn't rebuilt until 2005 and, until the huge mosque opened in Grozny, was the biggest in Russia.
The interactive Museum of Islamic Culture at semi-basement level is also worth a visit.
Taste Tatar cuisine
Echpochmak, smetannik, peremyach, bokkan, and baursak – you must try these! To appreciate real homemade Tatar cuisine and a Soviet ambiance at the same time, you can go to the Tea House at 64 Bauman Street. The place is indeed reminiscent of a Soviet canteen, but the locals are fond of it and many come here for lunch.
Admire the architecture of the Palace of Farmers
This building proudly calls itself a "palace" and attracts tourists from all over the world. The Palace of Farmers houses the Ministry of Agriculture but not all locals appreciate its splendor: Activists campaigned against the modern Baroque Revival style during its construction from 2008-10. Some people think it's tasteless and ugly. What do you think?
Sunset from Kremlin Embankment
If you go through the park adjacent to the Palace of Farmers, you'll end up on the Kremlin Embankment. The best time to come here is in the evening. And if you're lucky, you might catch one of the most fantastic sunsets you are likely to see.
See Kazan at night from the other bank
The Kazan Family Center, which is also a registry office, is situated on the other side on the River Kazanka. According to legend, the name of the city comes from the word "kazan" which means a "cauldron," and the building really does resemble a big cooking pot, symbolizing abundance and fertility. Along its perimeter the Kazan Center is guarded by winged leopards and Zilant dragons. Thirty-two meters up on the eighth floor there's a platform that offers a panoramic view of the city's historic part. The view is particularly beautiful after sunset: All of the Kremlin buildings and the embankment are illuminated and the lights are reflected in the river.
Visit Sviyazhsk Island
Sviyazhsk (58 km from Kazan) is often described as a place with powerful energy. In actual fact, it is not quite an island – a thin isthmus with an road connects it to the mainland. Nowadays Sviyazhsk has become one of Tatarstan's main tourist attractions, not only because of its natural beauty but also thanks to its historical importance: The town, built in the mid-16th century, has largely retained its original appearance. On an area 1.5 km x 0.5 km there are about 10 historical and architectural monuments, and the Assumption Monastery of Sviyazhsk has been included on the UNESCO World Heritage List.
WHAT TO EAT IN KAZAN:
chak-chak
Don't forget to indulge yourself, your friends, and family, and buy the traditional Tatar delicacy chak-chak. It's a national Tatar and Bashkir dish made from pastry with honey. You can buy it in many small shops around the city.
KAZAN TO ST. PETERSBURG:
The distance between these two cities is vast and will take a minimum 24 hour journey by train. Instead, take a flight that takes 4 hours .
You can save your day by taking this flight
Operated By:Pagas Fly
Time: 04:35am to 08:35am
Cost 5k-6k
ST. PETERSBURG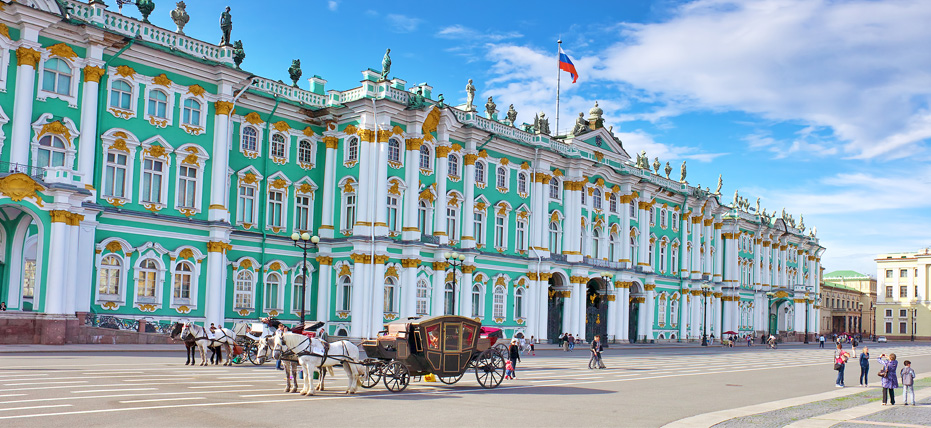 St. Petersburg is known as the cultural capital of Russia. While the city is only just 315 years old, the amount of history per square meter is astounding. Choosing what to see in 3 days in St Petersburg Russia is no easy task! The number of art museums, monuments, performances, and festivals can simply be overwhelming. The size of the city and the distances you'll have to cover might come as a surprise as well. It is a true megapolis: a vibrant, alive 24-hours a day kind of city. After all, St. Petersburg has more than 5 million residents!
Cross the Fontanka river by the Anichkov Bridge
The Anichkov Bridge is the oldest and most famous bridge across the Fontanka River in Saint Petersburg, Russia. The current bridge, built in 1841-42 and reconstructed in 1906-08, combines a simple form with some spectacular decorations.
Admire the pink Beloselsky-Belozersky Palace at Anichkov Bridge
The palace belonged to the Princes Beloselskiy, a family who claimed descent from Yuri Dolgorukiy, the founder of Moscow. Their first palace was built on the same site by the Fontanka River in 1747, but it was a much more modest affair. The family's fortunes increased thanks to the close relationship between Prince Alexander Mikhailovich Beloselskiy-Belozerskiy and Emperor Paul I, and through marriage to two heiresses to Urals mining fortunes. It was one of those heiresses, the widowed Princess Elena Pavlovna Beloselskaya-Belozerskaya, who commissioned the present palace, petitioning Emperor Nicholas I to allow his court architect, Andrey Stackensneider, to design the building.
Visit Empress Catherine The Great's monument in front of Alexandrinsky Theatre
Catherine II, also known as Catherine the Great, born Princess Sophie of Anhalt-Zerbst, was Empress of Russia from 1762 until 1796, the country's longest-ruling female leader. She came to power following a coup d'état which she organized—resulting in her husband, Peter III, being overthrown.
Indulge in the gorgeous Eliseevy Merchants' Shop
Eliseev Store situated right on the Nevsky Prospekt is definately the most beautiful grocery store you have ever seen. There are many expensive delicacies, but the store is worth seeing. It was built in the beginning of the 20th century in Art Deco style for wealthy merchants, Eliseev brothers. Eliseevsky Store is really famous in Russia and many citizens and tourists buy something there to remember Saint Petersburg in spite of the high prices.
Explore the Gostiny Dvor
Gostinyi dvor is a historic Russian term for an indoor market or shopping centre. It is translated from Russian either as "guest court" or "merchant yard", although both translations are inadequate.
Hop on a canals tour on Griboedova Embankment
Build on water, on numerous islands, the city of St Petersburg is very famous for its graceful canal and bridges, that's why it's also known as the "Venice of the North". With more than 70 rivers and canals winding their way through the city and more than 400 elegant bridges crossing them, a trip on a boat is really a must.
Admire the colorful cupolas of the Church of the Savior on Blood
Visit the stunning Kazan Cathedral
Kazan Cathedral or Kazanskiy Kafedralniy Sobor, also known as the Cathedral of Our Lady of Kazan, is a cathedral of the Russian Orthodox Church on the Nevsky Prospekt in Saint Petersburg. It is dedicated to Our Lady of Kazan, one of the most venerated icons in Russia.
Circle the Admiralty on your way to the Palace embankment
A unique feature of the Palace Embankment: half of the two dozen houses located here are palaces. One of them is famous throughout the world – the Winter Palace of the Russian imperial family. In fact it is doubly famous not only as a former royal palace, but also as home to the Hermitage, one of the world's greatest museums of art and the largest museum in Russia.
Walk to St. Isaac's Cathedral and climb to the top of the collonade
Saint Isaac's Cathedral or Isaakievskiy Sobor is a cathedral that currently functions as a museum in Saint Petersburg, Russia. It is dedicated to Saint Isaac of Dalmatia, a patron saint of Peter the Great, who had been born on the feast day of that saint.
Take in the size of the Palace Square in front of the Hermitage
Palace Square, connecting Nevsky Prospekt with Palace Bridge leading to Vasilievsky Island, is the central city square of St Petersburg and of the former Russian Empire. Many significant events took place there, including the Bloody Sunday massacre and parts of the October Revolution of 1917.
Attend a ballet at Mariinsky Theatre
The Mariinsky Theatre is a historic theatre of opera and ballet in Saint Petersburg, Russia. Opened in 1860, it became the preeminent music theatre of late 19th-century Russia, where many of the stage masterpieces of Tchaikovsky, Mussorgsky, and Rimsky-Korsakov received their premieres.
Stay up to watch the opening of the St Petersburg bridges during White Nights
Now St. Petersburg has more than 300 bridges of various sizes, construction, material and decoration. There are the bridge of the Lions as well as Bolsheokhtinsky bridge. They are not only Italian bridges, also British and Egyptians, bridges decorated with towers, lions, horses, and magic animals like the griffin.There are colored bridges, red, blue, green and yellow, as well as that of the post office, theater, bank and of lovers. However each of these engineering miracles has its own character, its legends, and its independent life that contributes to the history of St. Petersburg.
Visit Mikhailovsky Castle
St. Michael's Castle, also called the Mikhailovsky Castle or the Engineers' Castle, is a former royal residence in the historic centre of Saint Petersburg, Russia. St. Michael's Castle was built as a residence for Emperor Paul I by architects Vincenzo Brenna and Vasili Bazhenov in 1797-1801.
Peter and Paul Fortress
When Peter the Great re-claimed the lands along the Neva River in 1703, he decided to build a fort to protect the area from possible attack by the Swedish army and navy. The fortress was founded on a small island in the Neva delta on May 27, 1703 (May 16 according to the old calendar) and that day became the birthday of the city of St. Petersburg. The Swedes were defeated before the fortress was even completed. For that reason, from 1721 onwards the fortress housed part of the city's garrison and rather notoriously served as a high security political jail. Among the first inmates was Peter's own rebellious son Alexei. Later, the list of famous residents included Dostoyevsky, Gorkiy, Trotsky and Lenin's older brother, Alexander. Parts of the former jail are now open to the public…
Rostral Columns at the Spit of Vasilievsky Island
The Old Saint Petersburg Stock Exchange and Rostral Columns, located in Saint Petersburg in the Russian Federation, are significant examples of Greek Revival architecture.
Where to eat in St Petersburg, Russia:
Here are three options to satisfy your hunger:
#Phali Hinkali: Deliciously affordable Georgian and Russian food
#Terrassa: European cuisine with a fantastic terrace view over the Kazan Cathedral
#Eat crumpets Soviet-style in St. Petersburg's trademark cafe
The must take back home souvenirs are
Russian Dolls: They are really cute and almost 5-7 pop out of the main doll. It symbolizes a Russian family.
Military memorabilia: You get loads of Military caps, badges, hats etc.
Models: Of the St. Peters Basilica and many more
Vodka: You definitely shouldn't leave without a bottle of vodka from Russia. Available at any departmental store, the prices range from 300 RUB to 5000 RUB for a 700 ml bottle.
LAST DAY IN MOSCOW
If your return flight is from Moscow then take the Sapsan (bullet train) that covers 850 KM in under 4 hours and the service is world class.
You can spend last day relaxing and of course souvenir shopping, head to Izmailovsky Market for the best Russian souvenirs ranging from dolls, to key chains and even antiques at the best prices. Do not go shopping anywhere else in Russia and this is by far the cheapest place.
I hope you enjoyed this list of things to do during your 12 days in Russia. Many things had to be left out, such as the Russian Museum, day trips from St Petersburg to Peterhof and Tsarskoye Selo, and more… Which is why I hope you consider staying a while longer to discover the city at a much more leisurely pace. But this route should give you a great first impression of Russia.
That was my 12 days in Russia itinerary for first-timers! Did this list inspire you to visit Russia? Would you see yourself exploring Venice of the North?
Like this post? Share it! Comment it and ask your queries!
If you are a group of more then 4 friends then just email us on following email and we will make the trip for you.
Or
If you want to join us for our next trip to Russia then follow the following link.
https://travelbuddiestalk.com/event/russiatour/
Thanks
Gaurav Rana