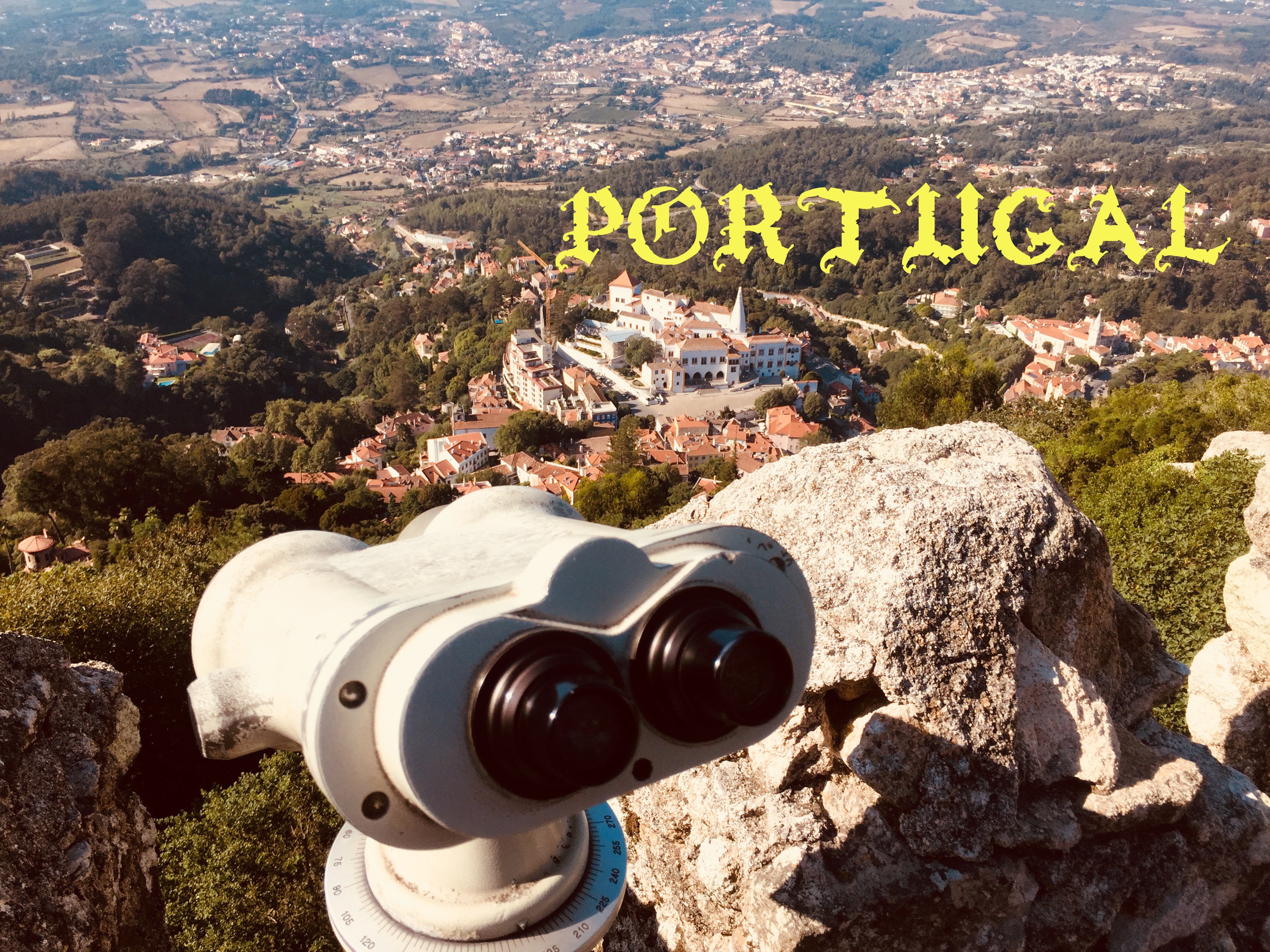 Portugal Perfect Itinerary

"PORTUGAL"

  Only have one week in Portugal?
Don't worriy! This tiny but culture rich country has a lot to see, but you still be able to taste what it offers in just one week. I spent one week and explored cities and loved it. And it ended up being a perfect sampling of Portugal. We travelled from hilly Porto and tried its wine, Did party in Lagos till 5 am and lastly we ended in Lisbon- a capital city that blew my mind with its uniqueness. This is my Portugal itinerary.
Don't worriy! This tiny but culture rich country has a lot to see, but you still be able to taste what it offers in just one week. I spent one week and explored cities and loved it. And it ended up being a perfect sampling of Portugal. We travelled from hilly Porto and tried its wine, Did party in Lagos till 5 am and lastly we ended in Lisbon- a capital city that blew my mind with its uniqueness. This is my Portugal itinerary.
So I loved my time in Portugal and I felt like we were able to both see a lot and spend more than a couple of days in each place.
I know when planning a week long trip from India to Europe, most people head to France,Iceland,Germany or Italy but I wanted to do something less travelled. Somewhere I will be surprised. Somewhere I will be able to see true colors of the culture. Somewhere I will be able to party all night.I wanted Portugal.
So here is the our Portugal itinerary, hope it will be helpful for planning your own trip. And you will be madly in love with this gorgeous country like I did.
Why Porto?
There are two routes you can follow for Portugal, its upto your comfort.
Route 1
Fly in Porto-Lagos-Lisbon-Sintra-Fly out fromLisbon
Route 2
Fly in Lisbon-Sintra-Lagos-Porto-Fly Out from Porto
Porto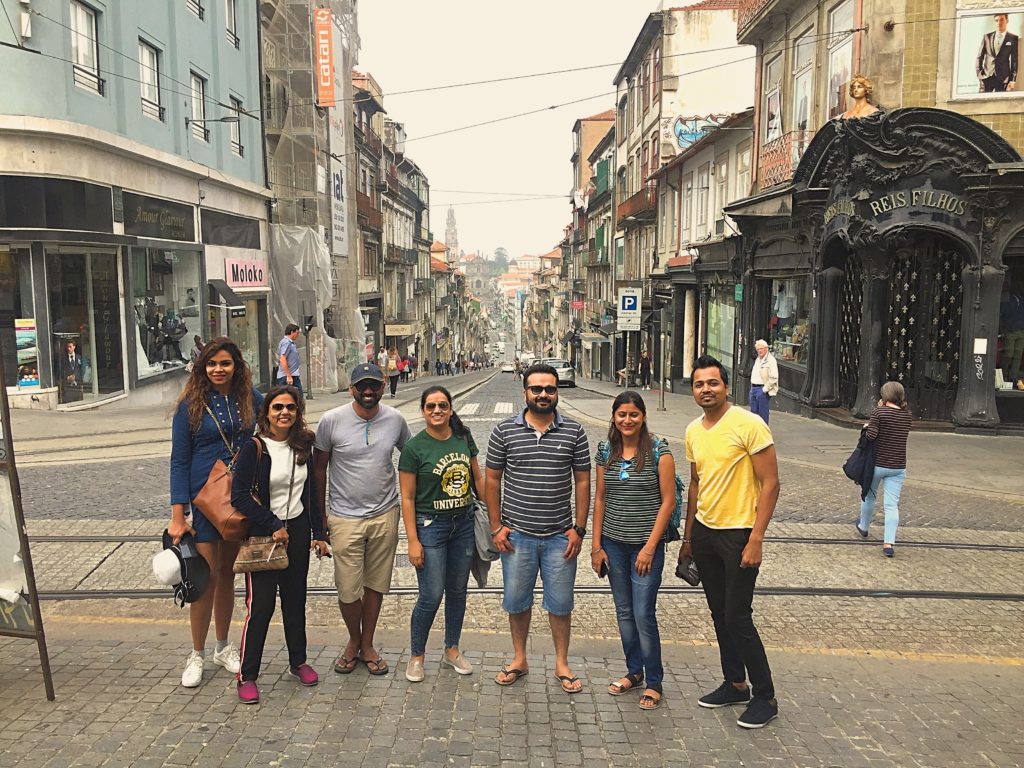 Porto is a coastal city in northwest Portugal known for its stately bridges and port wine production. In the medieval Ribeira (riverside) district, narrow cobbled streets wind past merchants' houses and cafes. São Francisco Church is known for its lavish baroque interior with ornate gilded carvings. The palatial 19th-century Palácio de Bolsa, formerly a stock market, was built to impress potential European investors.
Day 1 & 2: Explore Porto's Haritage & Harry Potter Bookstore
The itinerary starts off in Porto, land in Porto by taking a early morning flight. We started our day with a delicious breakfast at one of the famous breakfast chain named Majestic cafe. This beautiful managed restaurant was famous for its coffee and burgers. Coffee was the best coffee I had in my life so I will put Majestic cafe in must to try places.
After having a filling breakfast, we headed to the Main Street and witnessed the third most beautiful train station in the world i.e Sao Bento. This place will take you to 19th century setup where you will find yourself in the middle of 20,000 magnificent azulejo tin-glazed ceramic tiles. Porto's past was a mix of royalty, wars and transportation history. Sao Bento got its blue and white tiles over a 11 years by artist Jorge Colaço.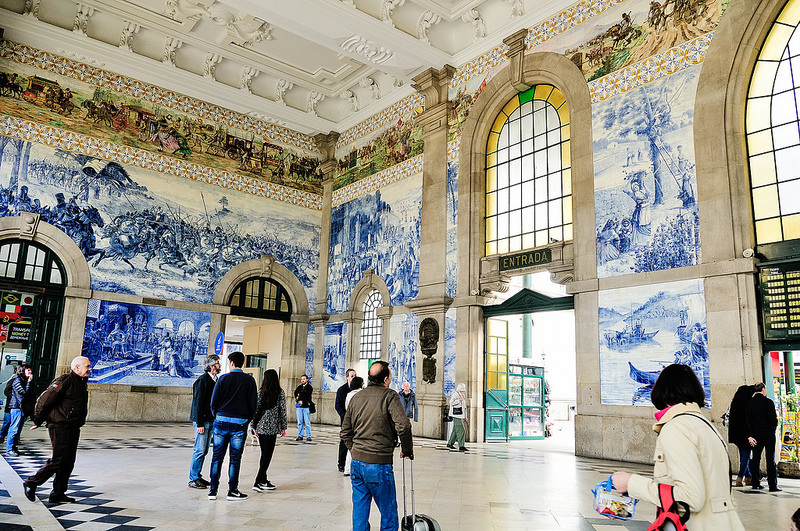 Sao Bento received its name after a Benedictine monastery thats once occupied its space back in the 16th century. Destroyed by fire in 1783, the house of worship was rebuild but by the 19th century was torn down to make way for the expanding railway system. First stone was laid by King Carlos 1 himself. This station is still serving and you can take a local train from here to connect to main station for your trains to Lisbon or Lagos.
A must to see place in Porto and should be on your to do list.
Our next destination was famous toy train which covers the top attraction of the city and also gives a chance to wine tasting. This train tour will charge you €11 for 2 hours tour inclusive of wine tasting. We found it a great deal as it was cold and we wanted to see main attractions with the comfort of train compartment so we bought the ticket.
Toy train tour starts every 2 hours from famous Sé Cathedral (Porto Cathedral) and charge  € 11 , the train circumnavigate the city center, with on  board  audio guides  in Portuguese, Spanish, French, English and Italian languages. Train direct to the oldest Portuguese wine cellar of Real Companhia Velha, founded in 1756  by king  José I. You can explore the old part of the cellar  and can then get ready for  2 high-quality  port wines. We we fortunate enough to buy these awesome wine € 8 Euro for two bottles.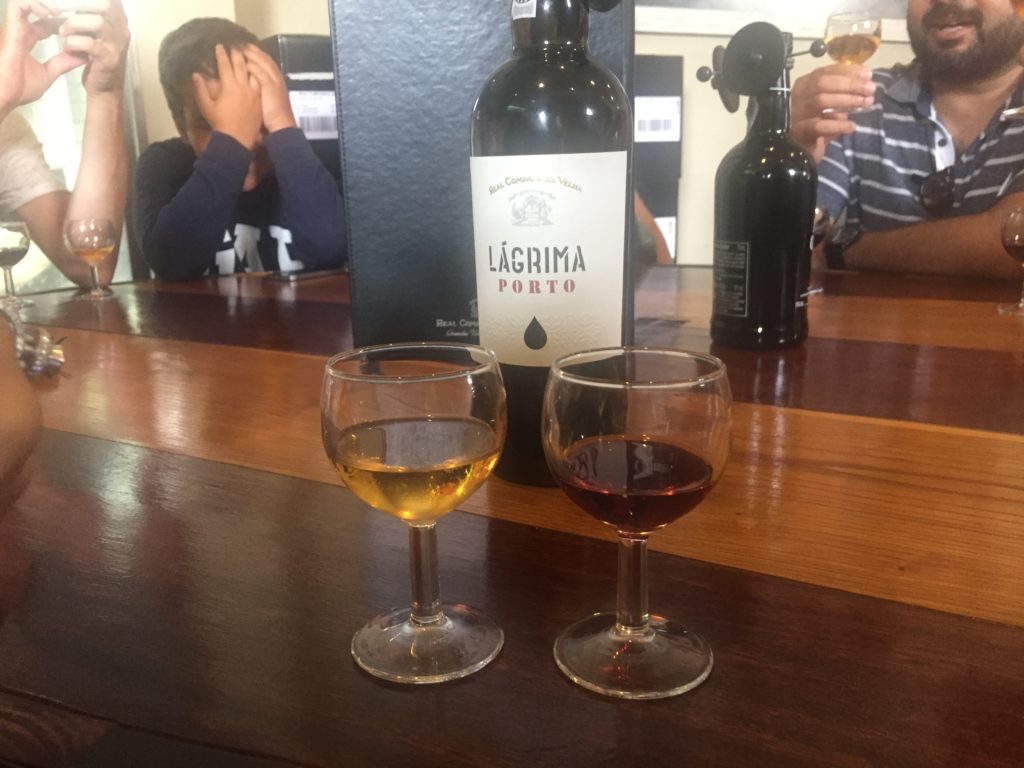 This was the gorgeous cellar I ever seen in my life, you must add this in your must todo places.On the way you will be able to see Sāo Joāo National Theater and Sāo Bento Station and Baroque  Bell  Tower Of  Clerigos Church. In the last leg of this tour you will pass from Twin Churches of the convent and Church of Carmelitas and Lello Bookshop and enchanting cafes. This tour will end at  the same place from where it was started.After this awesome tour, we moved toward the famous Livraria Lello Bookshop.
Livraria Lello Bookshop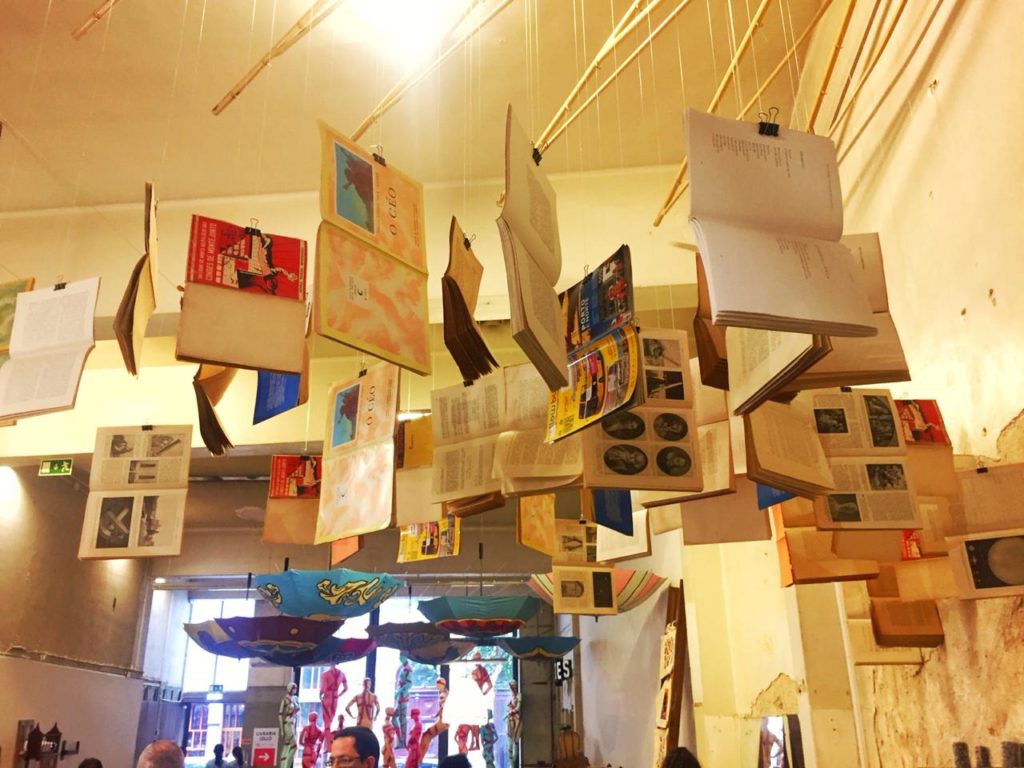 100 years old Livraria Lello is famous for two reasons, one for being the unique design and amazing collections of books and secondly for being the inspiration for Hogwarts to J.K Rowling , who was teaching English in Porto before getting famous.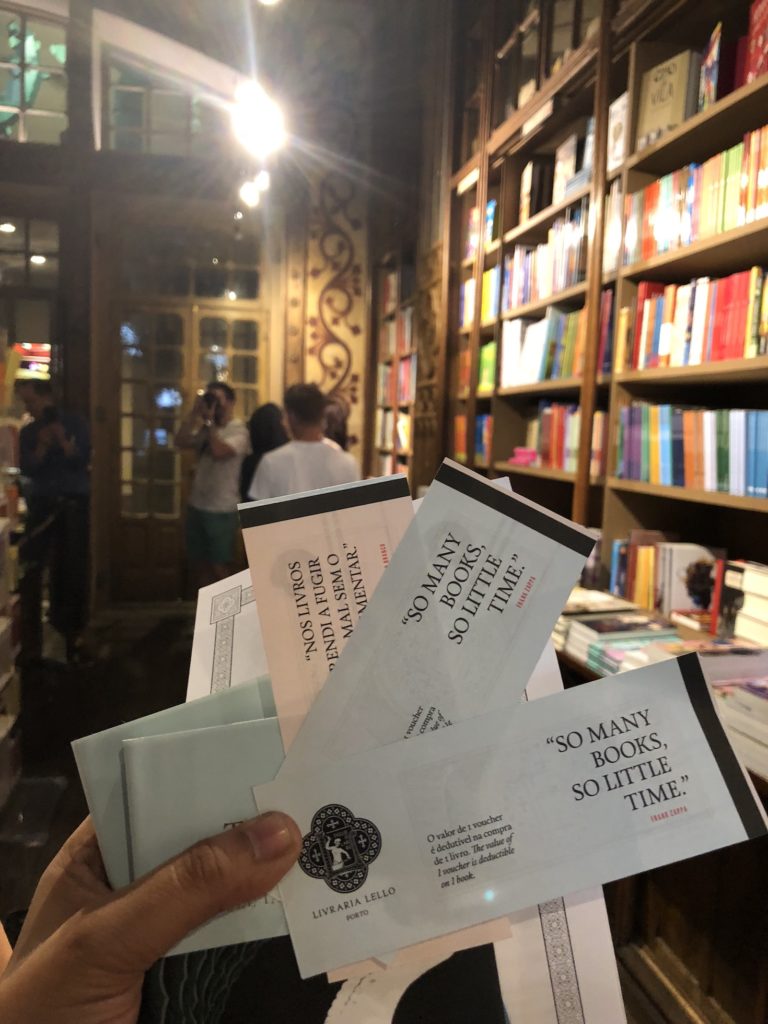 You will always find a queue outside of this bookstore even after a entry fee of €5 , although you can use these euros to purchase a book from the store. If you are a Harry Potter fan then you should try it.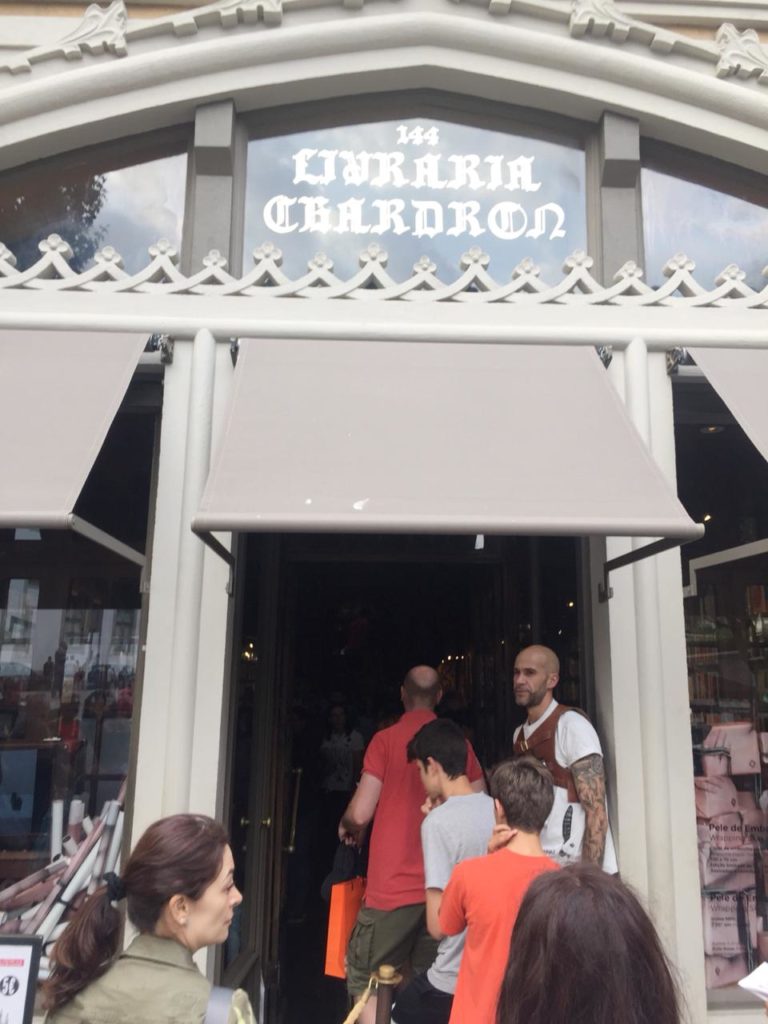 The entrance of this magical place is also magical, at entrance there is man with lots of tattoo and one leather hand jacket as if his one hand is not working, all this takes you to the same Harry Potter world with unique personalities.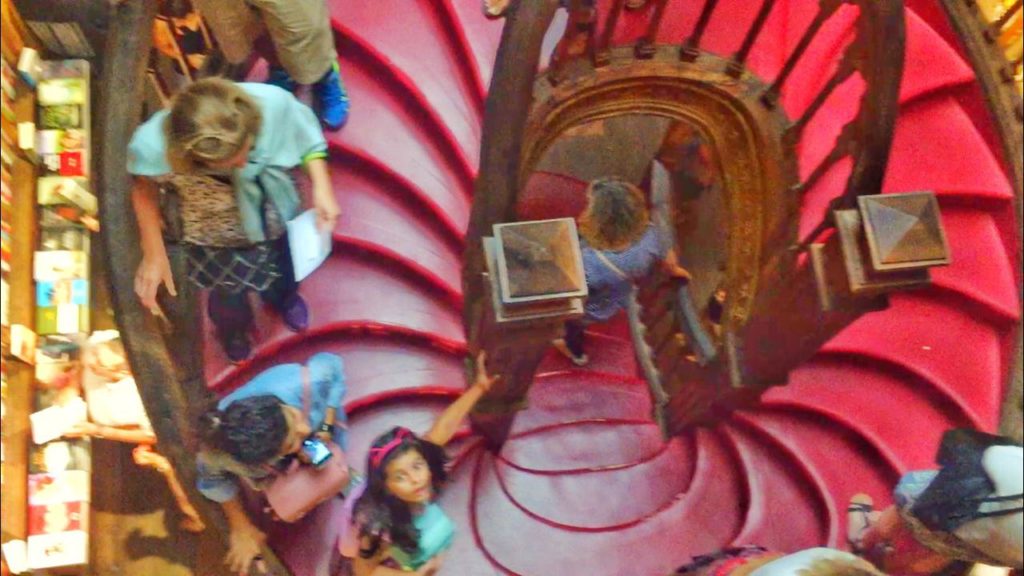 You can see the resemblance of sumptuous staircase which inspired the Hogwarts Library  in her books. This staircase in amazingly red color and while climbing up you can feel the stair handle and if you can same time imagine the harry potter library then you can relive the moment.
The shop was opened by brothers José and António Lello in 1906, who were both lovers of literature and were part of Portugal's intellectual groups of the time.The Neo-gothic building  has a stained glass  skylight  that illuminates the shop, wood crafted handrails and a glass door guarding the  shop's oldest books  of rare first  and  collectors editions.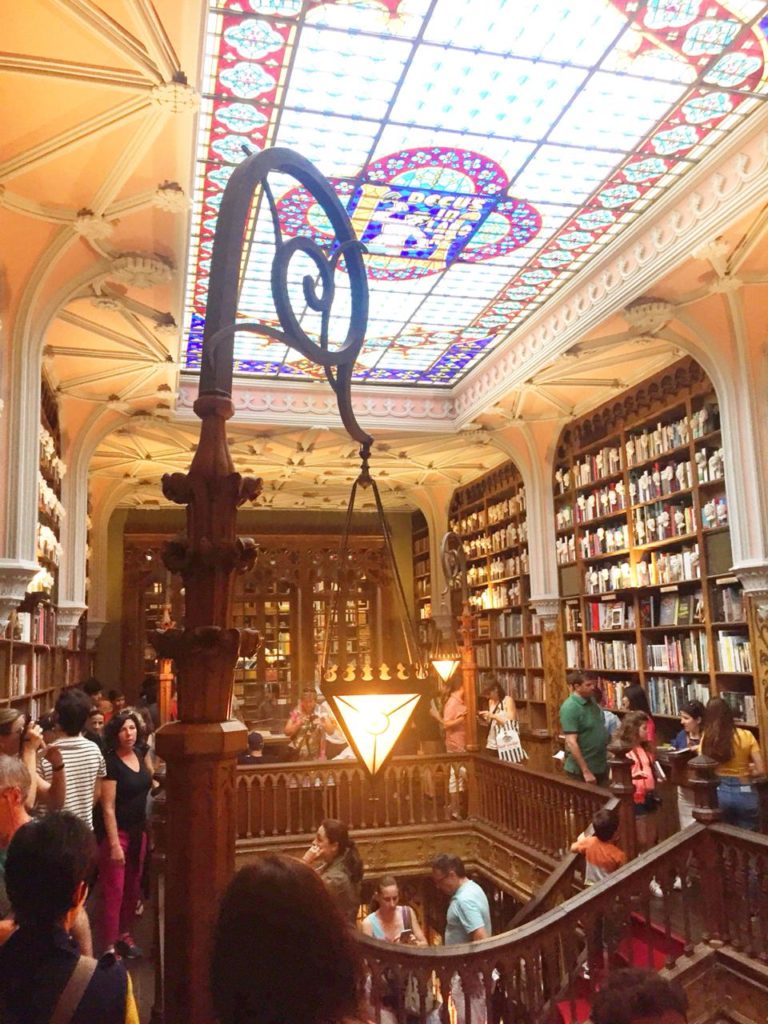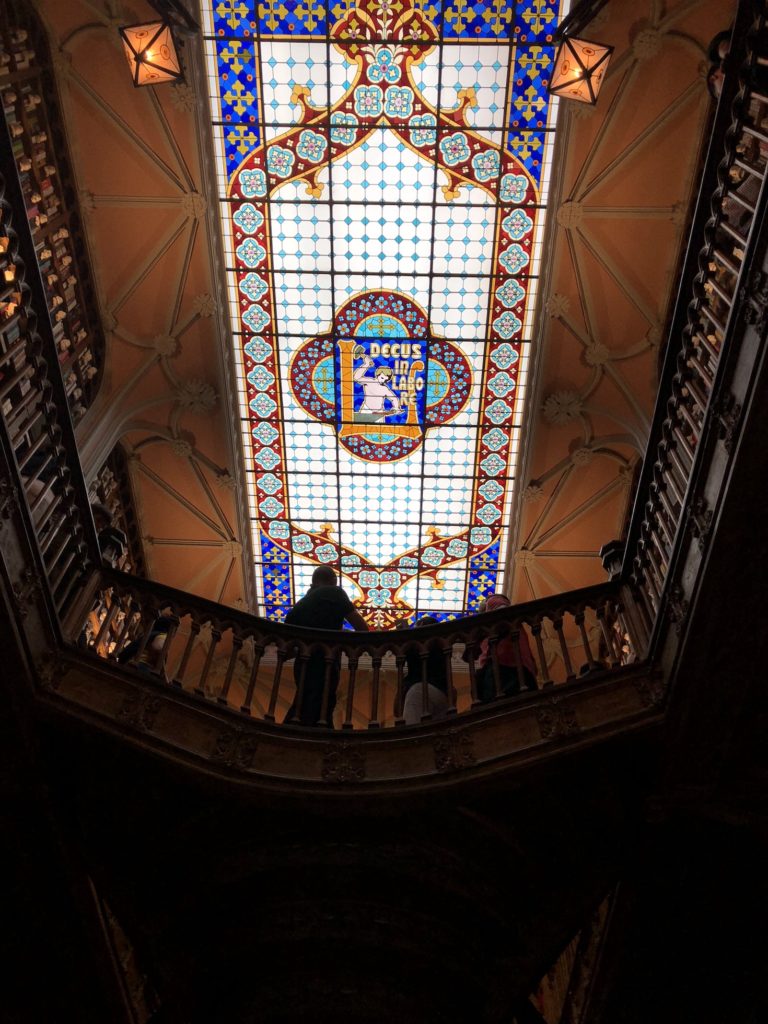 The books on shelf will give a feeling of Hogwart staircase where all the pictures were alive and in the same manner books in this book store has faces on the books shelf. In total I really liked the place and the feel of it.Only down was the price is €5  which was earlier €3  but if you are potter fan them you must go to this bookstore and re-live the potter memories.
Where to stay in Porto
Portugal is a place of Portuguese heritage and culture and whenever you are here then try to stay in Old town in cities so feel the real Portugal.You can choose from double bed room or 5 occupancy rooms. They have A/c in rooms a. They serve a delicious breakfast in the morning, which is included in the stay cost. you can prepare your food in kitchen.
Hostel Name: Oporto Boutique Guest House
Area: Old Town, Rua Alexander Herculano
Activities: Toy train bookings
Local Food Lagos
Pastéis de Chaves
This puff pastry was one of Rosemary's favorite local delicacies. Pastéis de Chaves are half-moon shaped pastries, traditionally stuffed with minced veal.
This puff pastry is a specialty from the city of "Chaves" in the north of Portugal, close to the border of Spain. It is now classified as a product with Protected Geographical Indication. This means they can only be called Pastéis de Chaves if made in Chaves.
How to Get There (Lagos)
You can reach Porto by two ways, either you land in Porto or if you are landing in Lisbon then you can take a train and reach Porto. Old town Porto is 20 min from airport. In our case we landed in Porto and get transferred to our hostel.
LAGOS
Day 3 & 4 Explore  Old Town & Beaches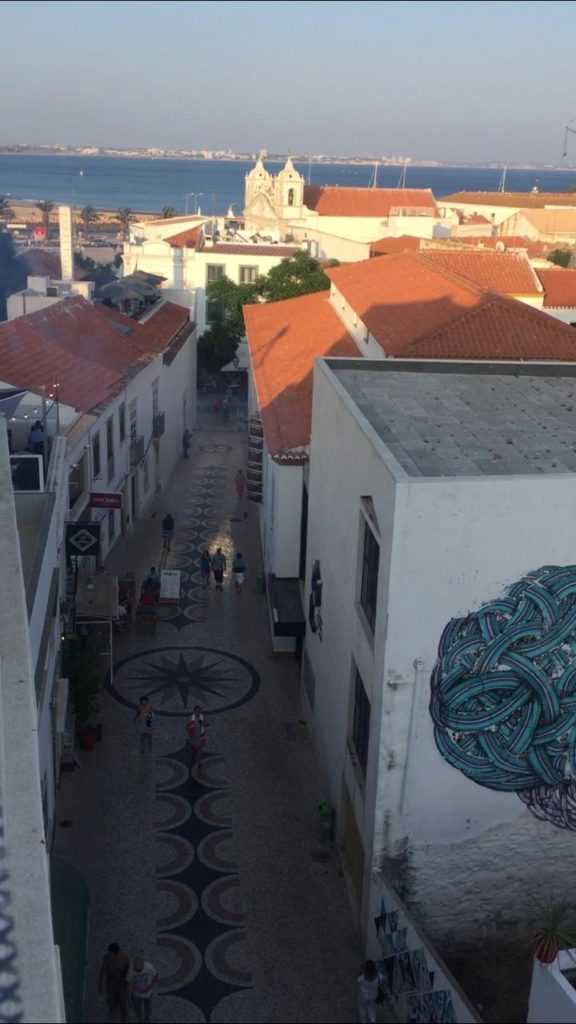 We reached Lagos at 02:30pm and took a taxi towards our hostel. Portugal is relatively cheap country as compare to other European countries, in our case Spain. We checked in our hostel Sol a Sol Hostel , which was in the middle of old town and was walking distance from beach. If you want to explore, live and feel Portugal then always try to stay in Old city. If you are looking for  a place where you can do BBQ on the roof of the hostel and can see the old city and sea then you must stay at this place.
Here is the view from the roof top of the hostel.
Where to Stay in Lisbon: Sol a Sol Hostel
Praia do Camilo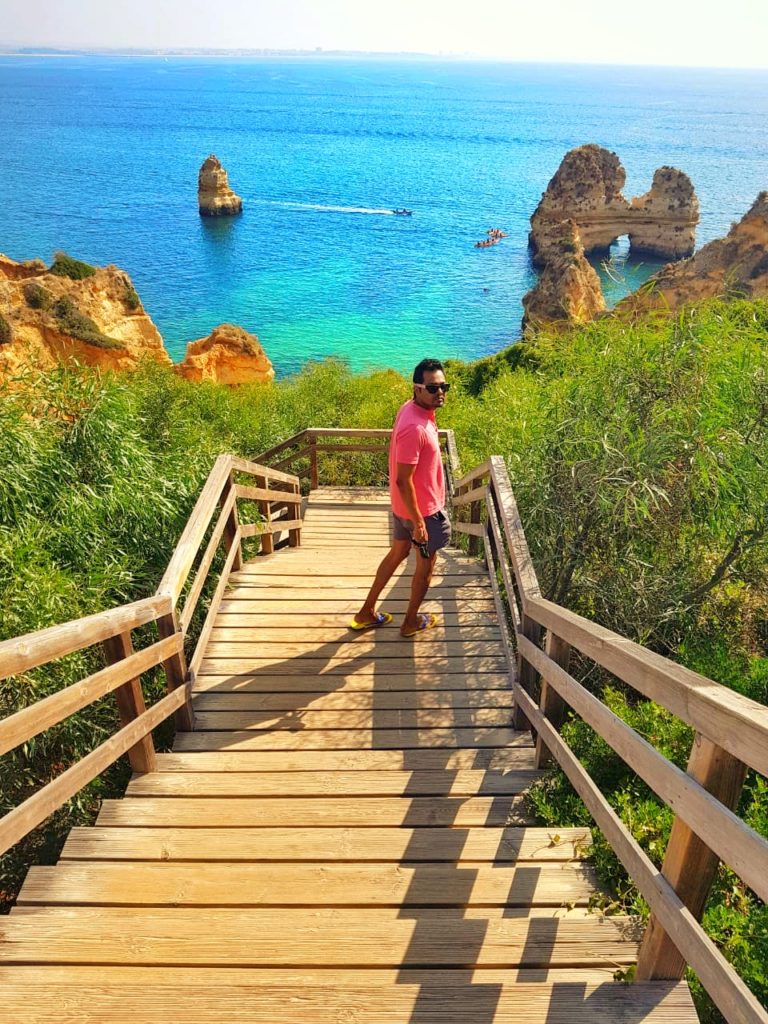 This gorgeous and out of the world beach is 40 min walk from old town(where we were staying), we started at 9am and reached at 9:45am and after reaching there we came to know that path down till beach consist a stair case with  224 stairs but stairs were in good shape and we got get amazing opportunities for some scenic instagram photographs.. lol. Always go this beach with your towel, sunscrene, Umbrella & swimming costume. Water is cold but crystal clear for swimming and snorkeling. You can book snorkeling & kayaking tours with local operators.
There is another part of this beach which is accessible through a cave, which connects these two beaches.This part of Paraia do Camilo will blow your mind. Blue tarquise water and an amazing seabed which you can sea with a water mask. Spend entire day here and you can avoid hassle bustle of city.
Igreja De Santo Antonio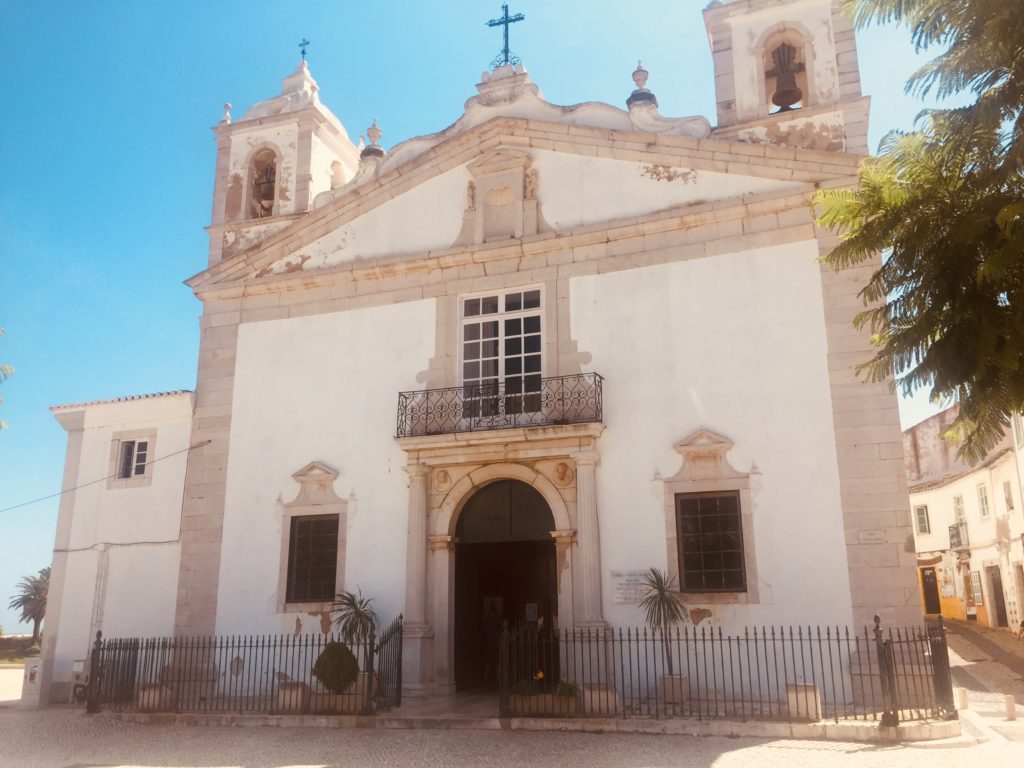 This church is quite small and dark but its history is interesting. They don't all you to take photos. It was very interesting for me to find out that they only allowed one person to be buried there and he was Irish. Hugo Beatty was from Dublin and helped the Portuguese fight the Spanish and also helped the people of Lagos rebuild the church after the earthquake and tsunami of 1755. He had to change his religion to Catholic to allow him to be buried in the church. Entry fee is 1.5 Euro but totally worth it.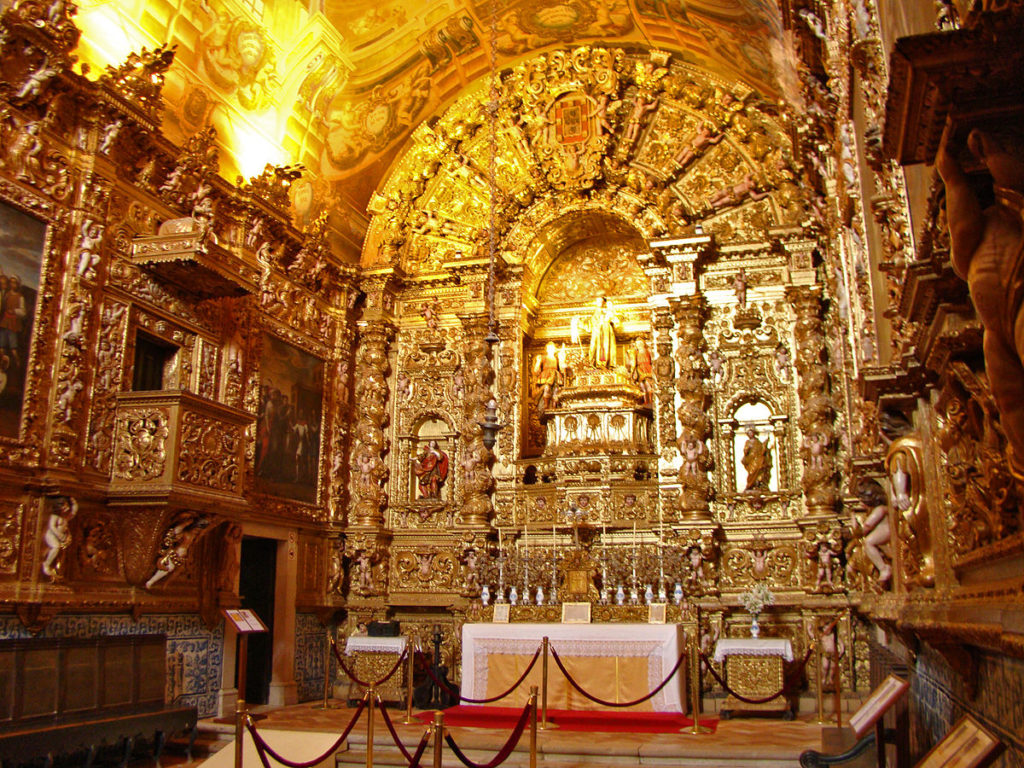 Centro Cultural de Lagos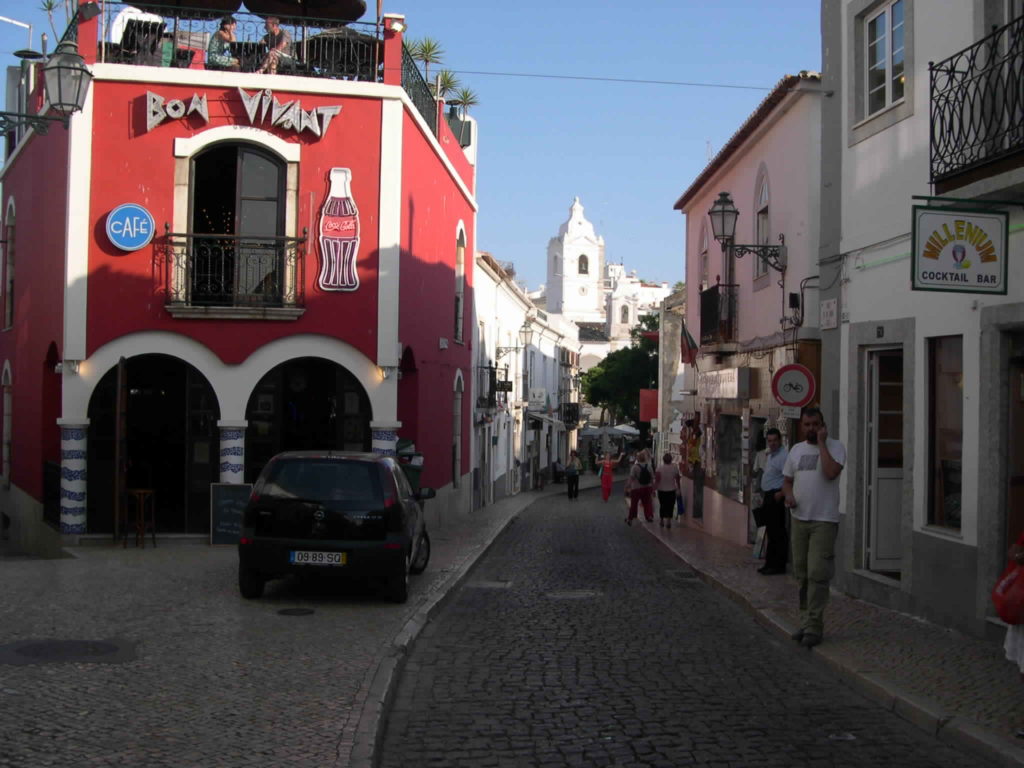 Centro Cultural de Lagos is the center of old town and as we were staying in the old town only so we had a privileged to access it easily. This place was buzzing with lights and live music. Artists were dancing, musicians were playing local music, road side restaurants and cafe were serving food and people were just enjoying shopping here. No need to take a tour but to come and enjoy this place.
If you like night life then this is the place because it is live till 5am, we were literally out in the market at 4am and it was giving a feel of 11pm because everyone was still having drinks and shops were open. In food you must try
Ponta da Piedade: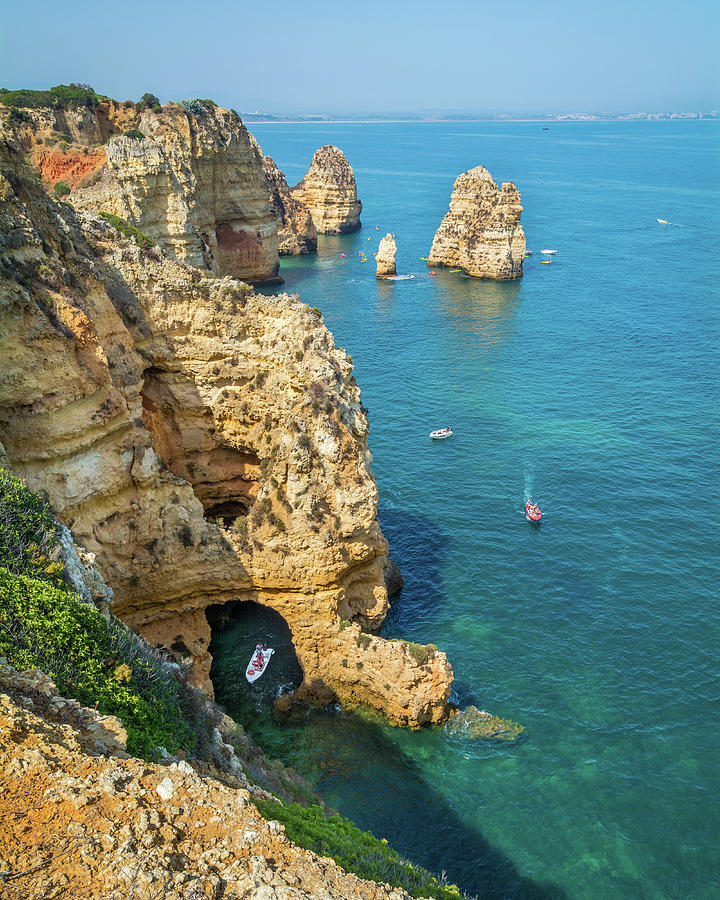 This Portuguese natural wonder also in the close proximity of old town, you can either walk or take a boat or kayak tour from the marina in Lagos.
The uniqueness of this beach is its descend staircase cut from the cliff face, which make it spectacular and less accessible for civilization. You can do snorkeling, kayaking and swimming in the clear water of this beach.
Old Lagos
The old Lagos will take you the 16th century with whitewashed walls and tiled type roads.
You can literally inhale the smell of the old culture in old town.
Lagos was the capital between 1576 and 1756. Near the water there is monument to the
Grim period of the city's history: the Mercado de Escravos was the slave market of Lagos for around 250 years from 1444, and this is reminder that discovery  had a human cost.
Local Food Lagos
If you are a non-vegetarian and have craving for see food then you are in the heaven of sea food. Lagos is famous for its sea food cooked with oils.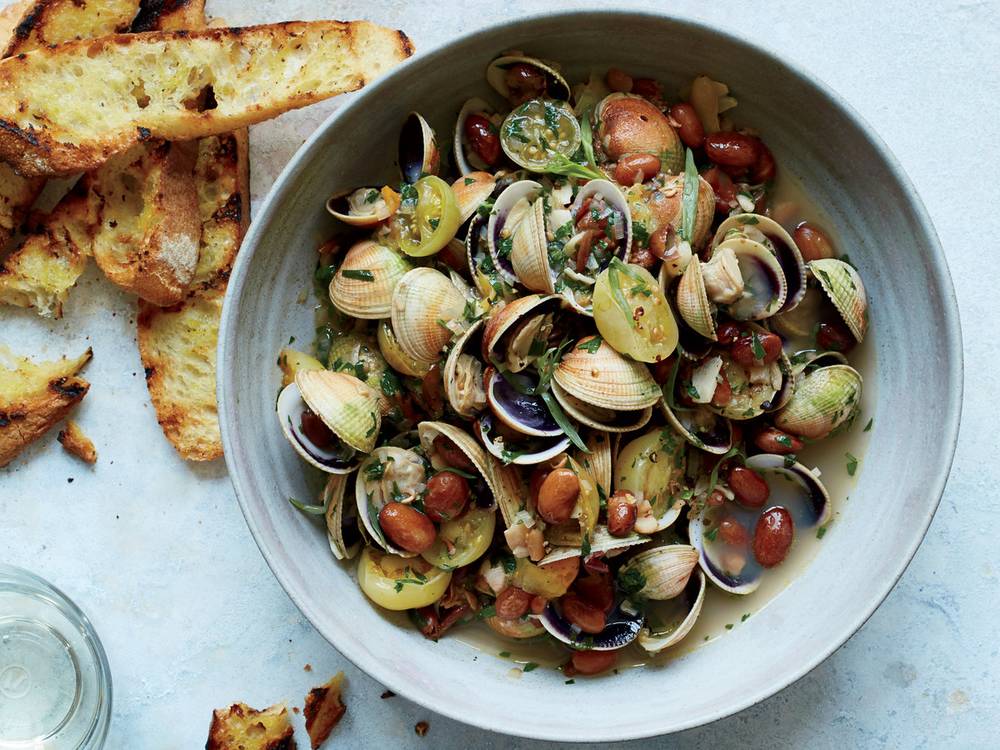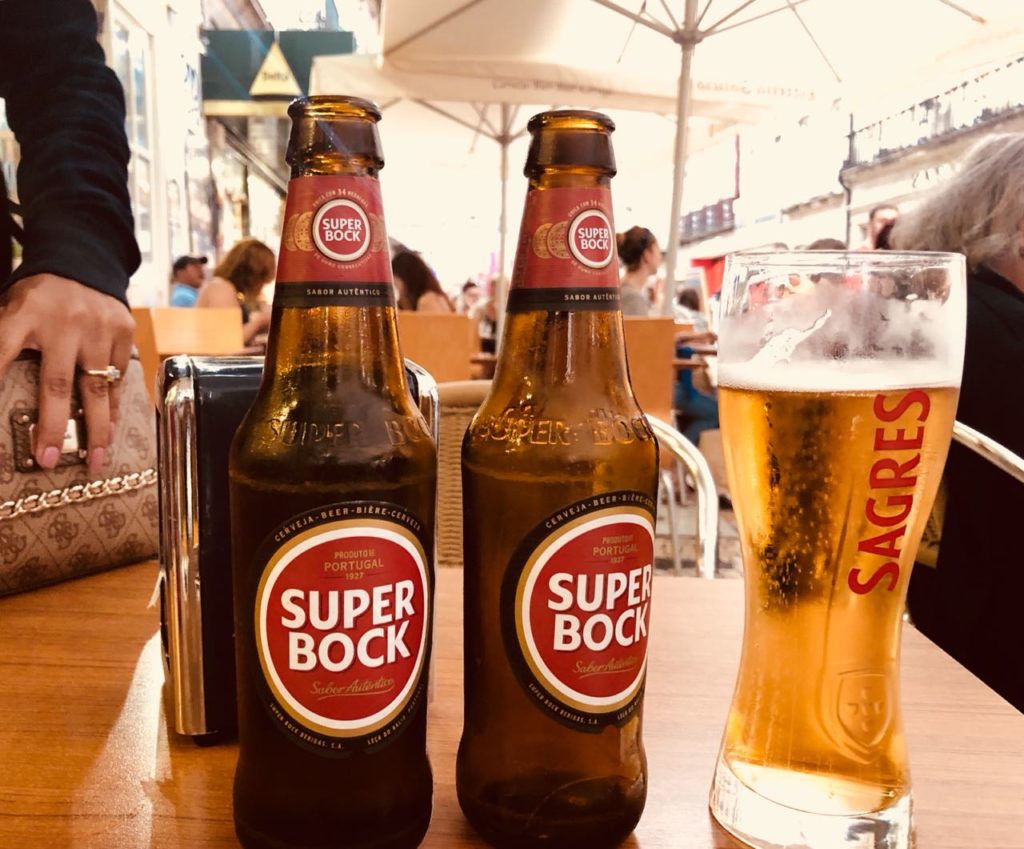 Clams and Cockles Cooked In Garlic & Olive Oil. The seafood of the Algarve is so fresh, I'd recommend eating as much as you can while you are there. Pair it with local Super bock beer(€ 1).
Michelin Star Restaurants

There are 6 Michelin star restaurants in the Algarve. Take your pick!
Henrique Leis, Almancil (French cuisine influenced with Brazilian flavors-rack of Iberian pork with chestnuts and carob, impressive wine list)
Amadeus, Almancil (seasonal ingredients, Modern European, ettoufe" served with chantrelle mushrooms)
Ocean Restaurant at Vila Vita Parc, Porches (haute cuisine, menu changes weekly)
São Gabriel, Almancil (Al fresco dining, Smoked salmon trout with braised cucumbers and bacon)
Vila Joya at Hotel Vila Joya, Galé (local fish and produce, 2 Michelin stars, ocean views, menu changes daily)
Willies Restaurant, Vilamoura (Central European cuisine, hand-made seafood ravioli in a Vermouth cream sauce)
How to Get There (Lagos)
We took early morning train from iconic Sao Bento train station to Lagos, As there is no direct train to Lagos so first you need to reach Lisbon first and then after a 30 min break you can hop-in the connecting train to Tunes.
From Tunes you need to take a local train to the nearest train station to your hostel/hotel. In our case it was Sete Rios. You can see the schedule we followed and then you can book tickets according to your comfort.
Our Schedule:
#Sao Bento:06:30am
#Campanha: 06:40
#Oriente(Lisbon):09:30am (Train change with a wait of 30min)
#Oriente(Lisbon):10:02am
#Tunes: 12:50pm                     (Train change with a wait of 20min)
#Tunes:13:12pm
#Lagos:02:30pm
Daily Schedule for Porto-Lagos train: PDF
Price 1st/2nd                  Promo Ticket 1st/2nd
€ 70,15/ 52,85                   € 44,55/-
Leaving Time            Arrival
04h50                            12h08
06h30                            14h08
09h30                            18h03
14h20                             21h08
Link to book train ticket from Porto-Lagos: cp.pt.com
If you are sure about your trip then you can book train tickets in advance and can get PROMO price, which is always 50% lesser then the normal price. We booked with Promo pricing and saved €44. You will be able to see Promo mentioned while booking the ticket from above website.
Rental Car to Explore Lagos
You can even take a car/bike on rental for 2-3 days to explore the outskirts of Lagos and can even go and explore places like Praia de Benagil, which is 46km/50 mins far from Lagos town.Explore this route on your own pace and take the feel of Lagos, which was once a capital.
 Where to stay
Portugal is a place of Portuguese heritage and culture and whenever you are here then try to stay in Old town in cities so feel the real Portugal.You can choose from double occupancy to a dorm bed in a room. They don't have A/c in rooms as Lagos can get very cold in evening (Sep-dec). They serve a delicious breakfast in the morning, which is included in the stay cost.
Hostel Name: Sol a Sol Hostel
Area: Old Town, Rua Lancarote de fareitas
Activities: Unlimited BBQ in evenings @ €10, Book tours or rental cycles from reception
Lisbon
Day 5 & 6 Explore Bridges & Pub Craw
 Belém Tower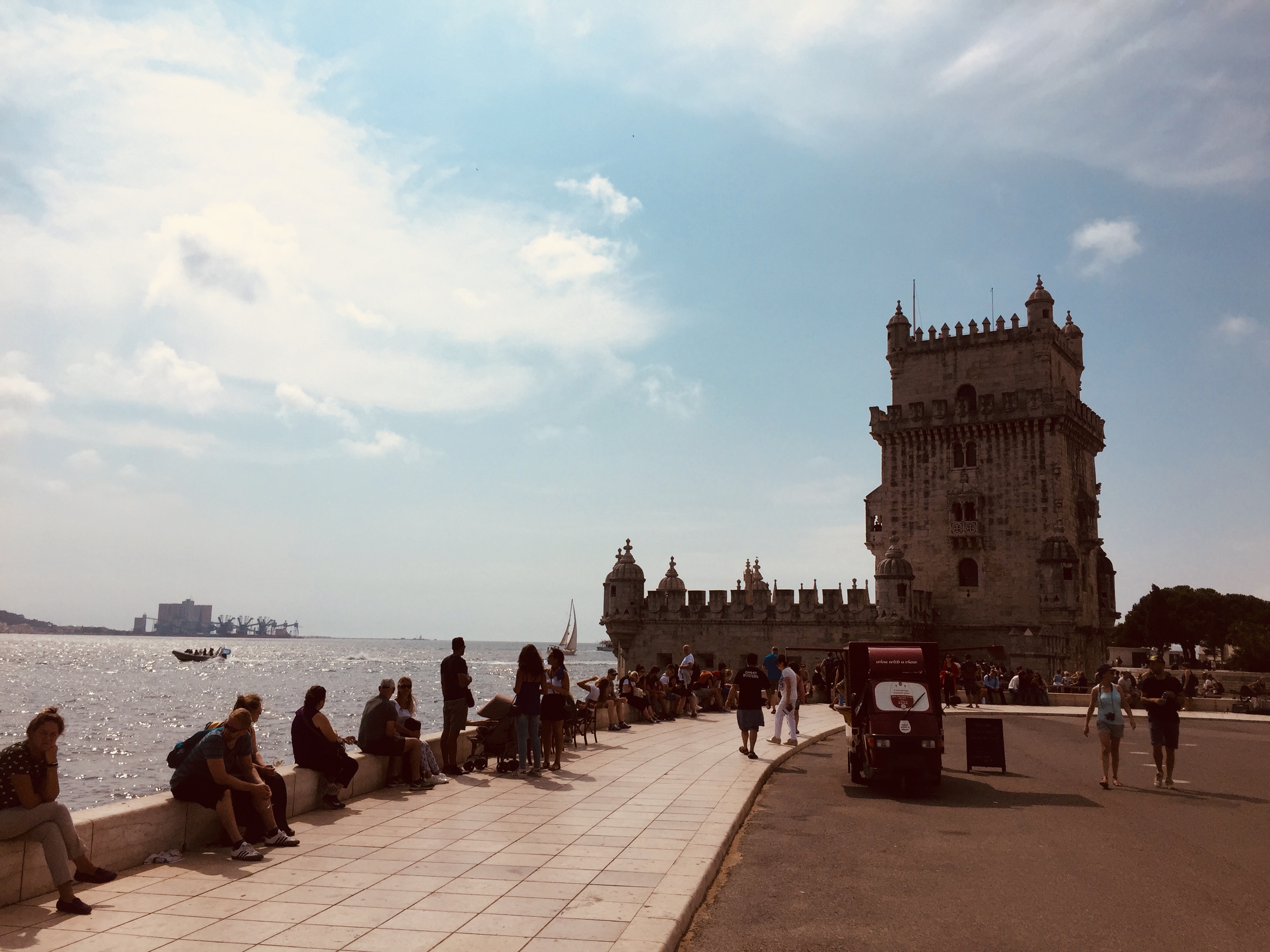 This beautiful tower was made on a rock outcrop in the Tagus river but over the years the water level changed and it is now on the bank of the river. Sailor and explorer would see the tower as they approached the  harbor. This Portuguese tower was build between 1514 and 1520 and was used as light house and custom  house later.
Tower has 5 floors and many pits and holes where  the prisoner were thrown into.
Interesting fact is, you will find a gargoyle in the shape of rhinoceros  and the first rhinoceros  set foot in Portugal
in 1513 and was sent from India.
Oct-April : 10am to 05:30pm
May-September:10am to 06:30pm
Close: Mondays, 1 January, Esater Sunday, 1 May & 25 December
Padrão dos Descobrimentos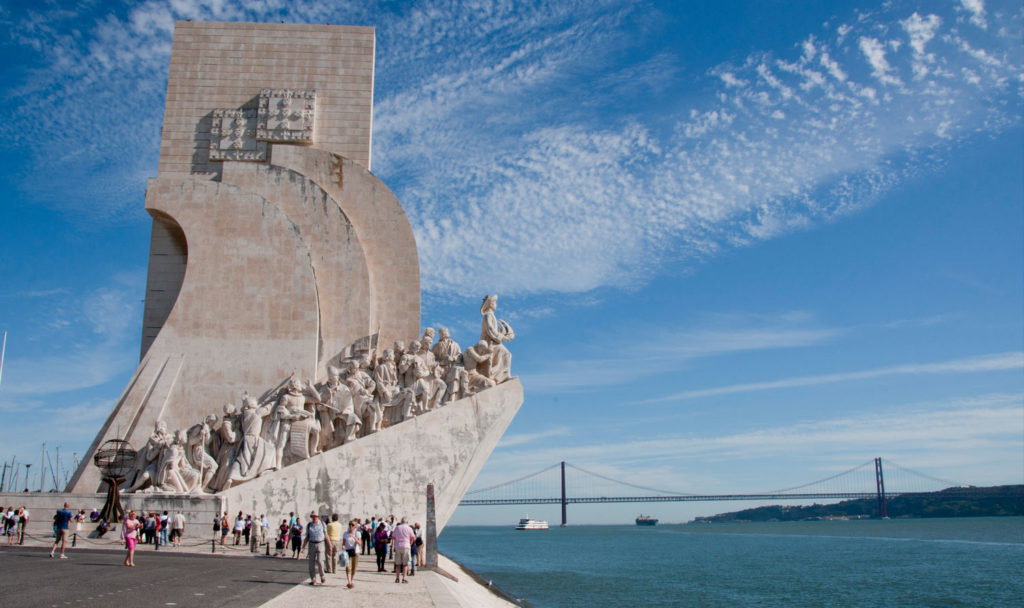 Padrão dos Descobrimentos  was made as a temporary structure in 1939 for Portuguesa world fair and was dismantled later but it was made again in 1960 as a permanent structure on the river bank of Tagrus river under the direction of architect António Pardal Monteiro and engineer Edgar Cardoso. It was dedicated to the discovery of 15th & 16th century, when Portuguese explorer set out  across  the oceans  to seek the new world.
The monument depicts famous explorers and shaped symbolically like the prow  of a ship.under the direction of architect António Pardal Monteiro and engineer Edgar Cardoso.The 52 meter high slab of stone which rises vertically represent a ship's sail and on the "prow " of the ship are statues of famous Age of Discovery navigators as well as important figures of the time like kings, explorers, cartographers, scientists and artists. At the front of the line of statues is Henry the Navigator. Other figures include Vasco da Gama, Alfonso V, João de Barros and Pedro Nunes among others.
Mar-Sept Mon-Sun 10am-7pm, Oct-Feb Tue-Sun 10am-6pm
Saint George's Castle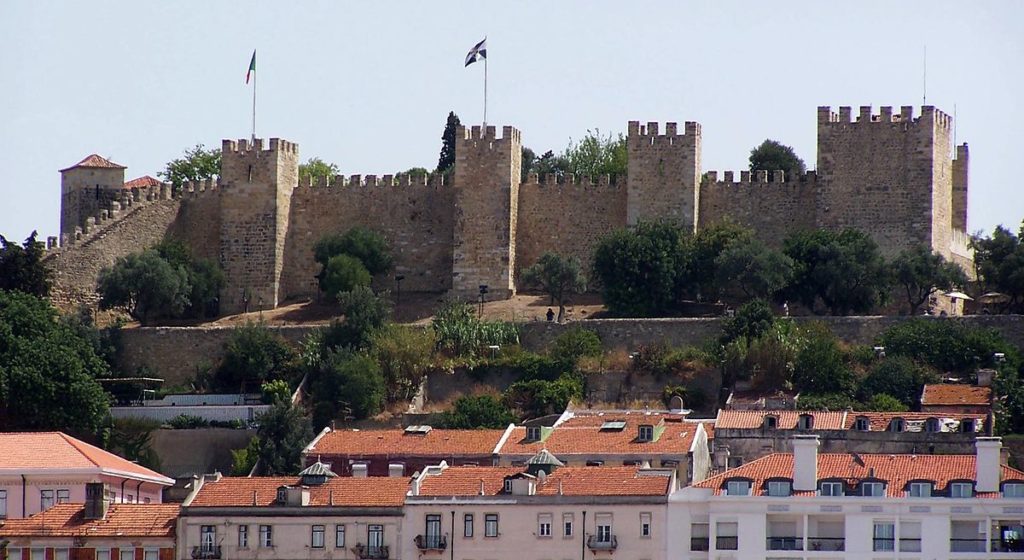 Opposite Side of Padrão dos Descobrimentos, you can see Saint George's Castle. Name which came from patron saint of England, Saint George. This name also symbolized the Anglo-Portuguese pact which was signed in 1371.In 1580 Portugal joined Spanish crown and purpose of castle became more military.This continued till 20th century.
The structure suffered damage from 1755 earthquake  and underwent many renovations which covered the historic monument. 
You can climb to the ramparts  and get views across cities. A must to do if you are in Lisbon.
Admission: €8.50
Opening Hours: Nov-Feb 9am-6pm, Mar-Oct 9am-9pm
Vasco da Gama Bridge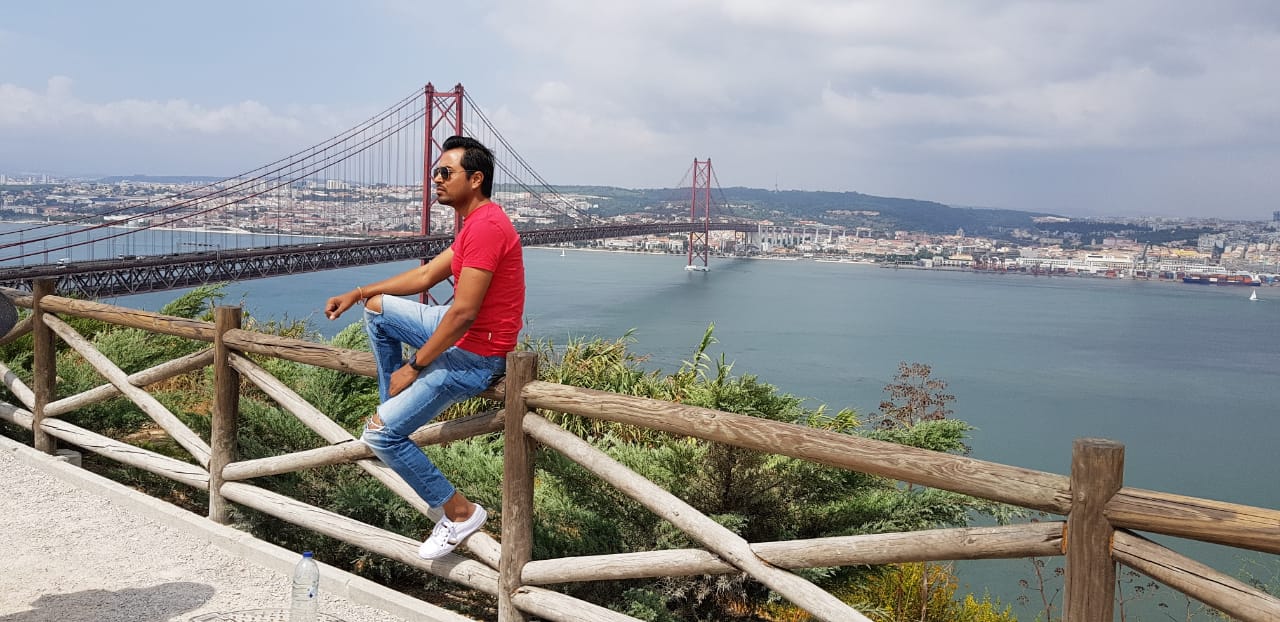 Lisbon's most famous bridge is 17km log and 10km of bridge are above the water as it is on the Tagus river. In 1998 when it was constructed then it was the longest bridge in  Europe.
The bridge is run by Lusoponte which provided funding of $ 1 billion to construct the bridge in exchange of 40 years of toll. Drivers have to pay €2.65 to cross the bridge from south to north but there is no toll from southend. We hired a tux-tuk (3 wheeler) to explore this bridge and he charged us €125 for 6 people to cross this bridge and return to our hostel. One must explore this if your are in Lisbon.
Cristo Rei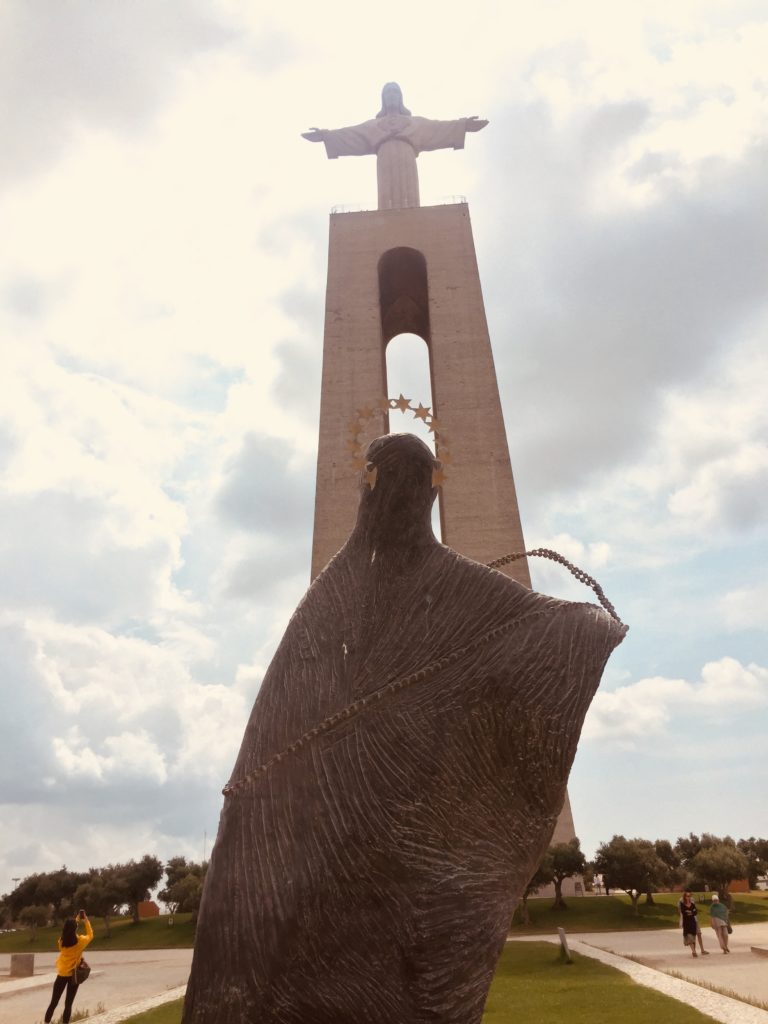 This statue was inspired by Christ the redeemer statue in Rio and you can find it a exact replica.Standing arms raised and depicting , blessing the city. This is situated at the southern banks of the Tejo Estuary.
Cristo Rei was constructed in 1950s for Portugal avoiding of horror of world war 2. This 80m high viewing platform and the amazing view over Lisbon and golden suspension bridge.We covered this in the same tour of Golden suspension bridge on our Tuk-Tuk.The admission fee to the viewing platform is €6.00/€3.00 (adult/child) and an express elevator whisks visitors up the 82m. On exiting the lift visitors are greeted with a surprisingly large religious gift shop, and it is a further flight of stairs to the viewpoint. The view is simply breath taking. On a clear day the high vantage point makes it possible to see the hills of the Serra de Sintra to the north-west and the Serra de Arrabida to the south.
Either you can cover it with the private transport of Lisbon golden suspension bridge or in case you only want to cover this then best option is ferry ride. The journey of the statue requires a short ferry ride and bus ride but the total travel time is less then an hour.The ferry departs from Cais do Sodré train station  and metro station9Last stop on the green metro line).
Ferry ticket costs €1.25 and is charged to the Viva Viagem  ticket, ticket used  by the whole  of the  Lisbon  public transport network.You can find ferry every hour and ferry terminated at caches ferry terminal, from here you need to cross over the connected bus station and catch the 101 bus . Bus departs every 30 minutes, return ticket will cost you €2 and you can purchase paper ticket from the bus driver. A must to do if you are In Lisbon.
Admission: €6
Panteão Nacional
This beautiful church has been used as burial place for Portugal's  royals and outstanding cultural figures like 
Portuguese presidents, writer Almeida Garrett and the iconic Fado singer Amalia Rodrigues. This large white tomb is located in Alfama district of Lisbon.On the floor and walls you can see slabs of polychrome marble. The church holds an 18th century baroque organ which once stood in Se Cathedral. It is possible to go to the top of the dome to an observation level for views across the city.
Admission: €4
Opening Hours: May-Sept Tue-Sun 10am-6pm, Oct-April 10am-5pm
Pub Crawl: 

Lisbon pub crawl is not like Prague pub crawl but it is enough happening to give a try, we got it in 15 euro per person and in this amount we were given one beer can at our hostel only and after that we got unlimited beer & Sangria at 1st pub, where we stayed around 45 minutes and 1 free drink at 2nd Pub and 1 free drink at 3rd pub and entry to club around 2 am.
The usual pubs are very small and opens in streets where you can see thoudanss of people standing and having their drinks and also open restaurants serving food with live music so you can really have a feel the open bar.
while moving from one pub to another, pub crawl leaders lead with a umbrella so that you can recognize your group while moving in between thousands of people. I really liked this kind of pub crawl although we did not dance much in club as it was very late and dance numbers were most from local tracks(lol).
Local Food Lisbon
Lisbon is a very delicious city for foodies, if you are here and want to tantalise your taste bud with local food then city has Piri Piri chicken to Buttery Pastéis de Nata, Mouth watering Sardines to mind blowing salt cod. Here is the list of some of the most wanting dishes of this Portuguese city.
Piri Piri Chicken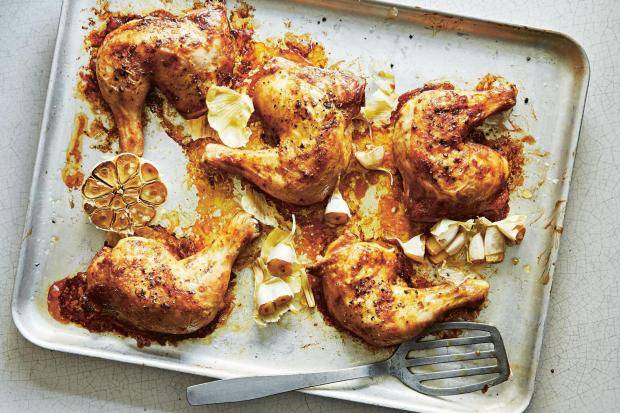 Do you know that Portugal invented Piri Piri?
Porugal's Piri Piri will offer you succulent split-roasted chicken, chips and , sometimes, a salad. The Portuguese don't eat a lot of spicy food so you'll also be given a bottle of hot piri piri sauce. You can spice up your pier pier as little as you like.
Where to have delicious pier pier chicken ?
Try it at Cafe Bonjardim
Pastéis de Nata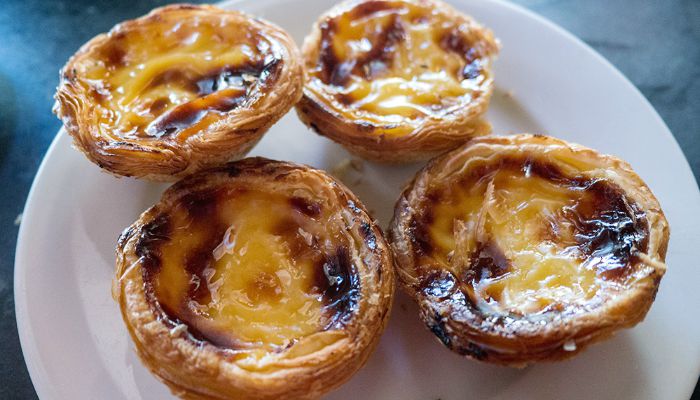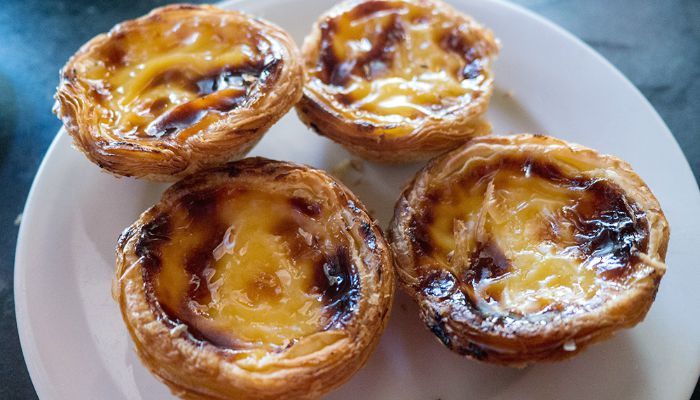 Creamy egg custard, pastry full of butter with waterfall of cinnamon sugar, this is Pastéis de Nata for you from Lisbon. Famous as breakfast item but can be consumed any time of the days basis your craving. A must try.
Sardines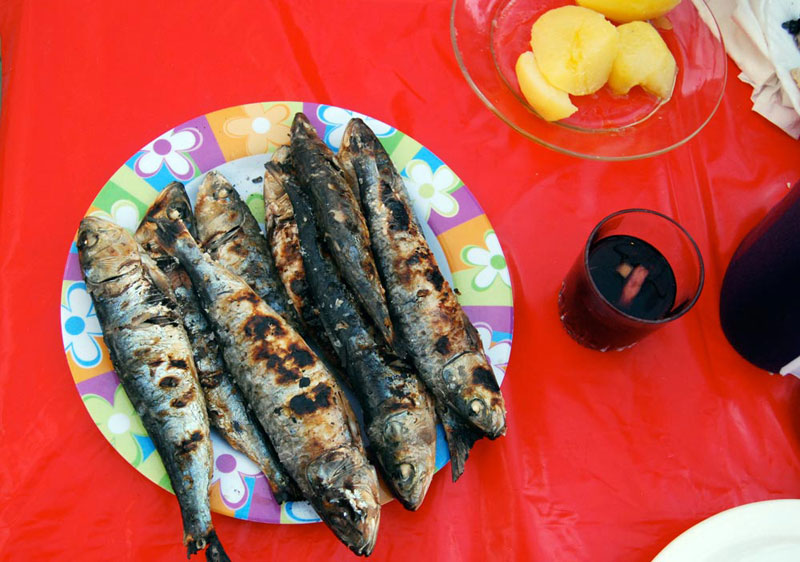 A seasonal fish dish, which should not be consumed if it is from a can other then May to October month. This Portuguese favorite plump, silver fish is served with a bread and best way to enjoy them is to eat the fish followed by the fishy flavor bread.
Peticos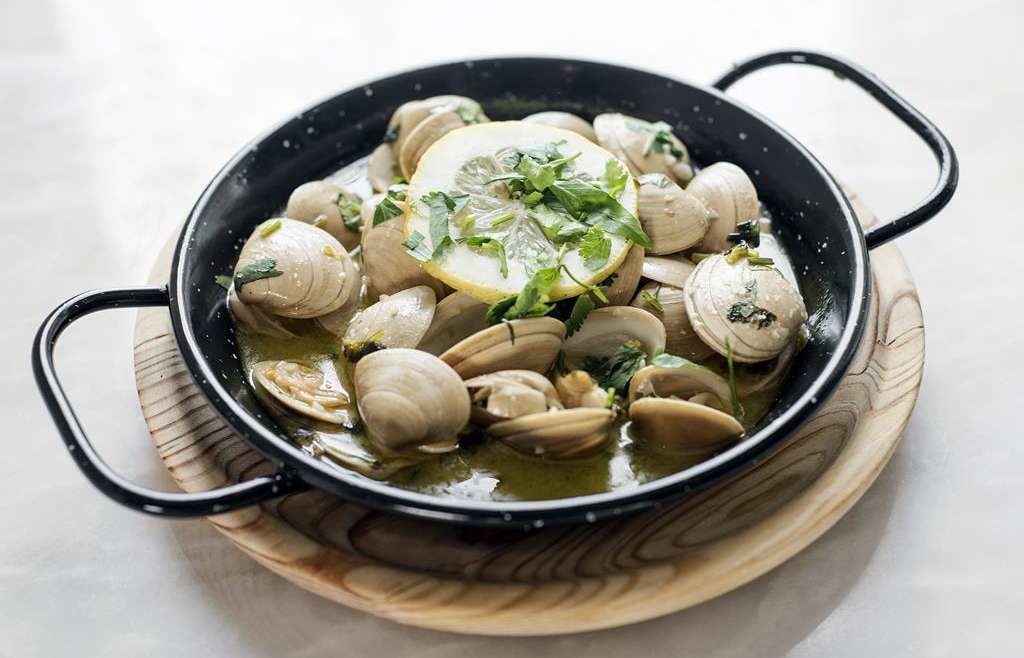 Petiscos are tapas of Barcelona i.e. very famous and local here.
They are for munching and you can enjoy them with dishes & bottle of wine.
Bacalhua à brás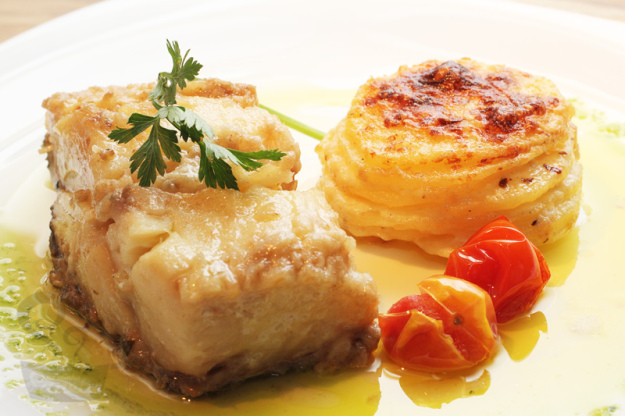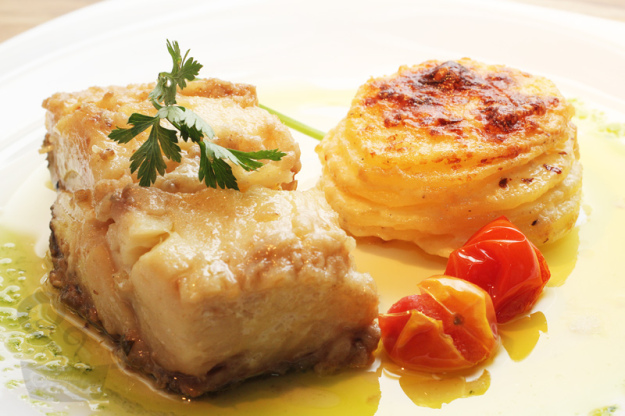 Imagine a cod based dish, where cod is fried with rice, scrambled eggs, potato, onion and olives and parsley. No doubt it is the national dish of Portugal.
There are 100+ ways of making Bacalhua or salt cod so expect a slight different taste in each restaurant.
How to Get There (Lisbon)
We took early morning train from Lagos train station to Lisbon, As there is no direct train to Lisbon so first you need to reach Tunes first and then after a 30 min break you can hop-in the connecting train to Lisbon. We choose Sete Rios, which was nearer to our Hostel in Lisbon.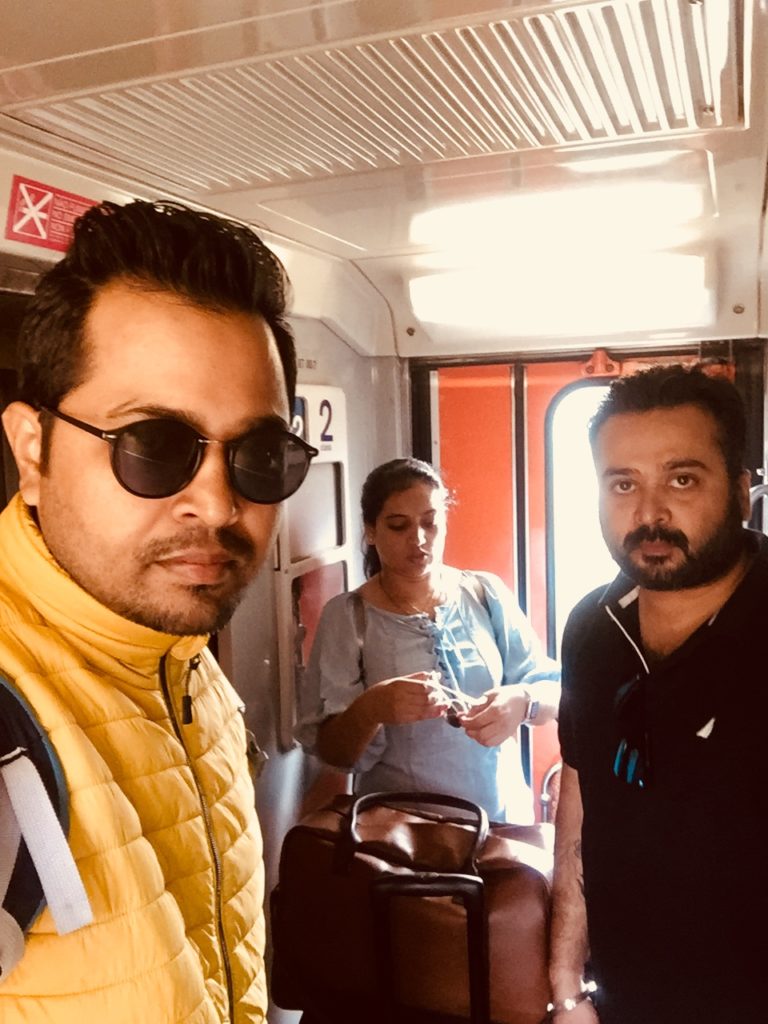 From Tunes you need to take a local train to the nearest train station to your hostel/hotel. In our case it was Sete Rios. You can see the schedule we followed and then you can book tickets according to your comfort.
Our Schedule:
#Lagos:07:46am
#Tunes: 08:30
#Tunes(Lagos):08:51am (Train change with a wait of 21min)
#Sete Rios:11:42pm
Price 1st/2nd                  Promo Ticket 1st/2nd
Euro 35,15/ 24,45              Euro 14,55/-
Leaving Time            Arrival
06h16                            10h10
07h46                            11h42
13h10                            17h13
15h13                             19h10
Link to book train ticket from Porto-Lagos: cp.pt.com
Day 7 Explore Castles & Palaces
Sintra will literally blow your mind with its its sweeping views. The Moorish- and Manueline-style Sintra National Palace is distinguished by dramatic twin chimneys and elaborate tilework. It is 30 min far from the capital, Lisbon. Whenever you are in Lisbon then save one day for this wonderland and I can assure you that you will never regret it.
Start your journey as early as possible so that you don't spend time in queues in front of Sintra palace. so first question is which mode of transportation should be used.
Rental Car
Avoid taking car on rental to explore Sintra because the road to Sintra hills are not meant for heavy tourist traffic and secondly the major issue of parking will frustrate you. Drivers literally hunt for few parking spaces and park here and there. Fine for unauthorized parking is very heavy in Portugal.
Bus
Bus is a good option but bus travel time is much longer then the train time and  stops are not as convenient as train stations.
Train
Train is the best option to reach Sintra in minimum time and cost. The Lisbon unban train network is operated by CP (Comboios de Portugal), the national train company of Portugal. There are two rail routes between Lisbon to Sintra, both equally useful for tourists. These are:
1) Rossio Station to Sintra
2) Oriente station to Sintra, via Areeiro, Entrecampos, and Sete Rios stations
(Note: There are multiple other unimportant stations along both routes which have been omitted)
The Rossio service is the one typically used by most visitors, as it departs from the historic centre of Lisbon and is closer to the main tourist districts. The train departing from Oriente station is generally used by those visitors travelling onward to Sintra, as this route is closer to the airport, the main bus stations and train station. Details of these connecting services are explained later on in this article.
Train ticket:
You can only buy return train ticket (Lisboa Rossio – Sintra) at €10 and can get off at Sintra station and take a bus ticket to Pina Palace because the road is too steep (approx 480 m)to walk thats people prefer bus now if you buy ticket there then you will have to pay extra €14 for return bus service. This bus runs every 15-20 mins from outside of Sintra station.
Or
You can buy Train+Bus ticket from Lisbon station at €15.50
Best Deal:
Train & Bus. €15.50. This ticket has to be loaded onto a "Viva Viagem" card, valid for just one person. The reusable "Viva Viagem" card costs €0.50 plus the cost of any tickets and can be used for 1 year. It can be purchased from any Lisbon urban train ticket office or ticket vending machine.
Train Time Table: PDF
We started our journey at 07:11am and reached Sintra at 7:51am, as we purchased Train+Bus ticket so we hop-in the bus from train station and reached Pena Palace in no time. Pena palace is the most colorful palace I ever seen in my life. You can see its glimpse from the entrance also. Queues are always there if you are reaching after 8am so be prepared for long queues.
Pena Palace: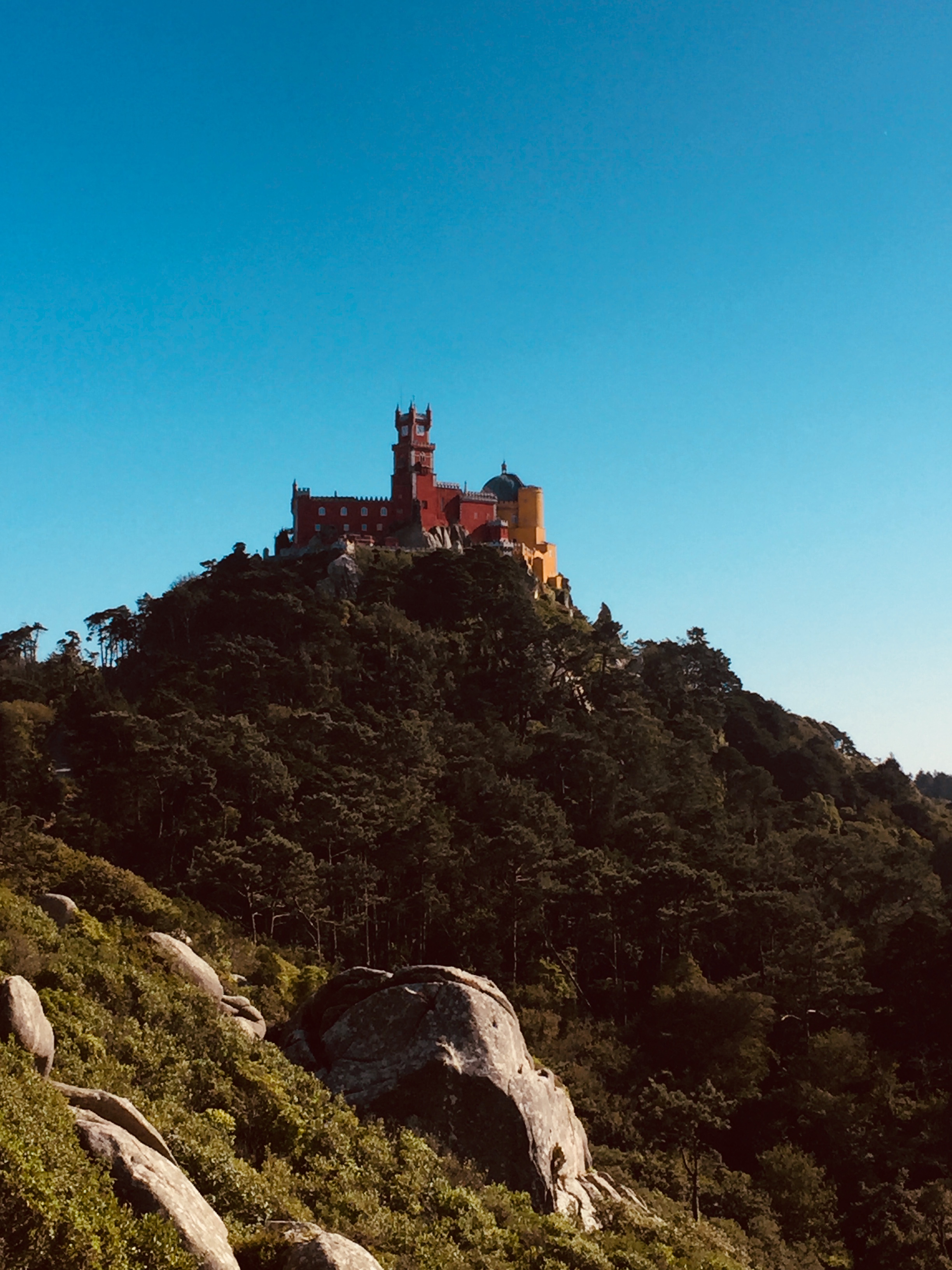 Pena Palace is the most gorgeous and colorful palace you will ever see in your life, stand on a hill with contrast to the lush green forest that encircled Pena.Pena reflects the 19th century romanticism style of architecture. It is a combination of vivid color terraces, lovely small tombs and mythological statues.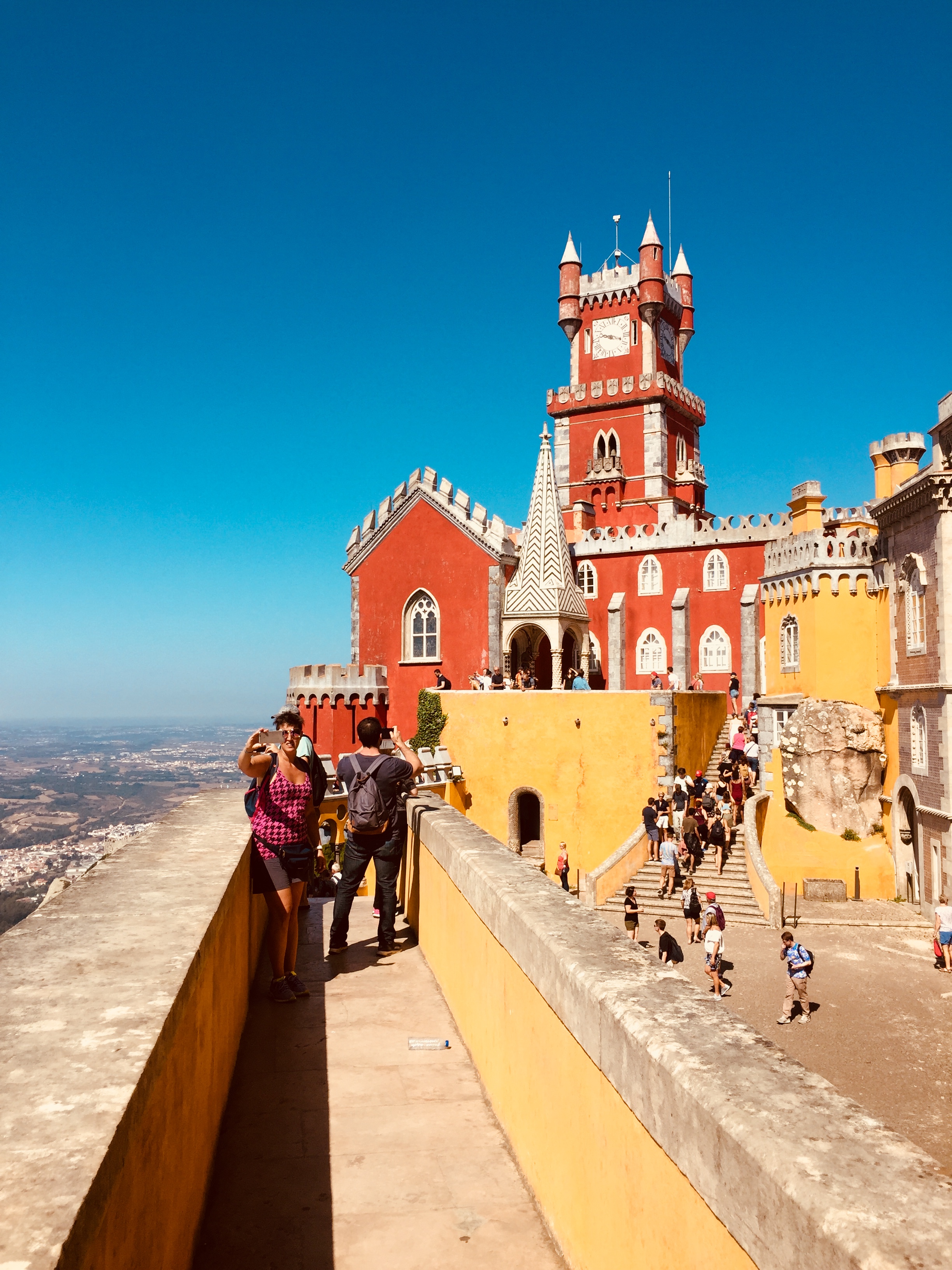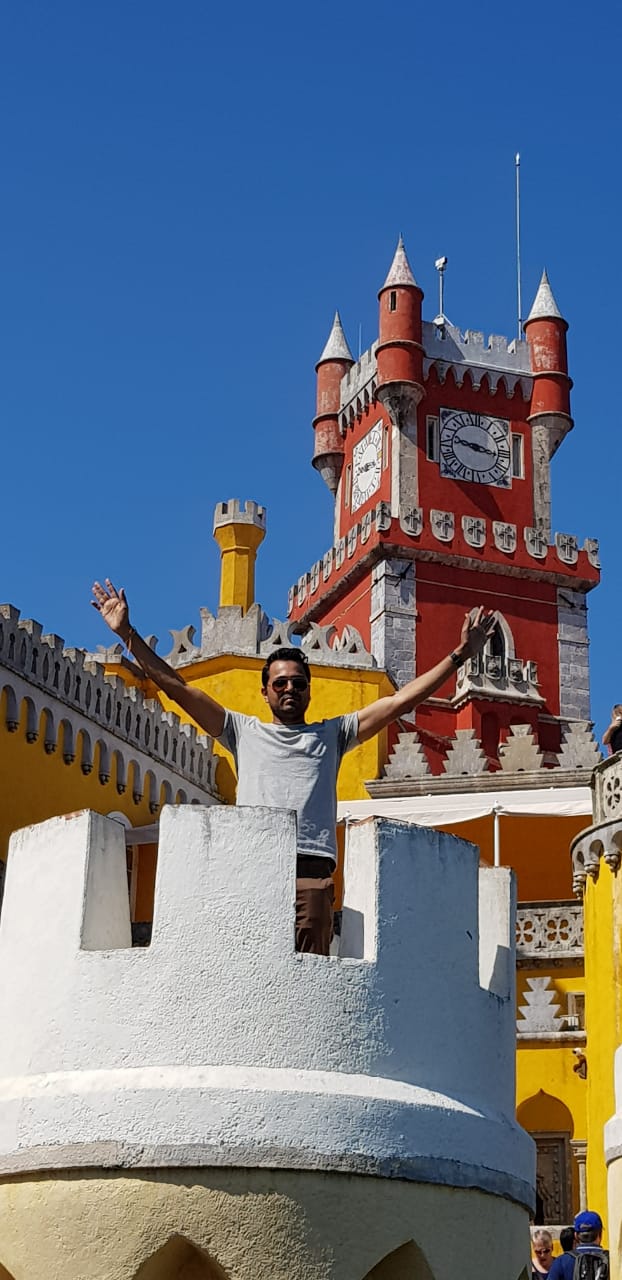 The interior of place is equally as amazing, restored to reflect the 19th century decor, when Portuguese fled to Brazil to escape the revolution. Queen Amélia spent her last night in Portugal based in the palace before escaping the country for Brazil.There are multiple windows to take instagram pictures.
Palace is spreaded in very wast area and you will have to walk everywhere so it is better to check the map before start exploring it.
Story & history of Pena Palace:
The palace in its present day form was commissioned by Ferdinand August Franz Anton from Austria , who married into the Portuguese royal family and became King Ferdinand II. King Ferdinand II marveled at the stunning views from the rocky outcrop and wished a castle built to rival the Neuschwanstein castle in Bavaria. His only design input was that the palace should reflect an opera and is it was left to Baron Wilhelm Ludwig von Eschwege to create the magical feather palace.
King Ferdinand II spent much of his later life based in the palace with his second wife, Elise Hensler. On the death of Ferdinand the palace was inherited by Elise Hensler who had become Countess d'made Edla. In 1995, the palace and the Cultural Landscape of Sintra were classified as a World Heritage Site by UNESCO. The architectural styling is classified as a 19th century Romanticism styled building. The palace has grotesque gargoyles that peer down over the main entrance, and illusionary spiked walls all below the vividly painted exterior.
Entrance :
€14.00/€12.50/€12.50/€49.00 (adult/child/senior/family),
a cheaper ticket which provides access to the park and palace terraces (but not the state rooms)
Costs €7.50/€6.50/€6.50/€26.00
Opening Time: 09:30am
Castle of the Moors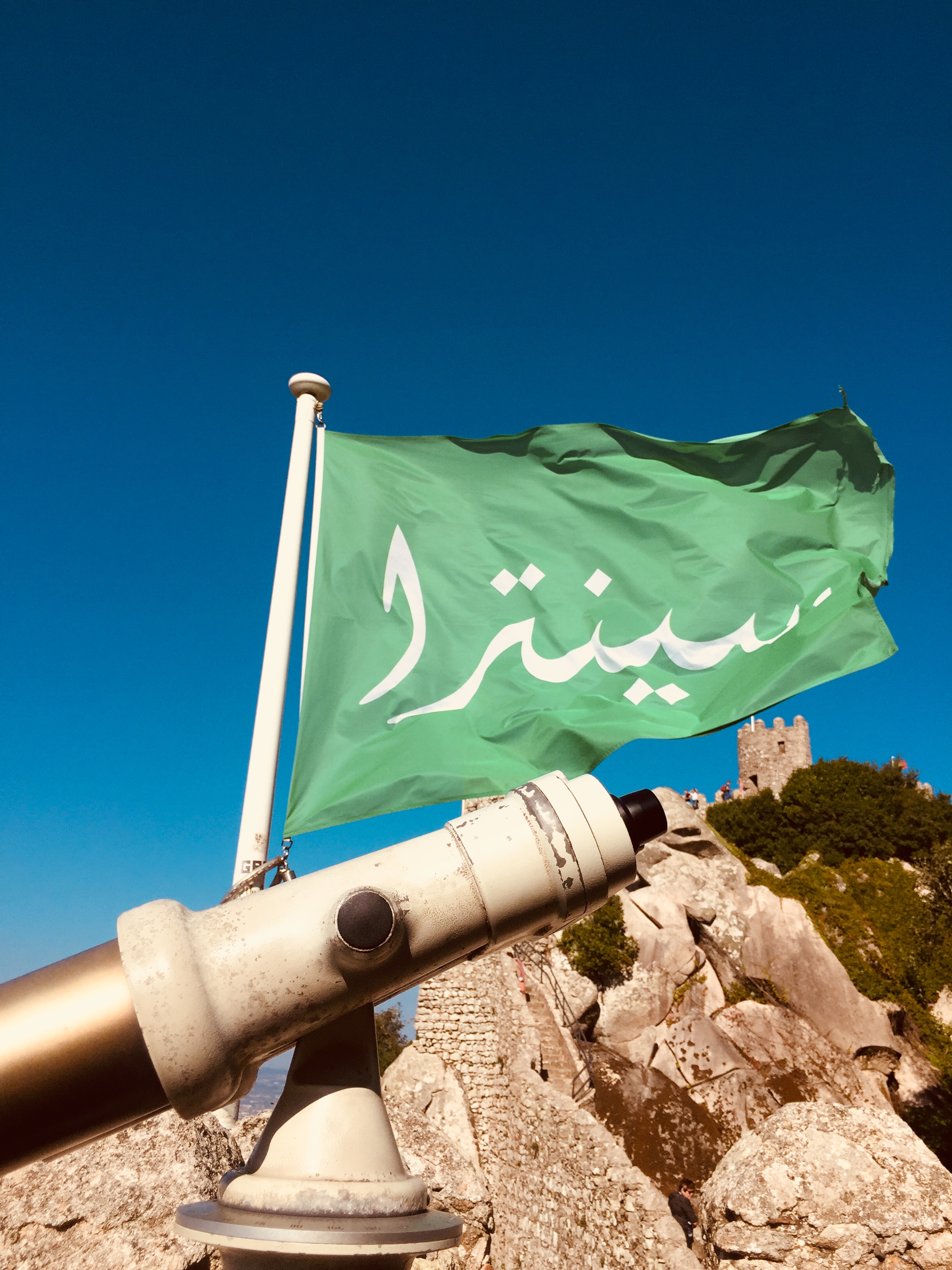 castle builds by the Moors, taken by the Vikings, and conquered by the King of Portugal, Castle of Moors is a fairytale  palace  with enchanting gardens. You will feel like you are in the location of Game of throne series if you will visit it on a cloudy day. We were literally flying in the air while reaching its top as the valley is made on is very vast.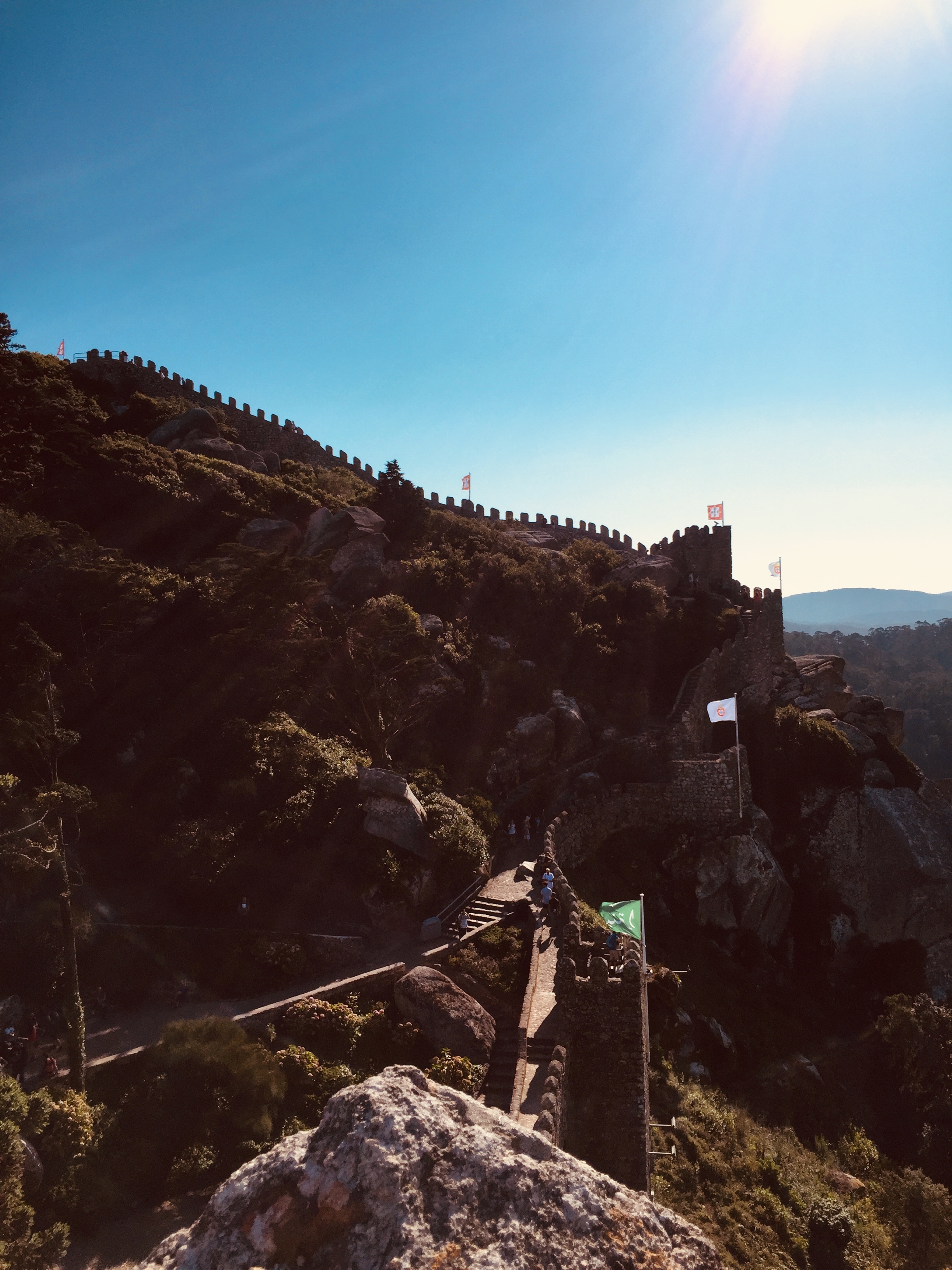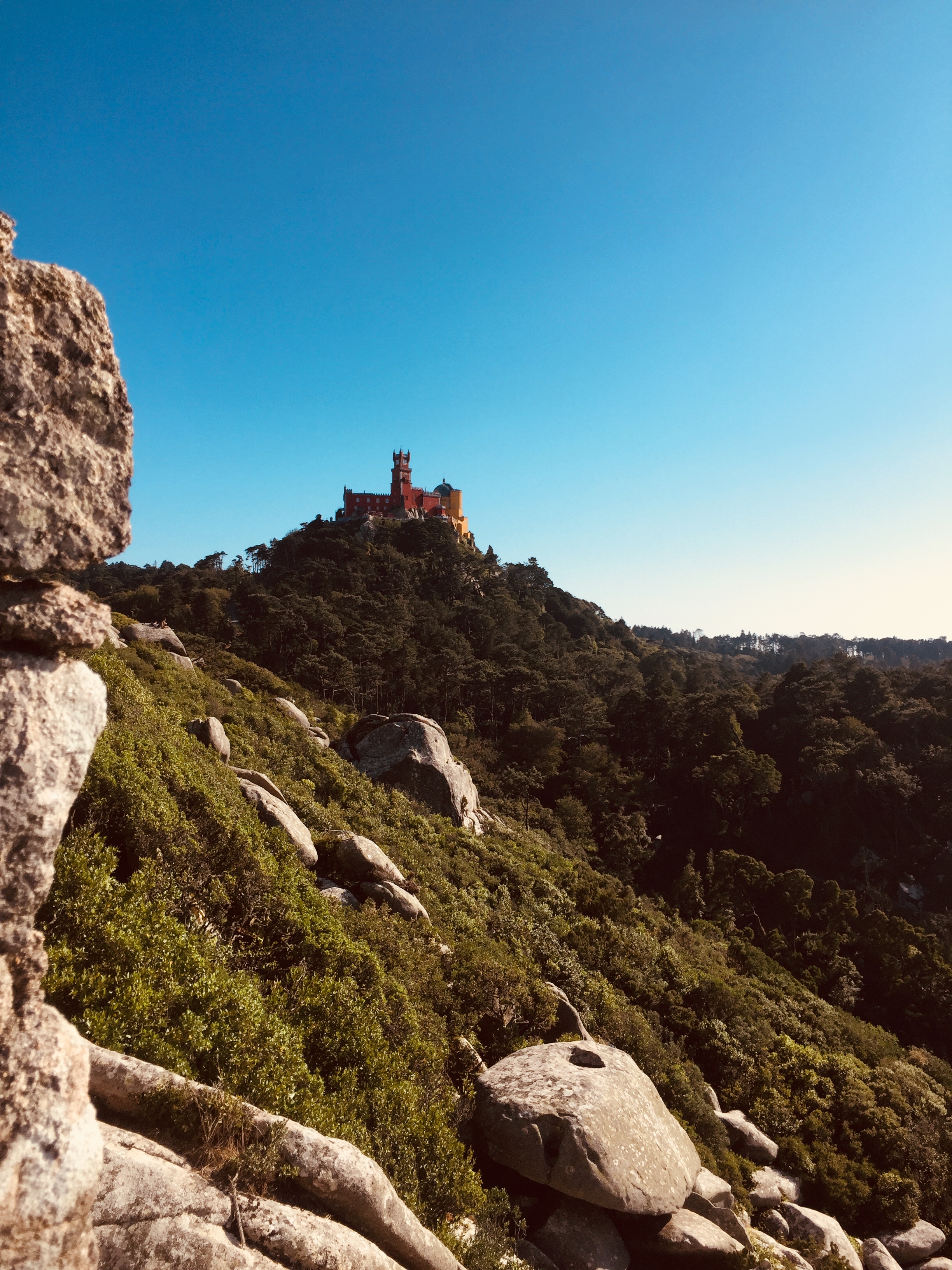 You can see Pena palace from here and the city also, one of the must to do places in Sintra municipality.
History
Winding over two ridges of the Serra de (Mountain of) Sintra, the Castle dates back to the early days of the Moorish occupation of the Peninsula, the 8th century.Around 1100, while Portugal was still under Moorish domination, the castle changed hand several time as the Christian Kings during the Crusades, nor the Arabs Emirs could keep the position a long time.In 1108, the Norwegian King Sigurd the Crusader conquered the Castle while on his way to Jerusalem.It is only in 1147, after various attempts that the Castle was definitely taken by the first King of Portugal,
Later on the castle lost its strategic importance as, peace being restored, there was no more need to protect the population inside its walls and was therefore abandoned.It was acquired, as well as the Pena Palace, in 1838 by Ferdinand Saxe Coburg (1816-1885).He restored the medieval ruin and afforested the surrounding areas, giving it a new dignity.
The latest restoration happened in 1940 for the ceremonies celebrating the foundation of Portugal.
Entrance: €8
Opening Time: 09:30am
Well at Quinta da Regaleira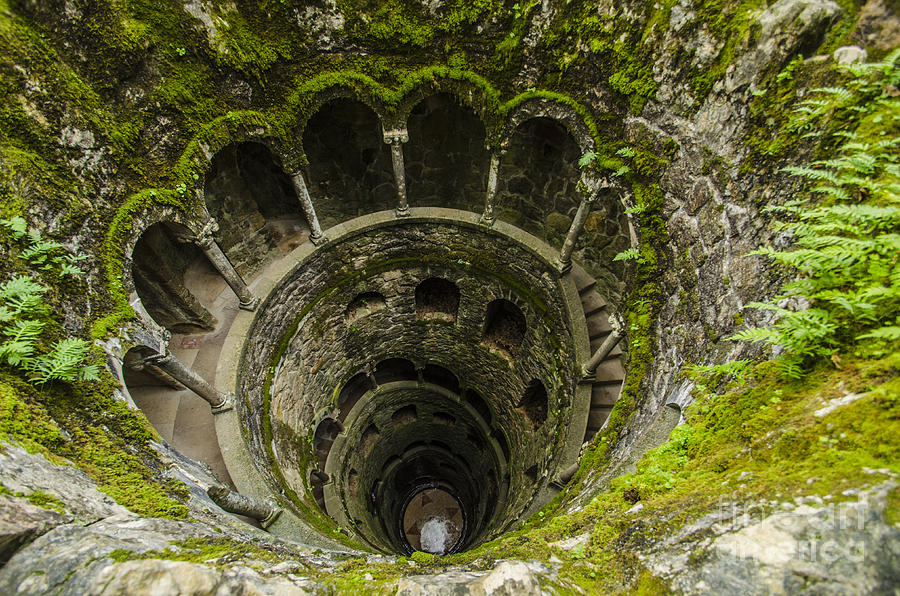 I Have never seen such monument in my life, which is enchanted still scary, This well was never made for using water
Collection but these mysterious underground wells were used  for secretive initiation rites.
These landscape around Quite da Regaleira sits dates back thousands of years and have a history from Romans to Moors, Moors to Portuguese.This mysterious underground tower are must to do if you are in Sintra.
Entrance: €6.00/€4.00/€4.00/€18.00 (adult/child/senior/family)
Timings: 09:30am
Local Food Sintra
Travesseiros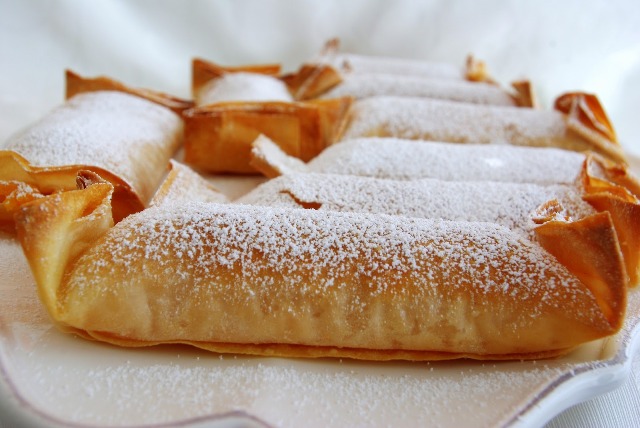 Travesseiros means pillow in Portuguese and this yummy pastries stand by the name. Made of egg yolk, almond and sugar coats, this is must-do in Lisbon and very famous in Sintra also. you can easily find it on the shops near railway station and this will amazed you with its yummy taste.
There are many other monuments like Cabo da Roca, Palace of Quenuz & Monserrate palace but as we had only 24 hours for Sintra so we choose for top 3 to give justice to these places.
We took the bus(same ticket can be used) from Quite da Regaleira and reached train station and after having coffee, we went to platform number 5. we reached back to Lisbon around 7:30pm after a well spending time in the super gorgeous Sintra.
We came back to Rossio station and from there to our hostel, by walk it was around 20 min time we took but in the evening Lisbon turns into old Portuguese city with happening streets and live music everywhere.
I came to Portugal by chance but I think this country has a lot to offer to people who love culture, food & history.
Where to stay in Lisbon
Portugal is a place of Portuguese heritage and culture and whenever you are here then try to stay in Old town in cities so feel the real Portugal.You can choose from double occupancy to a dorm bed in a room. They have A/c in rooms a. They serve a delicious breakfast in the morning, which is included in the stay cost. you can prepare your food in kitchen.
Hostel Name: Lisboa Central Hostel
Area: Near to Old Town, Rodrigues Sampaio
Activities: Pub crawl €15, Daily free food in evening, Unlimited Sangria on some days €1
Portugal Tips for Success
1. The Portuguese are lovely and friendly people who know you can't speak their language but are happy when you try. If you're in a jam because of the language barrier and you speak another language like, French, Italian, or Spanish, give that a try.
Here are a few important words and phrases to know.
Ola – Hello (say hello all the time)
Bon Dia – Good Day (nice way to say hello)
Por Favor – Please (add to everything)
Obrigado – Thank you
Saude – Cheers
3. The Metro in Lisbon is easy and cheap to use. But keep your ticket because you'll need it to exit the station. Uber tend to be slightly cheaper than taxis.
4. Trams and streetcars are a way of life in Portugal and free with your Lisbon Card. Keep in mind they are small and fill up quickly. If you're using them to get to a tourist site, go in the morning to avoid long lines.
5. If you do want to visit museums, check when they're open. Many museums close on Mondays
6. Lastly, this itinerary was used for a successful trip in the off-season. 7 days in Portugal is likely not enough time if you're interested in seeing all of the above and spending time on the beaches.
In that case, add extra days for a seaside break!
In addition, there were fewer people and hardly any lines at many popular sights and day-trip locations like Sintra. If visiting in the summer, plan to start your days early to get ahead of the crowds. Avoid popular day-trip locations on the weekends, if possible.
Would you like to visit Portugal?
Like this post? Please share it on social media using the share buttons below!